J Lo gets prettier each week!
how does she do it? Goddess!


Scotty McCreery
"Country Comfort"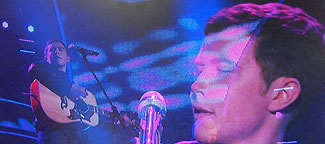 Leave it to Scotty Mc"Ear"y to find an Elton song with "Country" in the title.
One of his best performances, the kid grows stronger each weak, as his style comes thru stylistically and countri-fied
Howard Stern said Scotty might just win Idol, and I just might have to agree. He is constant, he is country, he is comfort!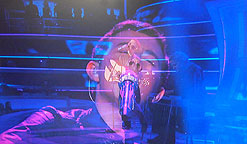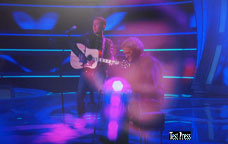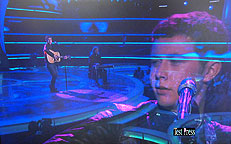 Naima Adedapo
"I'm Still Standing"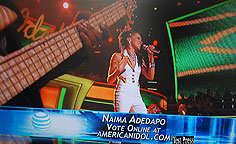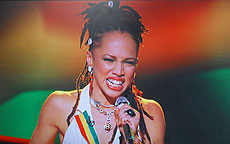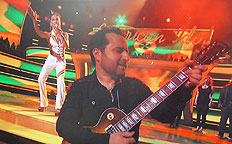 Turning the classic "I'm Still Standing" into a reggae tune was a stroke of genius,mon!
However the judges were not too keen on it, unfortunately, they just didn't get it, and America has voted the same.
I thought this was what idol was all about, taking a song and making it your own. Naimi is the delicate reggae flower,
her outfit was rasta-gorgeous, the bass player and guitarist were outfront laying down the groove. I loved it.
The song whisperer himself, Paul's rendition of "Rocket Man" was heartfelt, and his flower outfit
made a triumphant return as well, leading Steve Tyler to ask if he watered the suit (more flowers).
Paul has taken Randy's advice to concentrate on his breathy performance, to the point he's barely singing,
and just rasping the words... nice, but c'mon, let's hear it!

Pia Toscano
"Don't Let the Sun Go Down on Me"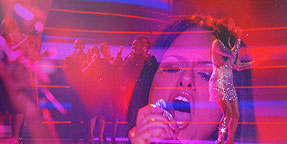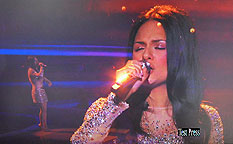 The queen of Idol once again showed up in beautiful dress and voice, belting out the classic
"Don't Let The Sun Go Down on Me" with gospel backup singers. As full-on a singer as can be,
I may be growing tired of Pia's standing/singing routine, as the judges pointed out. However,
she is a flawless, incredibly strong songstress and will be with us till the end. she's quite hot.
Oh Stefano! you are a star! your big smile, cute vest and Pee Wee Herman hair are endearing.
You opened your eyes this week and crooned "Tiny Dancer" like a tiny troupadour!
Reaching out to the judges (J-Lo slapped Randy's hand away to take Stefano's, haha!) was genius.


Lauren Alaina
"Candle in the Wind"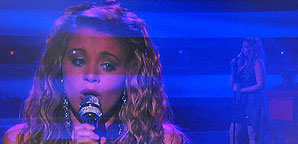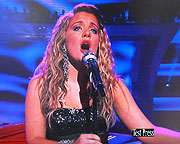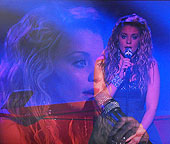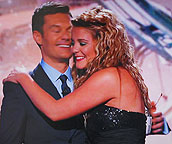 Lauren Alaina is so sweet. you sometimes forget she has that country background, because she can sing anything.
"Candle in the Wind" was one of her best performances, as long as her song choice conforms to what she is capable of,
she can last awhile. So adorable, she gave Ryan a hug at the end that was so spontaneous and loving. I love her!


James Durbin
"Saturday's Night Alright For Fighting"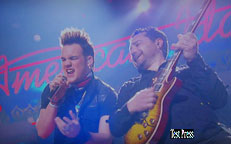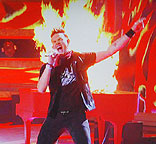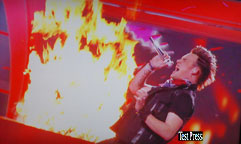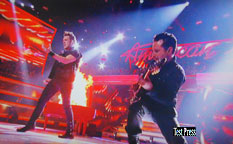 OK! There is no doubt about it, James Durbin rocks, he is a rocker,
he's the rock n roll element that Steve Tyler promised to bring to Idol this year.
His voice, his performance, his overall star quality shines every week, and he took it to another level
this week with Elton's biggest rock song, literally lighting the piano on fire. He looks like he's in the
same band as the guitar player, they were enjoying themselves so much, it was contagious.
As J-Lo said, it was like watching a James Durbin show. I thought so too, my goddess.
Sweet Thia Megia, your name rhymes, you are such a beautiful young girl,
I cannot have sexy thoughts until you turn 18, what a shame!
Looking more beautiful and mature than ever, the asian princess sang "Daniel"
dedicating it to her brother, who left her to go to school when she was a toddler.
Although she sang her sweet heart out, she still is not projecting that great voice
as good as can be, and this has led to her dismissal by America's vote. Sad, but expected.


Casey Abrams
"Your Song"
Casey at the bat, he is the saved one, and thankfully so. One of my favorite Elton songs,
performed impeccably by the bearded wonder. Casey's take on "Your Song" was soft and flowing,
his phrasing was personal and precise, building to a crescendo of talented growling and high notes. Bravo!


Jacob Lusk
"Sorry Seems to Be The Hardest Word"
Jacob the Lusk, larger than life, bigger than bold, blacker than night... oh wait.
I'm always bowled over by Jacob's performance, the way he takes it low,
breaks it high, and warbles with his basso provocativo voco. what?
I particularly enjoyed how his gigantic face showed up towards the end,
like the wizard of oz in the land of idol....


Haley Reinhart
"Bennie and the Jets"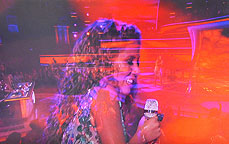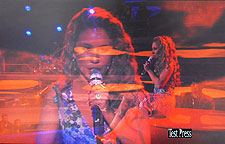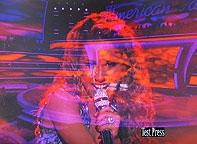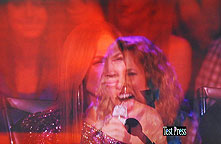 Haley does it again, showing her legs, those grand yams, sitting atop the piano and crooning
with that sultry, throaty charm. Not my favorite performance, I felt she babbled the "b's" of
"B-B-B-Bennie and the Jets", but J-Lo was into it and was head-bobbing to each and every "BENNIE"
Haley gets the beauty vote, the sexy smile vote, the leggy leg vote, but not the voice vote.
how long can she last?
our final look at American Idol 11 - Redux,
surrounding the piano man, the heart of Elton's songs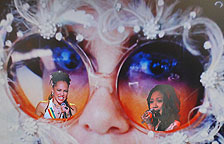 Elton's eyes say goodbye to Naima & Thia.
Goodbye ladies! We love you both!


Download THIA MEGIA
on iTUNES

Download NAIMA ADEDAPO
on iTUNES
More Idol reviews from Test Press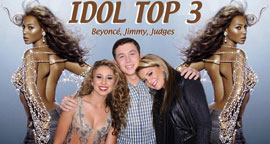 TOP 3 - Beyoncé, Jimmy & the Judges