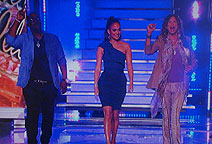 The first half of this show are songs that inspired the contestants, the second half are
songs by classic American songwriters Jerry Leiber & Michael Stoller, who wrote tons of
doo-wop tunes and other 50's hits, with guest mentor Lady Gaga who looks like Marilyn Manson
... lalalala lala. whut?

JAMES DURBIN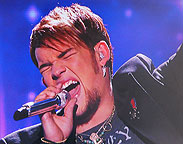 inspiration
"Don't Stop Believin' "
(Journey)
good move by Rockin James Durbin, covering the classic Journey song, one of those songs
you've heard in every other bar, tv show and movie. It doesn't hurt that Randy Jackson
used to be in the band! This song is inspirational to James because he has
NEVER STOPPED BELIEVIN'! ...rilly? is he gonna cry again?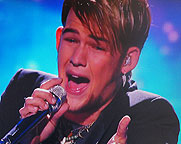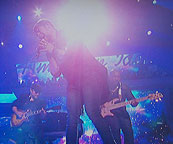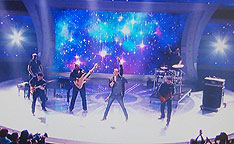 A great rendition and a return to the high energy, familiar song territory that James is capable of
nailing any day of the week. The flashpots are flashing, James is king rock star in front of the rockin band,
and the song ends with the gratuitous Durbin fire. James looks like The American Idol, and sounds like it too.
Randy Jackson gives kudos to Journey and singer Steve Perry, as the second best rock n roll band and singer,
giving props to Aerosmith and Steve Tyler as the best in the biz. smooth move by Randy, and funny.
iTunes note: the recorded version sounds even MORE like Journey

Lieber & Stoller & Gaga
Love Potion No. 9
(The Searchers)


Lady Gaga gets into the mentoring a tad too much,
giving James some rear end hip shaking lessons, not unlike
a pervey guy showing a girl how to play pool.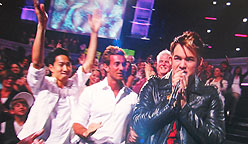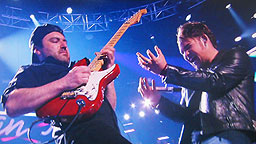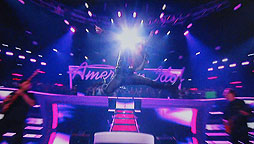 Since James sings first, the producer's allow him to finish the show, with the Searchers' 50's hit, "Love Potion #9"
James once again rocks out the song, works the audience and the guitar player,
with his patented rock moves and hits some high notes that only Adam Lambert and dogs can hear.
He leaps, he bounds onto his rock n roll platform, and the big lights come on at the end to
add emphasis to the rock concert we were just Durbin-ed.
iTunes note: incredible guitar leads throughout the song, and James is all over it!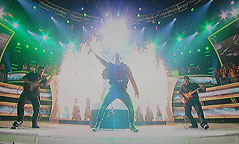 HALEY REINHART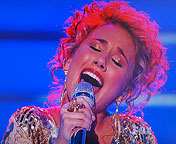 inspiration
"Earth Song"
(Michael Jackson)


I knew Michael Jackson put out a lot of records, and a lot of songs I never heard before, and this is one of them.
Even with a roaming choir behind her, the song sounded stale, no soul, with monotonous verses.
The judges really gave it to Haley, as JLo and Randy echoed my thoughts, how this is the
final 2 weeks and she's singing mystery songs that inspire no one but Haley. But Haley does not take this
constructive criticism well, and sticks up for herself, but she sounds smug, caustic, and hurt.
Of course, Steve Tyler sticks up for her, tells her not to listen to the other two judges, while Casey
is giddy in love in the audience. Two weeks in a row Haley chooses a top artist+unknown song = lame.
Michael's gotta be rolling around in the grave, may he RIP
iTunes note: the recorded production is excellent, Haley sings a lot of "ah ah ahs, ooh ooh oohs"
that makes this version sound far better than the live one. check it out.
Lieber & Stoller & Gaga
"I Who Have Nothing"
(Ben E. King)
Lady GooGoo told Haley to add some theatrics to her performance, some Edith Piaf-like psychotic drama.
I don't think Haley is capable of such uber-professionalism, but I could feel the improvement.
Her patented purr and growl was in full effect, and the "I Love You" chorus stood out.
just like last week, she redeemed herself with her second song, so much so, she earned a brief standing ovation from the judges.
Ryan brought Haley down to hug Randy and make amends with all judges. Will this be enough to save her from elimination?
I don't think so.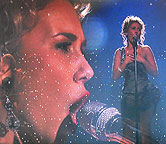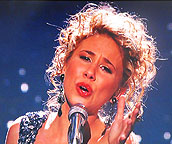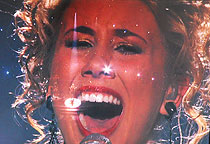 SCOTTY McCREERY



inspiration
"Where Were You When the Earth Stopped Turning"
(Alan Jackson)


Scotty McGenius. He knows his audience and what they believe in.
This song is about 9/11, mentions Jesus and talking to God, what more do you want
from a 16-year old Christ-loving, cross-wearing, twangy-talking southerner?
This sounded just like EVERY OTHER COUNTRY song Scotty has sung before,
but does it really matter at this point?He's sticking to his guns, he's singing the same
old songs, and the lights are shining through his big ol' ears. As Randy tells him:
"You are ready for superstardom." on the country charts.... but is he the next American Idol?
iTunes note: yep, this could be on any hit country record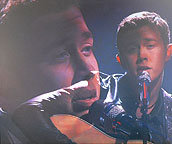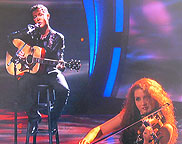 Lieber & Stoller & Gaga
"Young Blood"
(The Coasters)
Lady Gagme told Scotty to sing into the mic like it's a hotdog/girlfriend. This nutty advice
made the McBody feel funny, and he kissed his cross and made diehard fans throughout the bible belt.
Scotty brings classic Scotty McGoofy to the song, making faces, strutting around the stage,
and getting into the fun spirit of the song. Very nice staging and graphics surrounded young
Mr. Scott, and the kid once again pulled it off.
LAUREN ALAINA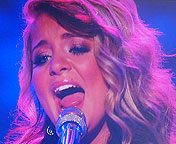 inspiration
"Anyway"
(Martina McBridge)


Lauren Alains is stunningly beautiful. She has taken the lead in the gorgeousity department,
what a smart, fantastic, professional move, taking the weight off and keeping it off.
Her vocal performance is phenomenal, the chorus is truly inspirational ("god is great",
"build it anyway") as she's singing for tornado and flood victims from the South.
She's a homegirl, she's a sweetie, she's matured beyond her years in looks and ability, and
she just might be the next AMERICAN IDOL! Randy says Lauren is "BACK IN IT TO WIN IT!" woo hoo!
Stevie Tyler's in love with the buckles on her shoes and tells her he loves her. awww
iTunes note: another song that will sound perfect on her country album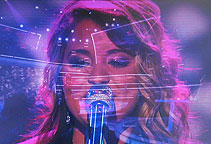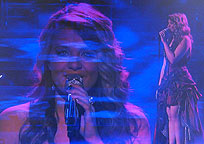 Ryan gives Lauren props and the girl can only grab Ryan's shoulders lovingly;
this is the kind of endearing sweetness that America should be in love with.
She's looking so good, her and Ryan look like a hot couple! Hey now!
Lieber & Stoller & Gaga
"Trouble"
(Elvis Presley)
Lady G tells Lauren to embrace the "evil" character in the song, and embrace it she did, but not before
expressing her fear of being perceived as "evil" by her country, god-loving-fearing audience. So sweet!
She starting off the song showing her newfound backside, tossed her hair and tossed all
inhibitions aside, as she tore the song a new hole. Elvis and his hips would be proud!
Lauren had a lot of fun with the song, with the rocking band (the goofy violin player was not missed)
Jennifer loved it and applauded the total attack. Yes indeedy!
iTunes note: wicked evil, rocking version!
RESULTS
Once again, I erroneously predicted Haley would be eliminated, but I was wrong,
it seems the majority of voters love her and relate to her inconsistent ways.
gone is JAMES DURBIN, the Durbinator...eliminator...goodbye rock n roll! so long metal!
I can only assume most young Americans appreciate cutie pie country over rock,
at least the kids who spend 2 hours voting. I gave James my vote every week
(except when I voted for Casey), and I feel the best vocalist has been sent packing.
Maybe, just maybe, he cried too much, and kids these days don't like to see a crybaby.
ROCK ON BROTHER JAMES!
JAMES DURBIN on iTunes
Download Entire Top 4
Performance Show here:

More Idol reviews from Test Press: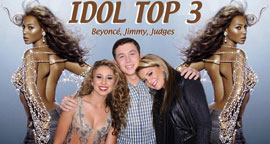 TOP 3 - Beyoncé, Jimmy & the Judges


TOP 11 REDUX - Elton John Week