A salute to Carole King, whose "Tapestry" album is one of the greatest records ever recorded in recording history.
Songs like: "I Feel The Earth Move", "You've Got A Friend", "So Far Away", "It's Too Late", etc.
just a magnificent array of hit songs on one disc, essential singalong to the radio!


THE JUDGES ARE HOT TONITE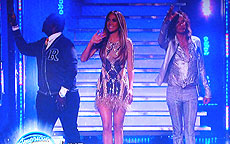 I don't know who's hotter at this point, J-Lo or Steve-Ty?
both dress incredi-sexy, with Jennifer showing skin and leg, while Steven
is the essential rock 'n roll stud... and Randy, well he's just whale-hot.
and on to the show....
Jacob Lusk
"Oh No, Not My Baby"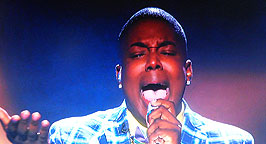 With plaid blazer, purple bow tie, blue vest and yellow shirt, Jacob is Urkel-ing it up!
A little falsetto, leading to a mid-uptempo performance, Jacob is finally smiling and having fun,
doing a funky dance, and making the most of the song. He's going low, bringing it high,
and having those Jacob moments. Stevie-Ty likes the fact that he shook his tail(feathers),
and J-Lo tells him that he just "killed it". she made a sexy lip-pursing move that I had
to still and make believe she was puckering up for me. Oh J-Lo! You're not my baby!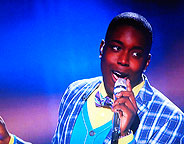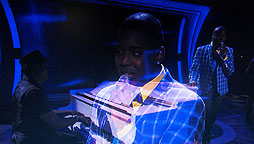 Lauren Alaina
"Where You Lead"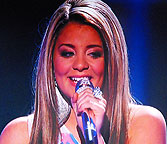 After a surprise mentoring from Miley Cyrus (who Jimmy Iodode told Lauren she sings better than),
Lauren makes the best of the popular Carole King hit with a countrified version, sounding a tad like
Carrie Underwood. Lauren sings between the cute-as-a-button blondes, sashays around the stage,
and invites a gangly dude up onto the stage with her, providing an awkward moment or two.
He turns out to be 19 years old, Ryan finds out, and he warns the guy not to mess with
16-year-old starlet Lauren Alaina. Besides, she's gonna marry minor Scotty!
Note: the Itunes version is even better, Lauren is confident, sassy and PROfessional!
DUET
Haley Reinhart / Casey Abrams
"I Feel the Earth Move"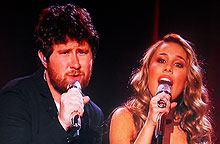 I thought this would be a great song for either artist, and sure enough, Idol producers
were smart to have them duet one of my favorite Carole King songs, a real moving,
shaking rocker. Casey and Haley strutted their stuffs, and you can tell they're totally
into each other, on and off the stage. Casey did his patented ring around the stage,
and Haley looked stupifyingly stunning. A good song choice for the lovers!
Note: Itunes version is a rocking, jazzy event!

Scotty McCreery
"You've Got a Friend"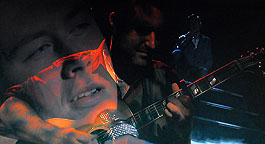 "Scotty the Body" sings one of Carole King's best, and he sings it softly, telling my whole life,
with his song. An effortless display of class by the young lad, who brings just a country lilt to the classic,
flowing along with the lady violin orchestra, letting the phenomenal melody stand out.
Note: for you country McCreery fans, the Itunes version is a quicker ditty, with a full-on western swing.
Odd, how different it is! Personally, I liked the slow live version better, when Scotty calls out my name,
and he knows wherever I am, he'll come running. After all, I've got a friend in Scotty.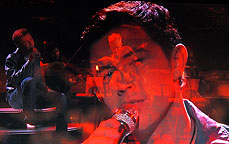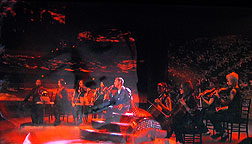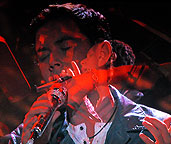 James Durbin
"Will You Still Love Me Tomorrow?"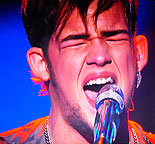 Jimmy Iodine quote: "Carole King and James Durbin were made to come together," Perhaps it's the teen idolness,
the rebel inside, the rock and roll that James possesses to give presence to the teenage classic King tune.
With guitar in hand, James strums a chord, and does the first stanza acappella... sweet! Of course, the song
breaks into medium rock mode, and JD hits that high note we love, but doesn't go overboard. He lets his voice
carry the tune, as it should, and it could be one of his best performances. Randy certainly thinks so,
as he says James just might win the whole thing, and he bum-rushes the stage to give Mr. Durbin a hug.
This is the first time Randy has ever done this, I believe he's giving his blessing to the rocker
to win it all, to surpass the mid-west/southern domination of the country kids.

DUET
Lauren Alaina / Scotty McCreery
"Up on the Roof"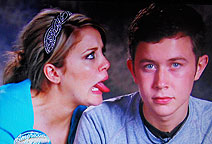 The 3rd time Lauren and Scotty have dueted, perhaps to keep the country crowd happy,
or keep the 16-years olds together. This time, it just does not work, at least as a duet.
Lauren pretty much sings the song well, with Scotty just puttering along,
the harmonies are NOT happening, and their comraderie is not showing.
As Scotty keeps saying, they're like brother and sister... platonic poo.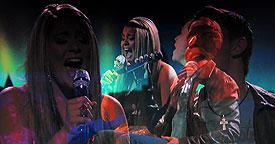 Casey's Last Stand - Kudos to Babyface, this week's guest mentor, who
picked up a guitar to jam with Casey and Don Was. This is Casey's dream,
to jam and play and create. He is, if not the best singer, by far the most
creative artist and funny guy we've had on Idol EVER!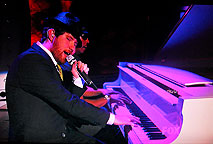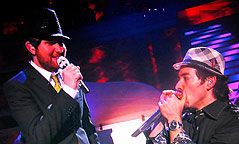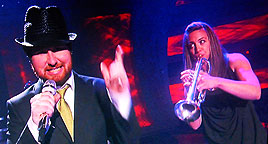 At this point in the competition, it's all about singing, not just performing,
and I believe Casey made a mistake doing a "shtick" blues number,
instead of choosing a popular Carole King song he could croon.
When he wants to he can sing, but perhaps he knows in the end,
he's not going to win a singing contest, and just went all out on the
growling and grooving tip, letting the Idol musicians play more than he actually sang.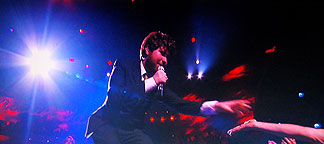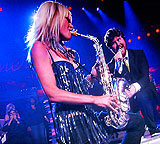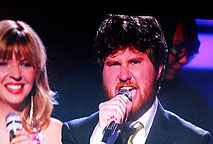 Although it was enjoyable, I think Casey blew it big time, but nevertheless,
he got laughs out of J-Lo, and when she smiles, the whole world smiles with her.
Haley Reinhart
"Beautiful"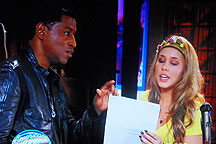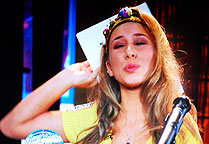 Another Carole King classic by the beautiful flowers-in-her-hair Haley Reinhart.
Mentor babyface once again helped with Haley's phrasing and flow, as he and
main man Jimbo Iovine discussed hitting the "Get up" in the song, that Haley got.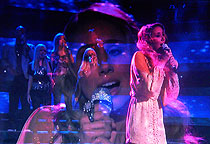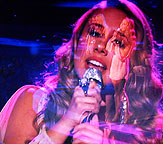 Yet another solid performance by the leggy, found-her-niche Haley. She broke down the
song to a two-tone dynamic approach, starting soft, htting the chorus hard, and going
back to sweet and soft for the "beautiful" part. Another excellent outing, and oh, those legs.
DUET
Jacob Lusk /James Durbin
"I'm Into Something Good"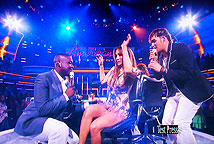 this could have been the worst duet and song choice I've ever seen on Idol, it's almost as if
the producers are sticking it to Jacob and James, asking them to a happy poppy number
you'd hear on Sesame Street. Both looked awkward singing and dancing, or attempting to dance,
and if not for them pulling a surprised J-Lo away from her judges panel, revealing a LOT of leg,
this would have been a real drag. Even Steve-Ty asked "Man, where were you going with all that?"
Sad way to end the show.... however, the Itunes version is MUCH better!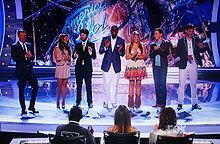 Nevertheless, another solid show, if I had to guess,
I'd say Jacob or Casey would be gone this week....
Download Entire Top 6
Performance Show here:
THURSDAY'S RESULTS
First of all, props to the producers for the spacey intro, the hotter-than-hot judges attire, and the Idol
Ford commercial that was actually interesting, at least the graphics were fun.
As we all know, it was Casey's turn to go, no surprise to him or the judges at this point in Season 10.
I enjoyed seeing his Idol journey over again, and I think he did too. His talent, musicianship, sense of humor
brought something special to the show that we've never had before. He was the sole "save" of the judges, and
that probably saved the show from being boring. Each week Casey brought an interesting take to his song,
he was a J-Lo favorite, and we all enjoyed hearing about his tryst/not-so-secret relationship with Haley.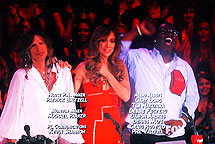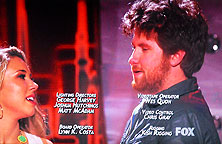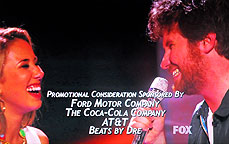 As the show ended, Casey revisited "I Put A Spell On You" and his swan song performance
was everything we loved about him; he ran around the stage, into the audience, kissing and
hugging audience members, rolling back onto the stage, jumping on top of Scotty, and singing to a
bowing James; J-Lo cried in amazement, Steve Tyler looked on in satisfaction, and RJ the dog
whooped it up, as all knew they were seeing someone special who made this season a cut above the rest.
As we expected, Casey ended the song gripping a teary Haley's shoulders as he crooned the final words
of the song to her "you're miiiiine", which made her laugh and made everyone feel good. This in itself
brought tears to my eyes and was the happy ending to Casey's journey on American Idol.

Download Entire Top 6
Performance Show here:
Download CASEY ABRAMS on iTUNES

More Idol reviews from Test Press: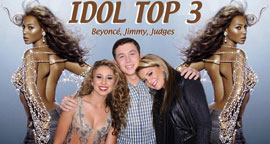 TOP 3 - Beyoncé, Jimmy & the Judges


TOP 11 REDUX - Elton John Week