I could tell Beyond-say liked Scotty, his cute ears and low register must have
struck a chord in her bleached blonde hairdo and long heavenly legs.
She was surprised Scotty could go into the high register for the Lonestar cover,
and offered her concurrence for his ability and vocal agility.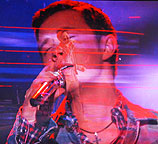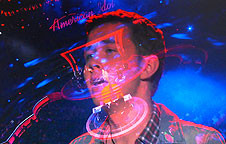 Another natural selection for the country boy, whose relaxed poses signified trust
with the musical material and his guaranteed spot in the country finals.
Notice how the background is red and blue, to go with Scotty's red hair, blue denim,
and red,white and blue country flannel. Scotty is Country. Country is America.
Scotty is your American Country Idol, no doubt. I'm not amazed.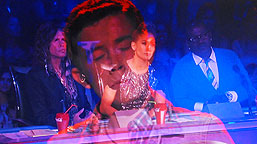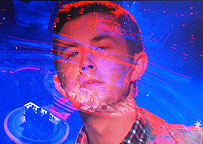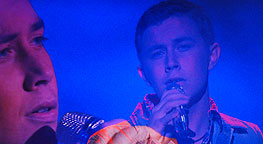 SONG TWO - Jimmy Iovine pick
"Are You Gonna Kiss Me or Not" (Thompson Square)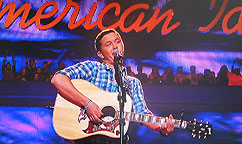 Jimmy Iovine is a genius when it comes to covering his head with a baseball hat and wearing dumpy clothes, but
hey, the man's a millionaire from working with musical talent, and he knows he'll be signing most of the Idols to contracts.
Hence, he knows what they should sing, and Scotty is singing a song with a "Kiss Me" chorus, that will zing directly into
the hearts of every 8-13 year-old who spends 2 hours on the phone voting for Scotty, and will be bugging Mom & Dad
to buy the new Scotty McCreery album, to be released shortly thereafter he's crowned the American Country Idol.
I like when Scotty plays guitar, as opposed to playing the flute microphone. Having the lead guitarist stand offstage
was a nice move, bringing Scotty's body fully focused into more of a rocking environ. A couple of goofy faces, Scottso asking
Are You Gonna Kiss Me or Not, and I can imagine how many little voices were going YES YES YES SCOTTY!! Beam me up!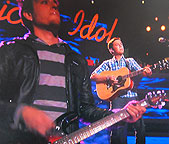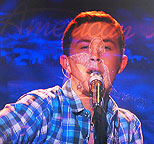 SONG THREE - Judges pick
"She Believes In Me" (Kenny Rogers)



Ah, those judges, they picked a song by one of country's most popular troubadors,
Kenny Rogers, with a big big chorus to test young McCreery's ability to hold said chorus,
and the lad performed admirably. Was this song any different from the dozens of tunes
Scotty has twanged this season? Nope! But who cares? No one's voting for his
diversity or his vocal chops. He's getting votes for his cutie pie face and ears.
Once again, little Scott does what he has to do, not straying
from his country table, giving the girls what they want.
And the light will shine through his ears, as he is
dubbed Season 10 American Country Idol!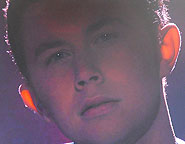 Lauren Alaina



SONG ONE - Beyoncé Mentor
"Wild One" (Faith Hill)
Lauren is once again rocking the Idol stage, starting the song with a guitar on the giant screen,
letting us know Lauren's gonna rock the country rock. She's having fun, she's kicking up
her country frye heels, and she does justic to Faith Hill's "Wild One". Is Lauren Alaina,
Alaina Lauren really a wild one? She's only 16, c'mon now! A tad breathless,
perhaps hurried, Lauren bust through the song with verve and professionalism,
and she's lookin' good. way to go girl!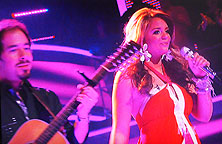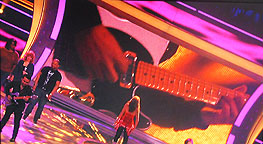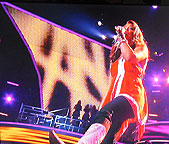 Lauren once again leans on Ryan, and Ryan returns the lean,
this is part of Lauren's endearing quality, her heartfelt love,
and this sets her apart from the other contestants. I'm so happy
she's made it this far, she's like everyone's kid sister you want to do well.
Can she beat Kid McCreery? I DON"T KNOW!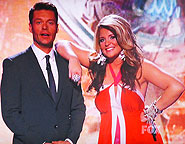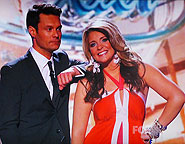 SONG TWO - Jimmy Iovine pick
"If I Die Young" (Perry)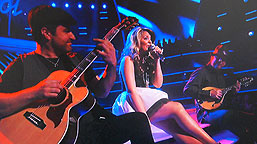 Jimmy the Genius does it again, choosing the perfect song for Ms. Alaina,
a song he felt fit Lauren's voice, as long as she sang with a light, optimistic tone.
how could she not? she's the essence of optimism! Lauren may have missed a beat in the song
but J-Lo let her slide, telling her she created a moment and got lost in the moment. O-KAY!
I liked how she situated herself between the guitarists; Her stage presence is commanding, and she's so damn cute!
she's dressing sexier, losing poundage definitely helped. Imagine, a 16-year old singing a song about dying young,
and making it sound as poppy can be. The band Perry would be Per-roud!
Wonderful fades by the American Idol producers were truly appreciated by yours truly.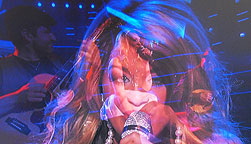 SONG THREE- Judges pick
"I Hope You Dance" (Martina McBride)
This song has a fantastic chorus that Lauren nailed! She's hitting the right notes, she's making the songs her own,
and even a popular song like "I Hope You Dance" could fit very well on her own record. Is that a prom dress
she's wearing, what the what? The delicious blue was accented by the producer's blue background, that was
just lovely. Lovely, I tell you! Speaking of loverlly, J-Lo got goosies. I would like to see those goosebumps up close.
Lauren Alaina could very well be the next Carrie Underwood, in the body of a Kelly Clarkson. Carrie Clarkson!!


Haley Reinhart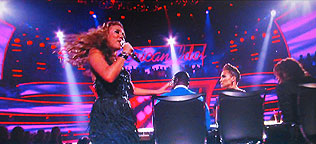 SONG ONE - Beyoncé mentor
"What Is and Should Never Be" (Led Zeppelin)
Does Beyoncé even know who Led Zeppelin is? At least she knows Haley has conviction.
With James Durbin gone, leave it to Haley to take the rock and roll mantle and go with it,
covering one of the greatest rock songs of the greatest rock bands, with her DAD on guitar!
Now THAT is a cool move, maybe not with the teens and tweens and kiddies who watch and vote
for their Idol, but Haley is not the one to choose popular songs. Face it, American Idol is turning into
American Country Idol, and these rockers, however great they may be, are not going
to win votes. Look how blasé Kris Allen won over rocking Adam Lambert last year.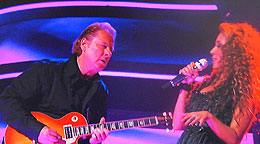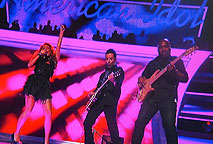 So, anyway, in the midst of rocking and twirling and busting a move around the judges,
Haley bit the dust, took a fall and went "clunk". hoo-wee, embarassing!!
Being the semi-professional she is, she got right up and continued on as if
her little knees and ego were not bruised. Way to go champ!
The judges complimented her on getting up from her pratfall,
and gave her props for winning the round. Rock around the clock (Bill) Haley!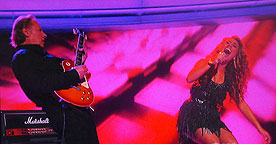 SONG TWO - Jimmy Iovine pick
"Rihannon" (Fleetwood Mac)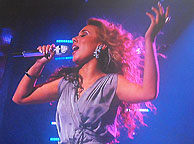 Another smart move by Jimmy Ivy, having Haley sing the Fleetwood Mac classic.
Haley took it to the same level as Stevie Nicks, with flowing hair in the onstage wind machine.
I thought Haley would bring a little more to the song, but it was a little more than karaoke,
a good version of a great song. A bit disappointing leading into the finals, me thinks.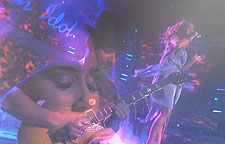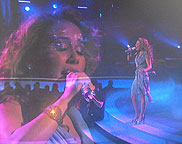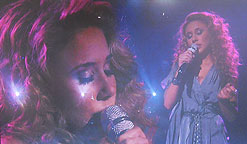 I have to hand it to Haley, she gives a cover girl face at the end of every song,
and this one was no different. She's gaw-jus! and she looks good next to Ryan.
I bet him and Steven would love a threesome with her. Sharing a coke, I mean! :)
Why was J-Lo making faces at Stevie-Ty before Haley went on?
Was she trying to prove a point, or perhaps do her growling
impression of Haley? it was distracting... she DID look cute, tho...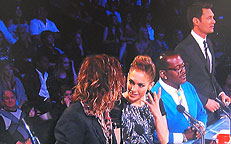 SONG THREE - Judges pick
"You Oughta Know" (Alanis Morissette)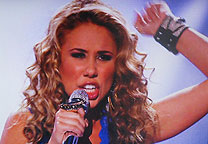 I love the fact the judges gave a difficult song like Alanis' "You Outta Know" to Haley.
It is a song that shows the diversity of the songwriter and singer, and requires an
ability to understand and belt out the various parts of the song, with a killer chorus!
I loved Haley's rendition, I loved the blue and black of her sexy wardrobe and
the producer's background, and I love Haley's background... Haley is Hot-ly!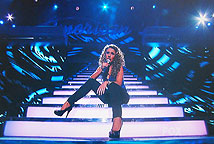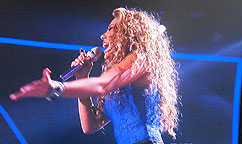 The song ended on a great note, the end of the chorus, and as we know,
this was a great note to go out on. Love you Haley, but this is not just American Idol,
this... is... American Country Idol! You Oughta Know!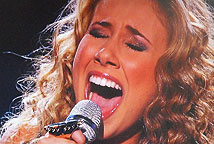 The Top 3 contemplating their performances. Happy Lauren, Satisfied Scotty, What's Up Haley?
Note: that is not a Fox logo on Haley, that is just a "Fox" sign, noting that she is a fox.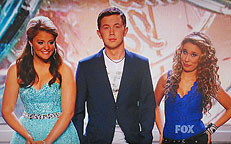 RESULTS SHOW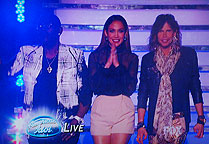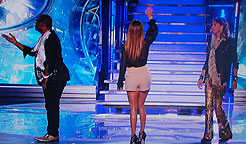 oh my J-Lo looks delish in her short pants.
Steven is rock in his gold leather, and Randy is just dandy.
Before we get to the results, we are treated to the US premiere of italian sensations
IL VOLO, who seem to be the three teen tenors (terrors?). They have amazing voices, both solo
and together, and the kid with the glasses looks like Beaker from Sesame Street! What a voice!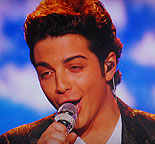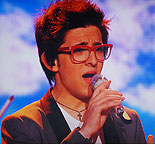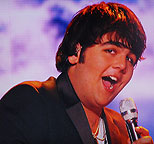 I truly enjoyed this performance, whoever put them on American Idol is a genius,
is it Jimmy Iovine? He's Italian! There must be a connection! O' Sole Mio Jimmy!
here's a link to their record and "O Sole Mio" song on iTunes


On the other side of the Idol coin, Nicole Scherzinger and 50 Cent performed
what I assume is a 'zinger hit, that was nothing but fluff.
Lady Gaga meets Shakira meets 50 Cent in an alley and all bets are off. Oof!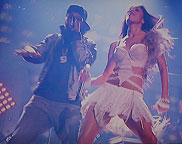 Alas, we come to the results, that were delivered fast and furious,
AFTER THE COMMERCIAL!! haha, don't you love when Ryan does that? Not!
Lo and behold, y'all, Haley Reinhart has been voted off, NO SURPRISE HERE!
Thus setting the stage for AMERICAN COUNTRY IDOL FINALE! Finally!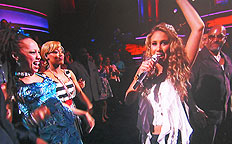 Haley sang what I think was one of her worst covers, Sir Elton's
Bennie and the Jets! I just can't get past the B-B-B-Bennie's!
B-B-B-Bye Haley!! B-B-B-Bye now!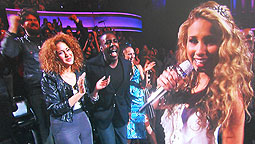 ya gotta love the producers having the Top 11 sitting up front,
loving the latest contestant being booted off. One of us! One of us!

DOWNLOAD HALEY REINHART ON iTUNES
Download Entire Top 3
Performance Show here:
**UNAVAILABLE ON iTUNES**

More Idol reviews from Test Press: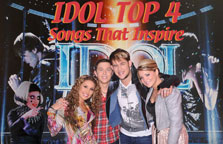 TOP 4 - Songs That Inspire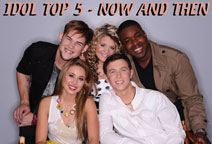 TOP 5 - Now & Then



TOP 11 REDUX - Elton John Week