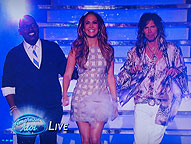 American Idol at the movies, and J-Lo is looking like a movie star, with the
frilly frill on her dress, her superstar legs, and gorgeous face. Ryan Squeakcrest
starts the show embarrassing her by telling the audience she's been voted People
Magazines' "Most Beautiful Woman" - duh Ryan! She's a goddess!

Paul McDonald
"Old Time Rock and Roll"
(Bob Seger)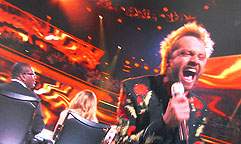 Paul once again proves he belongs on the farm squeaking
breathlessly to the pigs, as opposed to singing on a talent show.
His whispery vocals sounded out of place on Bob Seger's Rock and Roll classic,
and he even brought in a sexy female sax player to take a load off his weak voice.
His spastic dancing was in full effect, and his flower suit looked more flowery than ever,
and his pearly whites shined brighter than a lighthouse on a starless night.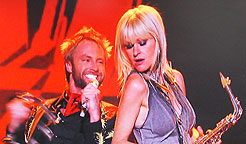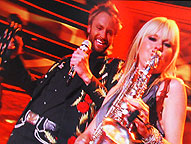 Lauren Alaina
"The Climb"
(Miley Cyrus)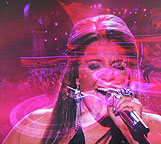 After mentors Jimmy Iodine and Will.i.am.not told Lauren she could steal Pia's votes
(oh mia pia i miss ya), and boosted her confidence telling her she was a better singer
than Miley Cyrus Montana, Lauren proceded to climb the Hanna Mountain with a
precious performance of the teenybopper classic. Frankly, I'm tired of hearing the
same songs year after year, but Lauren's country inflection was refreshing, and
she seems to be keeping fighting to keep the weight off, just like Season One
champion Kelly Clarkson! who knows, maybe that baby fat will get her Kelly votes!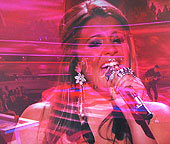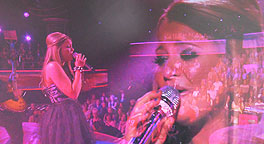 Stefano Langone
"End of the Road"
(Boyz II Men)



Oi Stefano, loved your pimp hat!
You made it another week, and you continue to sing for the little girl army
who love your big eyes and pout! You put your little heart and tiny soul
into every performance, you look like an idol, you've got the idol moves,
and if the guy who beat Adam Lambert could win on his looks alone, so can you!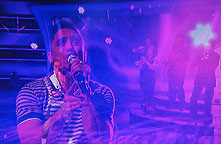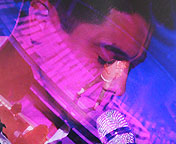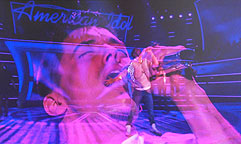 Scotty McCreery
" I Cross My Heart"
(George Strait)



I told Scotty he should do "Everybody's Talkin'", the excellent theme from Midnight Cowboy,
as I knew he would nail that sonofabyotch (I wrote that on his facebook wall before the show)
and when he said he would sing it, I nearly jumped out of my couch! But, lo and behold,
he chickened out and proved he's a one-trick, big-ear pony who can only sing country music,
but then again, the country music audience are the only ones who will buy his records when
this show is over, so it all makes sense in the end. I was disappointed, as was mentor Jimmy Iodode,
knowing that we missed a good thing, maybe a great thing. Sweet violin player.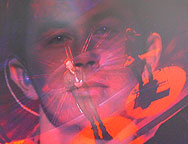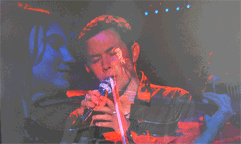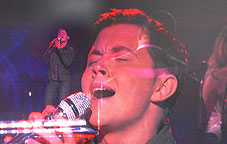 Casey Abrams
"Nature Boy"
(Nat King Cole)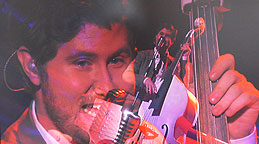 Watching Casey turn down the mentors suggestion to forget "Nature Boy" and instead
go with Phil Collins' "In The Air Tonight" was a stroke of genius. He's the only Idol who
sticks to his guns, the only Idol who can be considered a thinking artist, so I agreed with
his decision to follow his own path. Whether he gets kicked off this week or in another 3-4 weeks,
does it really make a difference? He's going to tour, he's going to record, and he's the
only Idol I'd be interested in seeing perform live. He played his excellent standup bass again
(aka Count Bassey Abrams), did a little scat singing, and got a standing ovation from the judges!
Good job Casey!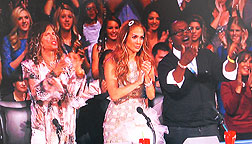 Haley Reinhart
"Call Me"
(Blondie)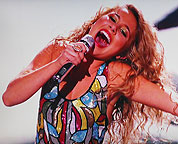 After last week's reincarnation performance of Janis Joplin,
Haley decides to be Debbie Harry this week to attempt the pop nugget
"Call Me". I just don't know. Her boots were made for walking, her face is made
for kissin, but her voice is made for I don't know what. I don't think it worked this week
and I don't know if she'll be around too long, despite J-Lo's uncalled for support of the girls.
After Pia's lack of support by the boy-hungry army of Idol voters, I don't think she stands a chance
Call me, Haley, when you get kicked off the show.

Jacob Lusk
"Bridge Over Troubled Water"
(Simon & Garfunkel)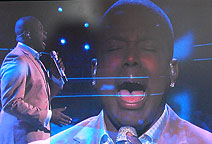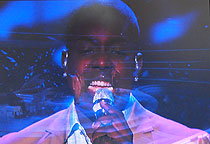 Ya gotta hand it to baseball hat-wearing mentor Jimmy Iovivo,
having Jacob sing the Simon and 'Funkel classic was a stroke of genius,
the perfect song for the high-low gymnastic voice of Mr. Lusk. Maybe not
his greatest performance, but he capped it off with some incredulous notes
that only he's capable of, and I have a feeling, brought him back from being
in the bottom 3. It's all about song choice, and he should thank his minty mentos.

James Durbin
"Heavy Metal"
(Sammy Hagar)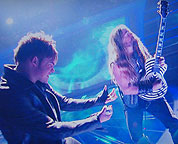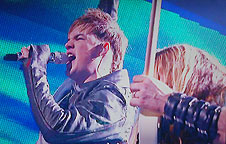 I don't know how James Durbin pulls it off, whether it's a massive stage show
with fireworks, or getting one of the best metal guitar players in Zack Wylde to
support him (instead of the Artie Lange-lookalike), he made it happen.
First, he told off the mentos once again, as he now knows his path
is rock and roll, and will be following it full-on for the rest of the season.
His record will be rock, the path he blazes shall be laden with rocks.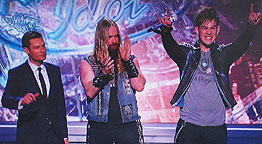 Ryan gets a dose of Zack Wylde-ness

As this is the first blog I finished before Thursday's show...

I predict bottom 3: Haley, Paul, Scotty
Goodbye to Haley (call me!)
RESULTS:
Wrong again! Goodbye to Paul and his Pearly Whites
Download Entire Top 8
Performance Show here:
Download PAUL McDONALD on iTUNES



More Idol reviews from Test Press:


TOP 11 REDUX - Elton John Week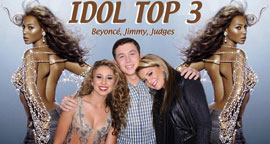 TOP 3 - Beyoncé, Jimmy & the Judges