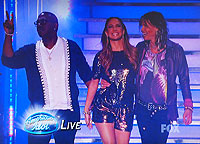 this show started out on a bang, J-Lo and Steve Tyler looking closer than ever,
with his arm wrapped around her amazing body. he's one step closer every week...
dig the fake kiss on his cheek. more kisses later in this program!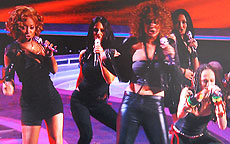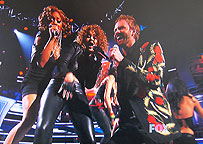 For some reason the last 5 girls to be eliminated are brought back to sing the Pink song,
"So What?" about being a rock star and not caring (about being booted off Idol?), and they
were all sexier than ever! Asston showed cleavage, Karen opened her blouse & touched her crotch,
Pia strutted and shaked and posed, Thia looked a couple weeks older, and Naima jumped so high
her boobie came out for a second!! and then PAUL came out, looking and singing as uncomfortable
as a guy at a baby shower! The dude's got no voice and probably a tiny... flower!
It was weird. and on with the show...

Scotty McCreery
"Swingin' "
(LeAnne Rimes)
A funny thing about this show were other contestants being asked to describe the current performer,
and everyone harped on Scotty's holding the microphone like a flute. haha! so true! but it's his style,
and he's made it part of his persona, and his fans love him for it. This performance was a little
more upbeat than previous countrified ditties, but still left a lot to be desired. Scotty's ego seems
to be as bloated as a Macy's balloon, he knows his mid-west, southern audience of country fans
and li'l girls loves him, and he's catering to their whims. The kid's a lock.
Nice background swirls to go with Scotty's flute playing and swingin'.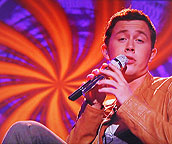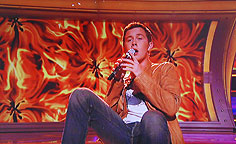 James Durbin
"Uprising"
(Muse)



James rocks so hard, there are no comparisons. Taking on the Muse anthemic marching tune,
James once again took the performance out of the box by utilizing marching drummers!
Positioning themselves in back of the judges and then flanking drums corps leader Durbin,
James' voice was in rare form, taking the chorus an octave above the original, as
requested by Muse's lead singer. Another rock and rollicking SHOW!
I especially loved the staging and lighting, and how the director's actually
did some fades between James and the drummers. So cool!


Haley Reinhart
"Rolling In The Deep"
(Adele)
The sexiest female performer left in the Top 7 (not saying much), Haley has hit her stride, and
actually belted one out of the park with a cover of the Adele hit. Man, if Adele had the looks & body
of Haley, she'd sell twice as much! Haley sang the song as if it were her own, (something Simon Says),
and with the help of two very cute backup singers, brought new life to an already accomplished hit song.
This is what Idol is all about. Haley has matured, found her niche (as Ryan told her later),
and is seriously a top contender. Loved that pout at the end... Nyotch!

Jacob Lusk
"Dance With My Father"
(Luthor Vandross)
Again tackling audio problems with his ear piece, Jacob ONCE AGAIN sang a Luthor song.
C'mon man, it's one thing singing what you know best and feel comfortable with, it's another thing pigeon-holing
yourself into a genre. I think Jimmy Iodevine needs to suggest more songs for Jacob, as an A&R mentor should.
OK, so he relates to the song (he lost his dad young, sad), but I got the feeling he was not giving it his all.
Something seems missing, the precocious joy, the mountainous vocal range in full effect was just not there.

CASEY'S BEARD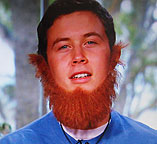 So, the other contestants took to props for describing Casey, all donning fake red beards, some of them
playing his kazoo keyboard. Even Casey put on a fake beard. Man, he is a funny dude. Scotty actually
looked realistic, he'd make a good Amish! and Haley, she even looked sexy with a beard!! wowza!

... on to one of the season's most unforgettable performances....

Casey Abrams
"Harder To Breathe"
(Maroon 5)
Casey Abrams is clearly the most talented musician and artist on the Idol stage,
and his take on the power pop Moron 5 hit just rocks out with mucho gusto.
Playing electric guitar, the Idol band's bass and guitar player look like his backing band,
and all are in a groove. Casey swings the guitar down, and starts walking around the Idol stage,
slapping hands to much joy in the audience! He does a little scat singing along to some lead guitar
lines (amazing!), and then towards end of song, as things get quiet, he walks right up to J-Lo's face,
and as she turns her embarrassed face, he PLANTS one on her cheek! what a move Casey!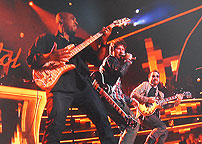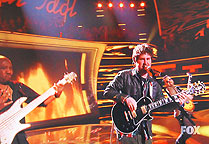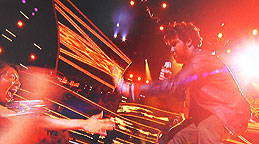 J-Lo is SO EMBARRASSED, the audience is in an uproar, Steven Tyler is amused and bemused,
and drops one of the seasons' most blatant F-bombs! Randy is, like, "what's going on?" and the most
beautiful woman in the world turns RED! woo-hoo! CLASSIC!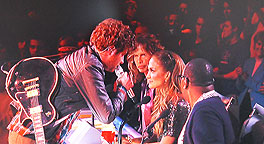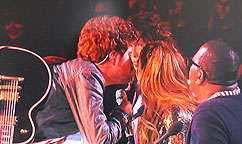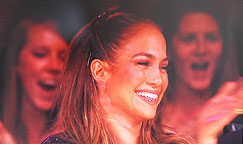 Afterwards, Ryan dons THE BEARD, and even HE looks Amish! He jokes about kissing J-Lo,
and Casey says he can do it with the beard on, and quick-witted Ryan totally gets
the joke and makes a passing note. Who got that? Beard! Gay! Kiss! hahahahahaha!
RYAN IS THE MOST POWERFUL MAN IN REALITY TV,
BUT STEVEN TYLER DON'T CARE
After the break, Stevie Tyler appears with tape over his mouth, which he proceeds
to take off and cover his face with Ryan Squeakcrest's magazine cover, and then
stick his tongue thru the mouth part. SO F-ING FUNNY! Ryan loved it too!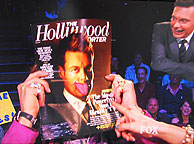 Stefano Langone
"Closer"
(Ne-Yo)
Oh Stefano, poor poor Stefano! Unlike Mad magazine idol Scotty Mc-Ear-y,
you cannot rely on looks alone. You pout, you croon, you strut like a mini stud,
but I don't think you pulled it off. Lo and behold, you are gone from this Idol stage.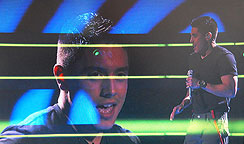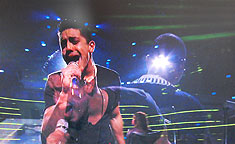 One thing I loved about Stefano is how he ALWAYS croons, never stepping outside his comfort zone,
or sing an uptempo song. Hence, we get wonderful camera fades and colors, and everything looks
so cool changing with his facial expressions and tiny body postures. I salute Stefano for his rise to
prominence, and I expect to see him front a boy band and make the cover of many teen mags. Ciao!

Lauren Alaina
"Born To Fly"
(Sara Evans)
Lauren, like Scotty, is embracing her country roots and audience, this time
leading a real live neo-hoe-down rock band, with insane looking fiddle player,
and goofy guitarist. It kinda worked, as she looked comfortable in her
sexy country outfit, painted tan-face and confident strut. Yet is this the type
of performance that will take her to the finals? Can she overtake country Scotty's
base of midwest crushes? I don't know, but I think she needs to take some vocal
chances to showcase her talent. She's got Kelly Clarkson written all over her!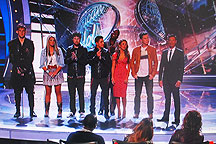 All in all, one of the most entertaining
Idol shows in recent memory....

THURSDAY'S RESULTS
I thought Jacob, Stefano and Scotty would be in the bottom three this week, but once again,
Scotty can do no wrong, and Haley was in there, along with the aforementioned pair.
and yet, she was put to safety immediately.

Hence, it was between Mr. Lackluster Lusk, or young lad Stefano...
sadly to say, but inevitably at this point, our little crooner is gone...

Download Entire Top 7
Performance Show here:
Download STEFANO LANGONE on iTUNES



More Idol reviews from Test Press: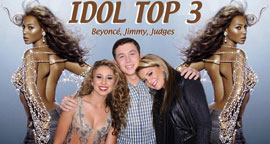 TOP 3 - Beyoncé, Jimmy & the Judges


TOP 11 REDUX - Elton John Week