With studio help from The Black Eyed Peas' Will.i.am, Steven Tyler giving a tour of the
Rock N' Roll Hall of Fame (and his bust), and J-Lo looking hotter than hotness, this was
a great week for the Top 9!
Jacob Lusk
"Man in the Mirror"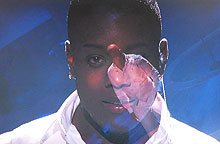 So, Jacob decides he's "NOT a rock and roll guy," and tells mentors Will.i.am.not and Jimmy Iodide that
Marvin Gaye's "Let's Get It On" is NOT the song to do, and instead chooses Mikey Jackson's "Man in the Mirror."
He says if he ends up in the bottom three, it's not his fault, but America's for not being ready to look themselves in the mirror.
Wow, what a self-obsessed statement, and an extremely bad decision, the kind of decision that get Idols eliminated for doing your own thing and ignoring the mentors
Then, he sang a duet with the scary-faced woman who co-wrote the Mikey song, and I hated it. He would have been MUCH better off
with Marvin not Mikey. Besides, how did Michael Jackson get in the Rock N' Roll Hall of Fame in the first place? c'mon now Rock N' Rol!

Haley Reinhart
"Piece of My Heart"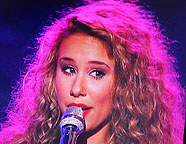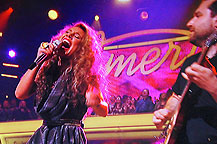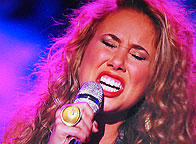 Haley, compared to Janis Joplin throughout these Idol shows, finally does a Joplin song, and she nails it,
with her best performance of the season. I haven't been the biggest Haley fan, although her legs ARE
American Idols unto themselves, but tonight she showed she deserves to be where she is, in the Top 9.
Not a finalist, mind you, but Top 9er. Her voice had the right rasp, she rocked with a bluesy know-how,
and strut her stuffs like the finer 9er she is. Good job, comet!
Casey Abrams
"Have You Ever Seen the Rain?"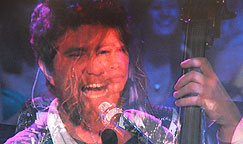 Instead of singing the Sting-ing "Every Little Thing She Does Is Magic," the mentors suggest Creedence Clearwater Revival's "Have You Ever Seen the Rain,"
making it the 2nd time Casey has done a John Fogerty song (his take on "Heard It Through the Grapevine" was all Creedence) and he makes Randy a proud mary.
With his upright bass and righteous growl, "Casey is revolutionary" sayeth Stevie Tyler and tells Casey to "put wheels on that thing"
The judges are entranced by Casey's bass-ey perf!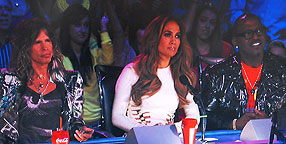 Lauren Alaina
"(You Make Me Feel Like) A Natural Woman"
The ever-perky and spunky Lauren channels Aretha Franklin's "(You Make Me Feel Like) A Natural Woman,"
but looks like Gwen Stefani Jr, with a faux-hawk and baby pants that look as un-natural as can be.
Unfortunately, Gwen Stef is this week's style expert for the remaining 3 gals, but that's like having Stevie Wonder
dress the guys. Bad choices, bad clothes, not good. Thankfully, Lauren rises above her stylings, and delivers
a stylish rendition of Aretha's classic. You Make Me Feel Good, Lauren Alaina, Alaina Lauren!

James Durbin
"While My Guitar Gently Weeps"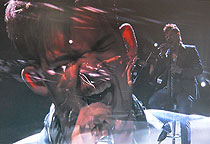 Strange, after weeks of high energy rock n' roll performancs, James decides to take it down a notch during
Rock N' Roll Hall of Fame week! what what what? Seems that "While My Guitar Gently Weeps", the
George Harrison/Beatles classic, is something he's been doing for years, and needed to do tonight. Mistake!!
Aside from the final couple bars where he reached for those Adam Lambert hi-octave notes, one of James'
poorest outings all year. With the light shining through his big ears, and violin girls violin-ing, James gently
weeped alongside the heavy guitar player (and I mean "boy, you're gonna carry that weight" heavy). Feh!

Scotty McCreery
"That's All Right"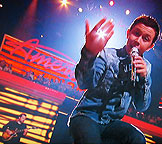 Scotty does Elvis, complete with sneer and country rock twang.
This actually worked pretty well, when Scotty was able to reach down for those low notes
he's famous for. A little TOO rockin', in my opinion, as Mr. Mc-Ear-ey did his best to pose
ala rockin' Elvis, but just couldn't pull it off. The little girls understood however, and bum-rushed
the stage at the end, with the female Stymie all bug-eyed and hopping upfront. It's all right!


Pia Toscano
"River Deep Mountain High"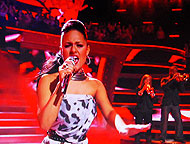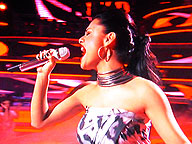 So, Pia decides to take the judges advice, and do a rockin' number, and actually move around
the stage tonight. She's not Tina Turner and she's a little stiff, but she does belt it out, and she
farts her way around the entire stage. Again, Gwen Stefani dresses her poorly, with way too much
room in the rear so you can't see Pia's fantastic bod. She's kinda lookin potato-sacky! Once again,
the judges say she's in it to win it, blah blah blah. good job, just not deep or high enough for me.


Stefano Langone
"When A Man Loves A Woman"
Stefano takes on another classic soul track by Percy Sledge, and he opens his eyes
this week to croon to his massive contingent of teenage facebook gals. Those big
baby black eyes have J-Lo singing along, and his tongue is wagging in the back when
he hits those big notes, he so cute! I love the fades and the thing sticking out of his ear!


Paul McDonald
"Folsom Prison Blues"
Paul McDonald farms in Johnny Cash's spirit with a rockabilly number that features the
guitar playing of Artie Lange-looking lead guitarist, wailing again. Paul continues his quirky
spastic dancing that reminds me of the scarecrow from Wizard of Oz, and he continues to
show his amazing set of teeth and hair-on-fire look. This didn't really work for me, but of course,
the judges thought it was fantastic. I just don't know.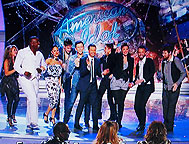 A final look at the Top 9, dancing
like little kids at a sock hop!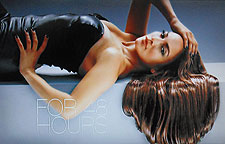 I was impressed by J-Lo's commercial,
for what, I have no idea. probably her hair!
THE RESULTS SHOW (oh mia Pia!)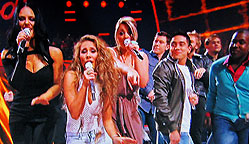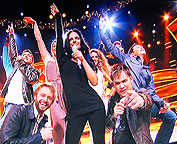 How fitting that Pia is the center of the group singalong tonite, looking hotter than ever before,
wearing a way-sexy dress with zippers and plunging plungers... oh Pia, you're so fine, and sexy!
...an ominous sign of things to come....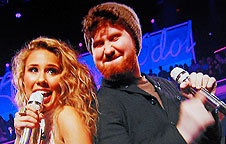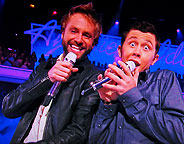 I liked the onscreen pairings of lovebugs Haley and Casey, as well
as heart-throbs Paul and Scotty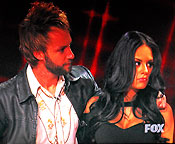 Paul and Pia in the bottom two!? This is unbelievable,
although they DO make a very nice couple!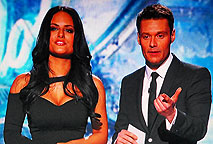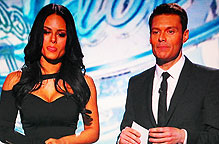 OMG! Pia is gone! Ryan is pissed! Pia sticks out her tongue at Steven!
who will she hook up with now that she's off the show? I say Ryan!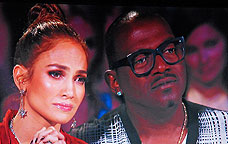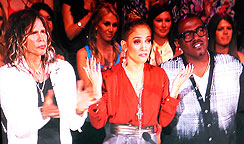 The judges can't believe it. J-Lo is heartbroken, and even has a WTF moment!
As crazy as Pia's leaving the show is, I blame the judges for this hugely judgemental error,
as they constantly praise each and every performance by every Idol, whereas Simon Cowell
would at least give criticism and at least influence some voters to some degree. Not this year!
They have to realize that Stefano is one of the biggest teenie-bopper crushes, and most of the
55 million voters are actually 100,000 young girls on Facebook voting 500 times for their pin-up idol.

Oh, Randy, J-Lo and Stevie, you saved Casey and look where it got you... flabbergasted and perplexed!
What a shame, what a crying shame! Rock N' Roll!!

Download all Top 9 performances here:
Download PIA TOSCANO on iTUNES
past Idol reviews from Test Press:


TOP 11 REDUX - Elton John Week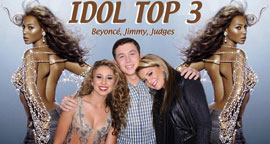 TOP 3 - Beyoncé, Jimmy & the Judges