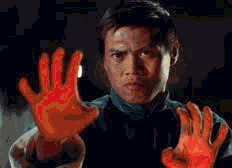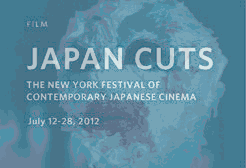 NY ASIAN FILM FEST / JAPAN CUTS 2012
June 29 - July 15
Lincoln Center - Japan Society
POTECHI (CHIPS)
ポテチ (Potechi)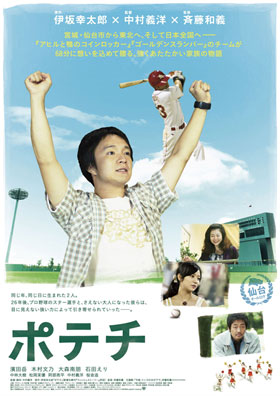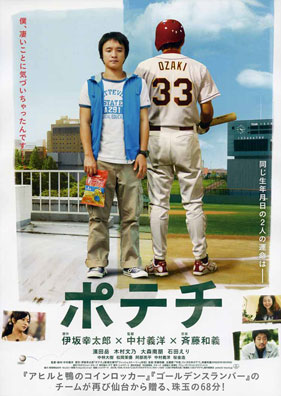 Japan, 2012
Directed by: Yoshihiro Nakamura

Yoshihiro Nakamura's last few films, Fish Story, Golden Slumbers, and A Boy and his Samurai, are
NYAFF faves; POTECHI (CHIPS) continues the director's brilliance with an off-kilter family film that weaves
the theme of babies being switched at birth with baseball, potechi chips and petty thieves, all taking place
in the town of Sendai, the site of Japan's recent earthquake/tsunami.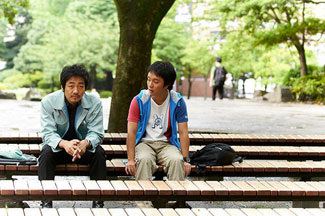 two friends relate itchy fishy stories

The two stars, Tadashi (Gaku Hamada from Fish Story) and his older friend/confidant Kurosawa
(played by Nao Omori, the titular character of the phenomenal Ichi The Killer) have a conversation
about life, petty thievery, and an amazing discovery Tadashi had at the hospital recently that will
impact the entire film.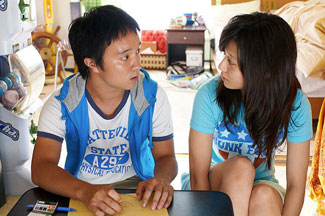 Tadashi and Wakabe, hero worshipper and suicidal muse

Tadashi overhears a voicemail in the midst of robbing his baseball player hero Ozaki's apartment,
a deja vu experience, as a previous mid-robbery voicemail from a suicidal woman turned
out to be Wakaba, his present-day girlfriend, whom he rescued out of a rooftop jump.

The new voicemail is a plea fo Ozaki's help from a woman being stalked, and of course
Tadashi again goes to the rescue, only to get involved with a scheming girl and her boyfriend who
wish to blackmail the baseball player. This is a serious blow to the serious, emotional thief and hero
of our movie, and they will not get away with this easily!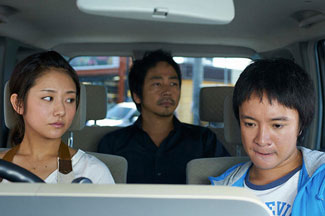 tres amigos eat sad salty chips

What is Tadashi's obsession with Ozaki? because they come from the same hometown?
because they share the same birthday? because their mother's gave birth at the
same time in the same hospital? Is it because Ozaki was his high school hero who
has not been given a chance to shine with his major league team?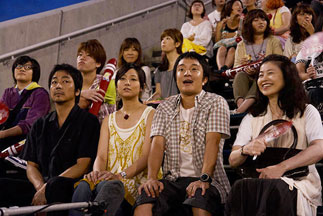 the chippy crew enjoy the baseball fun and games
Tadashi's mother does not approve of her son, wishing he could be more of a winner
than the loser he appears to be. She gets along fabulously with Wakaba and shares meals
and drinks with her, as the two relate to Tadashi's depressing childhood and current adult status.
would Tadashi's mom been happier had her son been a baseball hero instead?
this is something Tadashi wonders...
In one of the strangest, yet best scenes in the movie, Tadashi gives Wakaba salty chips
instead of the consomme-flavored ones she asked for; when she decides to eat them anyway,
realizing they are delish, Tadashi breaks down in tears, as she is accepting of the substitute chips,
as opposed to his mother, who is not accepting of her (unknowingly) substituted child.
could the unwanted salty Tadashi be accepted as well? Chips Ahoyo!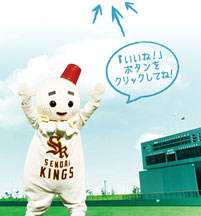 baseball mascot = pillsbury fezboy

Tadashi's friend Kurosawa is the cog who turns the entire Chip wheel, as he is a private
investigator on the side, apart from being a fellow thief, and is privvy to Tadashi's hero worship
and birthing secret, sensing the key to his young friend's happiness revolves around Ozaki's chance
to play for his team, and be the hero Tadashi knows he can be.

The final scene at the baseball game is just fantastic, from the "O-za-ki!"-chanting crowd,
to Ozaki's premiere entrance in the film, to Tadashi's not caring what
the world thinks of him and his obessive hero worshipping.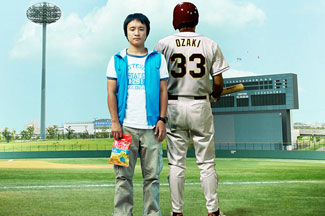 Tadashi vs Ozaki - separated at birth?

A beautiful funny film to the very last frame, Chips is tops.


review by Jefe aka Johnny Chiba
more POTECHI (Chips) reviews


POTECHI is NYAFF Closing Night film @Japan Society
Sunday, July 15 @ 8pm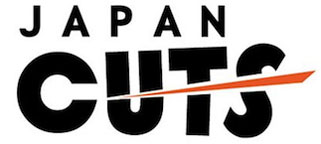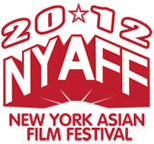 Jefe aka Johnny Chiba publishes


NYAFF2012 - TEST PRESS reviews

| | | | | | | |
| --- | --- | --- | --- | --- | --- | --- |
| | | | | | | |
| The Sword Identity | Scabbard Samurai | Dragon (aka WuXia) | Guns N' Roses | Asura | Doomsday Book | Namesless Gangster |