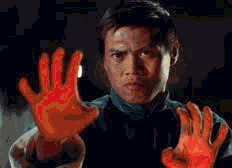 NYAFF 2012
New York Asian Film Festival
June 29 - July 15
Lincoln Center - Japan Society
THE SWORD IDENTITY
China, 2011
Directed by: Xu Haofeng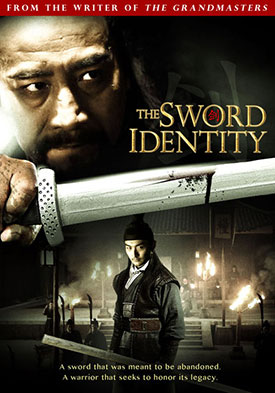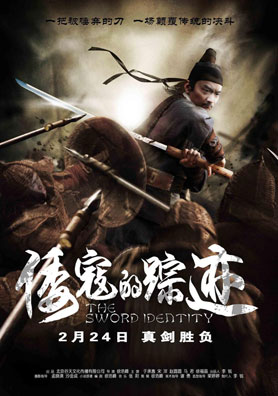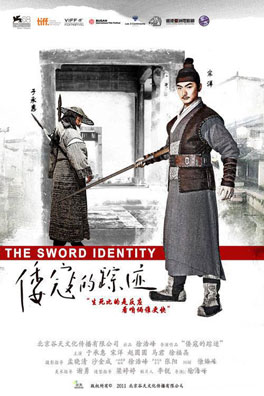 A sword that was meant to be abandoned
A warrior that seeks to honor its legacy.
The directorial debut of author Xu Haofeng (screenwriter of Wong Kar Wai's Ip Man "The Grandmasters"), also action
choreographer in this period drama about a mysterious unnamed swordsman (Song Yang) and pal, who arrive in a
coastal town to open a martial-arts school, but only after they defeat fighters from all four of the town's established schools.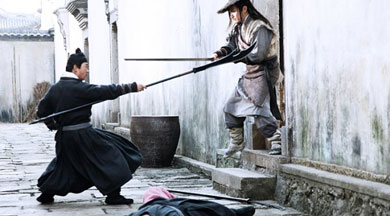 t'aint no challenge
Yin Yang swordsman carries a strange long sword, which could be a Japanese weapon, as he meets, greets
and slices all in his path; eventually stopped by the master of the 4 schools, Qie (Ma Jun), and his bow n arrow fleet
who chase the stranger off after capturing his pal, and convinces all he is a Japanese pirate, based on his mysterious sword ID.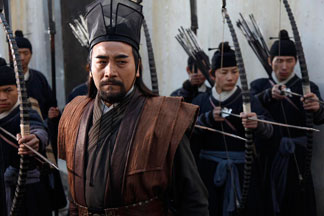 mosquito hat protector just says no to big long swords

In reality, the stranger is the last surviving bodyguard of a famous Chinese general who
defeated Japanese invaders with long swords modeled on those of his enemies.

The stranger holes up with a tough hooker/dancing girl, and teaches her basic
fighting moves to hold off masters and minions with his longsword.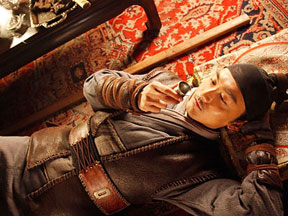 japanese pirate smokes hash, hangs with hookers
72 year-old actor Yu Chenghui plays the ancient martial arts hermit Qiu Dongyue, who comes down from his
self-imposed exile in the mountains to try to capture Song Yang and regain his master rank and sense of youth.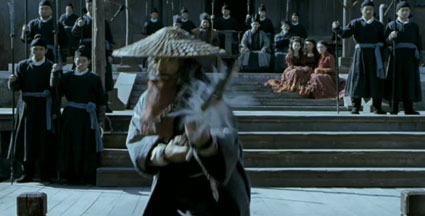 the old man from the mountain shows he ain't no hermit
The story also revolves around master Qiu's much younger wife, Madame Qiu, her bodyguard lover, and
the hefty commander of the local coast guard, who yearns for a coat of armor instead of his paper suit.

The stranger runs into Madame Qiu, who discovers his true identity and purpose, and agrees to help
him and his cause. The swordsman hooks her up with weapon and strategy to defeat all who cross her path.
| | | |
| --- | --- | --- |
| | | |
| teaching another hottie how to defend | challenging the master beaters | is that a longsword or are you just happy to see us? |
THE SWORD IDENTITY is an amusing yet philosophical piece, deep on martial arts strategy
delving into the psyches of the characters, all of whom have ulterior motives and interior moves

"Xu Haofeng's debut feature is a mysterious wuxia film that is both an homage to and an elegant,
comic deconstruction of the classic Chinese and Japanese martial arts cinema traditions," Shelly Kraicer - Cinema Scope.
"The final master vs swordsman showdown is refined to a pure philosophy of swordplay,
where age faces youth and non-action vies with action.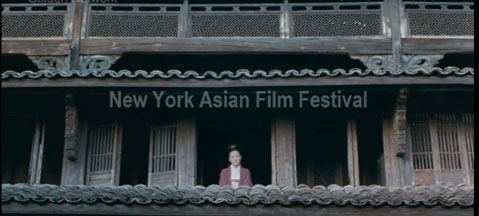 Madame Qui waits for her love song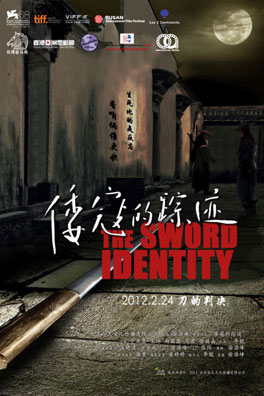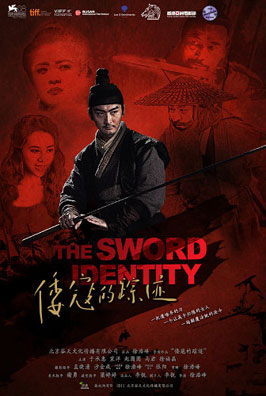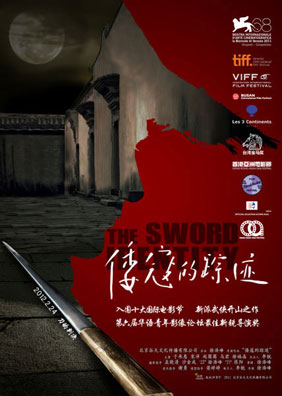 the longsword is the star of THE SWORD IDENTITY, but whose ID, and just how long is it?


review by Jefe aka Johnny Chiba


more Sword Identity reviews

THE SWORD IDENTITY
screens at NYAFF
Sunday, July 1 @ 1pm
Wednesday, July 11 @ 6pm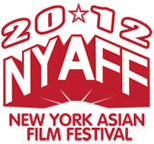 Jefe aka Johnny Chiba publishes


NYAFF2012 - TEST PRESS reviews

| | | | | | | |
| --- | --- | --- | --- | --- | --- | --- |
| | | | | | | |
| Dragon (aka WuXia) | Scabbard Samurai | Potechi (Chips) | Guns N' Roses | Asura | Doomsday Book | Namesless Gangster |