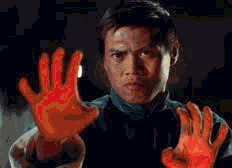 NYAFF 2012
(New York Asian Film Festival)
June 29 - July 15
Lincoln Center
Japan Society
GUNS N'ROSES
China, 2012
Directed by: Ning Hao
Nope, not that Guns N'Roses, but this Chinese film is VERY rock n' roll, a rollicking frolic
through 1930's Mongolia, occupied by a nazi-like Japanese Army, on the lookout for revolutionaires,
weeding out rebels, led by a very scary man-in-charge, ala Christoph Waltz' klinky colonel from Inglourious Basterds.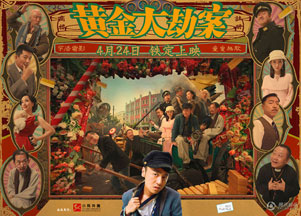 A petty street hustler and priest robber (humorously played by Lei Jia-yin), is tossed in jail,
where he meets a just-tortured revolutionary with a hidden shoe tip on an incoming gold shipment,
which he surrepticiously passes on to Lei. The head of police, familiar with Lei's scoundrelness,
makes him a deal to find and turn in the revolutionaires. As Lei leaves jail, he gets
muscled by the rebels' pals to turn over the gold info. The rebels turn out to be actors
banded together to make a film and nab the gold shipment to not only fund their
revolution, but to keep the money out of the hands of the Japanese army.

THE CHINESE FILM COMPANY WENT ALL OUT ON POSTERS
FOR ALL THE CHARACTERS IN THE FLICK
the old man, the hero, the priest
the agent, the girl, the police
the agent, the actress, the old actor
From there, things get complicated. Lei gets involved with the gang as a driver,
falls in love with the bank president's daughter, and seems to go from bad
to worse, meeting a slew of comedians along the way, from shootout to
shootout, explosive action and hilarity. From Lei's ex-revolutionary dad,
to the oft-robbed priest, Lei's character is at the center of a mess he
creates and navigates, never knowing how he's going to get out alive.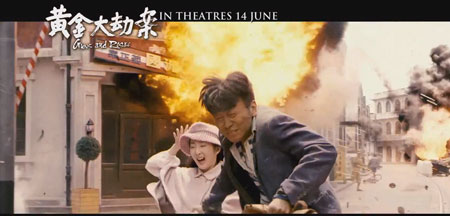 chinese trailer

a well-made, fast and funny flick, and a return to wackiness
for director Ning Hao, along the lines of his
fine films Crazy Racer and Crazy Stone.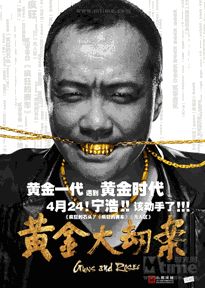 review by Jefe aka Johnny Chiba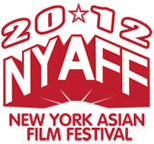 Jefe aka Johnny Chiba publishes


NYAFF2012 - TEST PRESS reviews

| | | | | | | |
| --- | --- | --- | --- | --- | --- | --- |
| | | | | | | |
| The Sword Identity | Dragon (aka WuXia) | | Potechi (Chips) | Asura | Doomsday Book | Namesless Gangster |