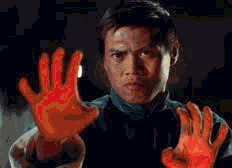 NYAFF 2012
New York Asian Film Festival
June 29 - July 15
Lincoln Center
Japan Society
NAMELESS GANGSTER
Korea, 2012
Directed by: Yun Jong-Bin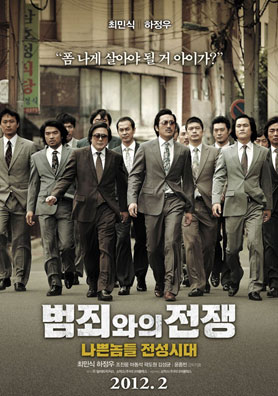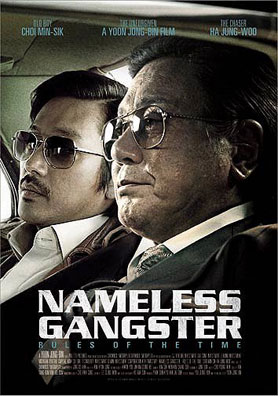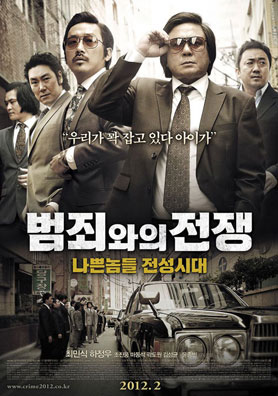 Starring: Choi Min-Sik, Ha Jung-Woo, Jo Jin-Woong, Ko In-Beom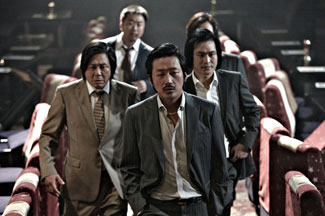 strutter!
According to Director Yun Jong-Bin, his film is "... not glamorizing gangsters; it's a film that represents the fathers of our age."

that is, if you're talking fathers, godfathers, and motherf*ckers....
As the "Nameless Gangster", Choi Ik-Hyun (Choi Min-Sik of "Oldboy" fame) goes from underdog to underworld,
in one of his most effusive roles; power-hungry, conniving, cunning, yet way-too-smart for his own britches.
the nameless gangster, the true gangster, the gangster muscle
the persectued in-law muscle, the prosecuting D.A., the proselytizing gangster punk
The film is based on on fact, when war was waged against organized crime
by President Roh Tae-Woo in the 90s, and hundreds of gangsters were arrested.

Chubby yet cool mafioso Choi Ik-Hyun is amongst those busted for his part in a hotel-room beating,
where in prison, he incurs the physical, venomous wrath of prosecutor, who beats him with a stick,
demanding he admit and write down all his crimes leading to his incarceration.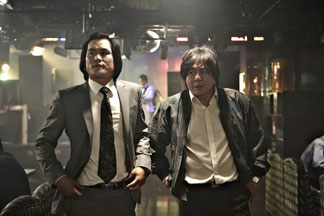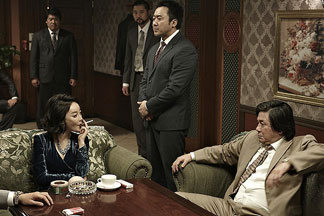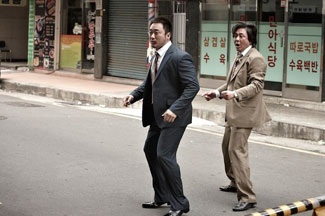 Choi Ik-Hyun loves being in the center of the action, mingling with the muscle, hanging with the hottie, in- trouble with the in-law

The film flashes back to the 1980s, where corrupt bribe-taking customs official Choi, working the nightshift at
the Busan Port, discovers a batch of heroin. He manages an introduction to a local gangster with Yakuza connections,
Choi Hyung-Bae (Ha Jung-Woo The Chaser, The Yellow Sea). In the middle of selling the drugs, Choi Ik-Hyun realizes
the gangster is distantly related to him via family name, and in a foreshadowing of the entire movie, drunkenly demands
he treat him with respect, leading Choi Hyung-Bae's muscle-head henchman to give Choi Ik-Hyun a facial whipping.

The next day, Choi Hyung-Bae goes to his father's house, where Choi Ik-Hyun is sitting having tea.
The crime boss' dad has his son sit down and show respect for his old friend.

In this way, Choi Ik-hyun goes above the heads of his friends, enemies, police, etc
in order to get things done. Is he the smart business man, or a stupid wanna-be who
relies on his black book of contacts to stay a step ahead of those who oppose him?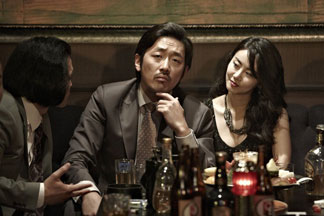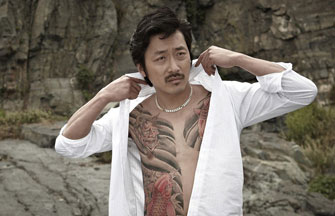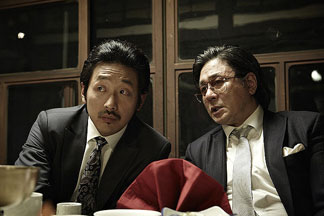 crime boss Choi Hyung-Bae is a very cool gangster, feeling out the situation, showing off his yakuza tats or taking advice from family

Thus a partnership is born, with Choi Ik-Hyun's ability to gain favors from those in power, and
gangster boss Choi Hyung-Bae's calm physical prowess and imposing leadership of a feared crime family.

Ik-hyun lobbies for his new gangster partner through his family connection to gain ownership
of a hotel/casino, where Choi meets with the current owners, a hottie and the rival crime boss.
When things immediately sour at their initial meeting, resulting in a beating for Choi Ik-hyun and his
bodyguard son-in-law, Ik-hyun brings in his new gangster squad to kick some ass and take over the hotel/casino.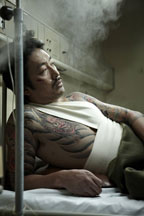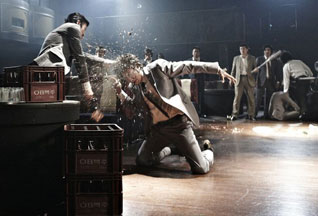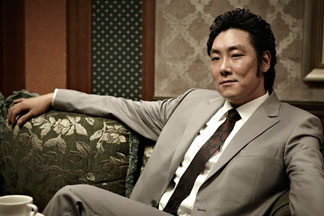 gangsters will be gangsters, gettin' hurt, hurtin' each other, scarfaced

As Choi Ik-hyun gains the graces of his new gangster family, he sees himself as a gangster, but in reality
he's a greedy weasel who will go behind anyone's back to get what he wants, will talk sh*t to
anyone he wants, and knows he can manipulate within the social hierarchy,
via his little black book of contacts.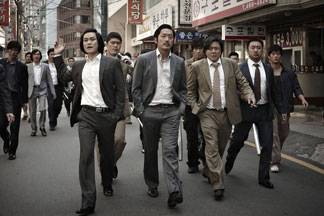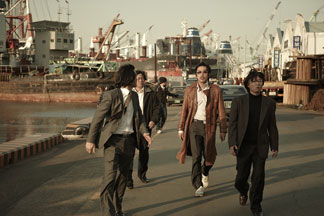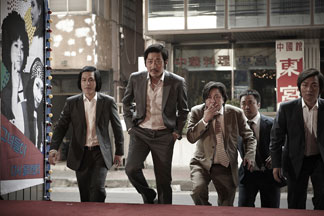 Choi Ik-Hyun struts along like a member of the pack, shameless yet nameless

This is the story of gangsters connected to power, politics and prosecutors,
through blood relations and bad blood, pay-offs, corruption, and mob bosses.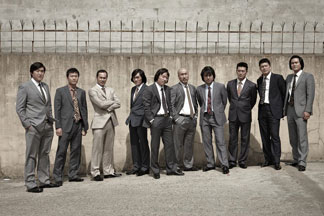 Choi Hyung-Bae's crew dress well, kick ass
How many beatings will Choi Ik-hyun take before he learns his place?
Can he stay with one gang? Can he stay out of jail or out of harm's way?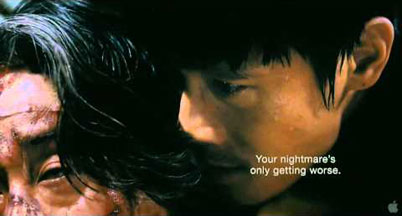 Choi Ik-Hyun can't take a hint


Easily one of Choi Min-Sik's best movies, you don't know whether to
root for his nameless gangster to succeed, or get his ass kicked trying.

four stars.

review by Jefe aka Johnny Chiba
more NAMELESS GANGSTER reviews


NAMELESS GANGSTER
screenings at
Film Society of Lincoln Center
Saturday, June 30 @ 9pm
Tuesday, July 1 @ 1pm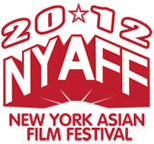 Jefe aka Johnny Chiba publishes


NYAFF2012 - TEST PRESS reviews

| | | | | | | |
| --- | --- | --- | --- | --- | --- | --- |
| | | | | | | |
| The Sword Identity | Potechi (Chips) | Scabbard Samurai | Guns N' Roses | Asura | Dragon (aka WuXia) | Doomsday Book |