Jéfe aka Johnny Chiba first-person experiential of the great
art fair that is ART BASEL, and select satellite art fairs
Lauren Kelley's stop-motion animation video "Get the Bones from 88 Jones: Because She Also Eats Meat" was shown
on the wall of La B.A.N.K. (Bank Galerie France ) on the tiniest of screens, but the originality and humor caught my
stop-motion-animation-loving eye. Using dolls and claymation, Kelley explores stereotypes of femininity and race in
a demanding and oversexed world. Kelley breathes life into plastic characters, a world in which dolls and puppets are
caught in endless streams of consciousness and are trapped in a bizarre theater of the absurd.
Kelley currently lives and works in Houston, Texas.
See Lauren Kelley's stop-motion video "Big Gurl" from 2006, c/o New Museum
remarkable pieces using graphite, watercolor, and colored pencil on antique ledger book pages
well repped c/o Nicelle Beauchene Gallery NYC. The piece to the left sold before my eyes!
Nicelle Beauchene also showed

interesting paper-cut art from a Picasso-esque sculptress
rubyskystiler.com
I enjoyed this "Dust and Beast" piece from Steven Tabbutt,
even more impressive was the nice framing job, to go with
the beastly brown.
c/o Galerie Yukiko Kawase France


Art made on solar panels proved to have a sunny disposition,
c/o AMP Gallery - Greece

Working on the fringes of decorative and digital art,
Peter Kogler's synthetic motifs are drawn from a universe of
electronic culture (tubular forms, lines of ants, capsules, bulbs, etc),
equally at home printing, painting or doing large-scale installations
c/o Mitterand-Sanz Zürich
the interestingly dark work of Nikolai Noel was well represented by
White Columns Gallery, NY. plenty of red dots abounded! congrats!

see other TEST PRESS Art Basel 2010 satellite fair reviews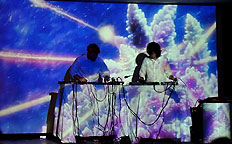 Test Press is a division of Propulsion Productions
PO Box 1582 Cooper Station NY NY 10276
contact