Sue Williams' biomorphic shapes resemble intestines, arteries, and gonads,
all rendered in bright cartoon colors; sexual and domestic abuse presented
in unprecedented ways, grotesque and shocking, x-rated, but overall amusing


LA CA
The Chilean artist's name translates to "of the devoid one;" perhaps her surrealistic, pencil drawings are devoid of sweetness and light,
though her artwork may be dark and bleak, a sense of humor pervades the sexual, political and death portrayed therein,
Sandra Vásquez celebrates whilst depicting the horrors (de la Horror?) she sees in her art.

JULIETA ARANDA
I saw this interesting piece by Mexico/NY artist Julieta Aranda,
presented by SITAC (Int'l Symposium on Contemporary Art Theory),
entitled Theory and Practice of Catastrophe. Muy extraño!
Barry McGee rose out of the graffiti boom, art movement in the San Francisco Bay Area during the
early nineties. He describes his colorful pessimistic work as "urban ills, overstimulations, frustrations,
addictions & trying to maintain a level head under the constant bombardment of advertising".
McGee's paintings often combine central figures dominating abstracted backgrounds of drips, patterns and
color fields, except when he's painting portraits of street characters, like his wall of beards seen here
the excellent Ratio 3 booth was rad-io



LOUISE BOURGEOIS / Tracey Emin
The female and male bodies continually referenced and remade in Louis Bourgeois'
artwork are charged with sexuality, innocence and the interplay between the two.
I had no idea Louise Bourgeois had such a plethora of penile work, until I saw
the picture below of Louise and her giant brass vibrator... RIP LB!
I've seen Eric Doeringer for years, at art fairs, in Chelsea, on the street,
basically anywhere art is to be found. Eric copies classic and current artists to the "t",
to the point where I referred to his sighting as "hey, it's fake artist!" However, as time
passes, I realize the ability to paint exactly like someone else is a skill unto itself.
His new show is called "I like the Art World & The Art World Likes Me"
- Paint on, fake artist!

speaking of Kehinde Wiley...ain't nothing like the real thing, baby


Two artists who paint black subjects quite well, with fine use of colorous imaginatory

well-repped by



Culver City CA


and more Kehinde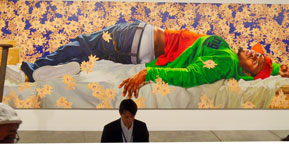 I enjoyed this larger than life, under the lights piece by Mr. Wiley,
the fingers seemingly comb the gallery attendant's hair...sweet!



NYC


Barthélémy Toguo from Cameroon makes watercolors, sculptures and sculptural installations.
His watercolor images and colors depict a dreamy world of human, animal & vegetal metamorphosis.
Toguo's watercolors, with their humor, erotic energy and sense of possibility, are
the most accessible part of his endeavor, if the least critical of the here and now.


Paris
Blazingly colorful skateboards and prayer carpets above and below from
Moroccan
Mounir Fatmi
. Entire skateboard collection was sold
en masse to a museum, so many more can appreciate (but not skate!)



Considerably gay, this particular artwork by Richard Hawkins
(not Richie Hawtins), featured a handsome asian fellow that
somehow struck a gay art chord in me, kinda like the gay fixation
of Judah Friedlander from 30 Rock...color me gay!


NYC
Cuban artist
José Bedia
's early inclination toward drawing and cartooning
was enhanced via travels to Budapest, Berlin, New York, and to an Indian
reservation in the Southwest, where he became acquainted with North American
native art and artists, providing inspiration for his quasi-religious art
c/o Poligrafa Obra Gráfica
Barcelona
also representing
Cuba's Enrique Martínez Celaya art spans a broad spectrum of media and disciplines,
he has a Ph.D. in Quantum Electronics, and is the author of Guide, The Blog: Bad Time for Poetry and
Poems for the Bed. Martínez Celaya's studio and imprint, Whale & Star, functions as a contemplative and
educational environment, concerned with the role art has in life, spirit and community.
I enjoyed his display of paintings from Poligrafa Obra Gráfica, intriguing and well-mounted

The boy on crutches in his painting came to pseudo-life via
a secondary sculptural discipline and primo gallery space:

JULIE MEHRETU

I became intrigued with Julie Mehretu when her work
was on display (and on the cover of) MOMA's On Line:
Drawing Through the Twentieth Century. She is best
known for her densely-layered abstract paintings and
prints, oversized and ebulliently rendered

RICHARD SERRA

Richard Serra's groundbreaking sculptures explore the
exchange between artwork, site, and viewer. He has
produced large-scale, site-specific sculptures for architectural, urban, and landscape settings spanning the globe, and his drawings here are sculptural in nature as well.


LA CA
incredible mixed media on mylar, Moscow's Dasha Shishkin is a master of color and
context, with a dazzling array of bizarre abstractions and perverse interactions


NYC
also representing the remarkable claymation goddess
A main impetus for coming to art fairs with Zach Feuer Gallery is to see the latest claymation videos
from the magnificent Nathalie Djurberg. Although it is still impossible for anyone other than fair-
goers, ZF gallery-seers, or buyers of her limited-edition work to actually view her videos, I appreciated
taking a few stills from above video, which told a story of a girl's bird that gets playfully devoured by pet cats.
From cats to snakes, I somehow missed the video the stills below were taken from....
I might as well be dead already... shame on me, shame on Zach, shame on Nathalie...not-a-lie!
Pakistan's Alyssa Pheobus creates interesting imagery,
using graphite on homemade cotton rag paper


NYC
one of the world's great architects/artists, Zaha Hadid designed the
booth for Buchmann Galerie, and represented her artwork as well.
any question of architecture being art stops at Ms. Hadid


Berlin
keeping up the concept of The Great Pumpkin (Linus would be proud)
Yayoi Kusama's work shines on like her crazy diamond world,
larger than life, lively and lovely


London
Gloriously opulent, intricate in detail, rich colour, and jewel-like surfaces, Raqib Shaw creates an eco-
system inhabited by figures such as phallus-headed birds, bug-eyed butterfly catchers, reptilian warriors
or monkeys holding parasols, anthropomorphic in their gestures and regalia. Shaws's use of enamel
and metallic industrial paints are manipulated to the desired effect with a porcupine quill,
meticulously enhances numerous details within the paintings, such as coral, feathers or flowers.




London



Israel's Yael Bartana's "Entartete Kunst Lebt" (Degenerate Arts Lives) alludes to the War Cripples
painting by German Expressionist Otto Dix, known for his grotesqueries. The painting was featured at the
First Dada Exhibition in Berlin in 1920, and in the late 30's in a traveling exhibition organized by the Nazis
under the title "Entartete Kunst" (Degenerate Art).
In one of the best video installations at Basel, Bartana reconstructed Dix's painting and breathes
new life into the war cripples via "ex nihilo" creationism via animated film, enabling them to keep
moving, to proudly carry on, and physically produce live degenerate art; beaten, wounded and
exhausted, they declare their victory and the power of art.


As most Israelis and Israeli artists, Yael Bartana is proud
and resourceful, creating a strong presence, as in the above
pieces ("Build, Rebuild, Resist"), animated by Johnny Chiba


Tel-Aviv ISRAEL


Favorite Gallery Award
goes to




From the bold presentation of MARK GROTJAHN's art high above eye level, to the
presentation of appropriation artist GLENN BROWN, München's Sabine Knust Galerie
plethora of phenomenal artists was unsurpassed at Basel, in my humble opinion

other magnificent artists repped by Sabine Knust:
Born in Deutschbaselitz (hence his nom de plume) Georg Baselitz works in traditional media
- painting, drawing, printmaking, and wood sculpture, confronting the visceral realities of
history and the human and cultural tragedies of a world in turmoil with a cast of tragic anti-heroes.
including the inverted figures of his "upside-down paintings" making a Hitlerian salute
and
Jonathan Meese mines the themes that he has been obsessed with since the inception of his career.
An unrelenting sense of history, with a particular eye towards the more notorious or tragic figures,
Meese has been developing his own pop-cultural, historical, mythological, and very personal lineage.
and
Thomas Zipp's previous work consists of paintings, drawings, and sculpture, the drawings
here are an appropriation of styles and ideas, mutated for contemporary experimentation.
Zipp creates a parallel world envisioning a precarious future-fiction based on revisionist past,
abstract drawings suggest scientific inventions that are equally playful and sinister.




Munich
MICHAEL FLIRI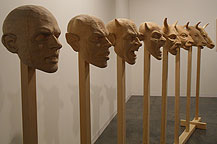 Man transformation into beast




Milan





Argentina's Pablo Bronstein approaches architecture as a means to engage with power: of history,
monuments, and the built environment. His acutely drafted drawings adopt the styles of various architects
and movements, his elaborate designs explore both the functionality of civic space, as well as the
inherent values associated with the styles of different times. Though architectural fashion mirrors social values,
it also represents the will or vision of the architects and commissioners who impose their ideas on the public -
with the intent that their work will last for generations. Bronstein's drawings critically examine this subjectivity.



Josh Brand's unique c-prints are generally untitled and
indescribably indeciferable.This piece grabbed my attention
and would not let go with it's dark forboding nature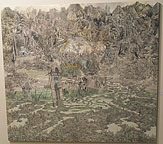 Amazing detail, amazing art; Dean Byington's paintings appear to be abstract
textured colour fields, but closer inspection reveals intricate flora, fauna and figures.
His pictures combine collage, printing, painting and drawing, the detailed and intense
handiwork demands intimate viewing into the painstakingly constructed imagery


NYC






see other TEST PRESS Art Basel 2010 satellite fair reviews


Test Press is a division of Propulsion Productions
PO Box 1582 Cooper Station NY NY 10276
contact