Jéfe aka Johnny Chiba first-person experiential of the great
art fair that is ART BASEL, and select satellite art fairs


We attended a reception for Artificial Reef,
a series of large-scale video projections
of corals, on three prominent buildings on
Miami Beach, presented by Coral Morphologic

The reception was held in the Miami Art Deco Welcome Center on Ocean Drive
MORPHOLOGIC is a scientific art endeavor led by marine biologist Colin Foord and musician Jared McKay.
They explore the artistic possibilities of living coral reef organisms via HD videography and site-specific artworks.
Coral Morphalogic Blog-alogic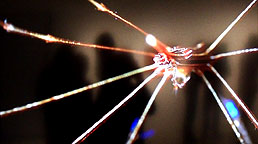 revenge of the arrow crab
The Art Deco gallery featured high-definition screens displaying loops of videos, and a collage of underwater vids
were projected onto the musical groups Sumsun and ANR while they performed live "aquatic soundscapes".
Judson Rogers (Sumsun) makes collage-like textural music ala Boards of Canada.
We purchased his cassette-only release "Samo Milagro" and just can't stop listening.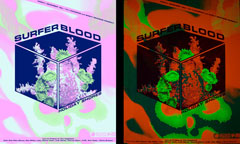 The Coral Morphmen do artwork for prominent bands
such as S. Floridian kids Surfer Blood


Test Press is a division of Propulsion Productions
PO Box 1582 Cooper Station NY NY 10276
contact