Jefe aka Johnny Chiba discovers and uncovers art and
artists, old and new, extant, extinct and extraordinaire

click thumbnails for larger versions
click names for links to artists/galleries

painter, photographer, writer, filmmaker, performance artist, and
AIDS activist, David Wojnarowicz did it all in an all-too-brief art career.
P.W.O.W. Gallery presented a huge expanse of works and collaborations,
including a room of video (with Richard Kern), photos by partner Peter Hujar
and much more
| | |
| --- | --- |
| | |
| silence = death | pig skull |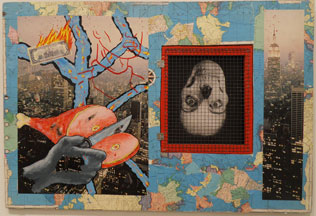 David Woj/Marion Scemama collaboratory,
featuring photos of Kiki Smith


7 Miles A Second, an excellent comic/book
written by David Woj, released posthumously;
an amazing cover and story
excellent gallery with excellent feng shui, from artist Masriadi's "Selfie Cop" to
William Copley's "Grand Hotel" with a Ron Arad "chair" well-placed for good measure
artist Milan's diverse range of drawing, collage and photo-diorama,
presents multiple figures within idealistic environments. "hedonistic,
almost primitivistic celebration of nature and the life of the sexual senses."
artist Oldenberg, most known for humongous food-oriented
sculptures, is displayed in a more simplex mode of warm subltety
Gemini G.E.L.at Joni Moisant Weyl
NY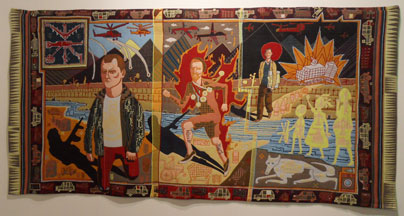 cross-dressing and cross-stitching are 2 of artist Perry's fabulous
flamboyances, this tapestry of political relevance is a dichotomy
of thought and medium. brilliant!

more of Shütte's puppety grotesqueries, displayed as windows
unto lives imagined of theatrical creatures


Mr. Baselitz, still going strong in his 70's, makes use of the technology of
multiple printmaking to come up with interesting shades of disparity and disillusion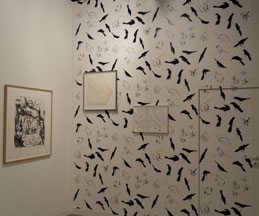 Mr. Sullivan's rolls of wallpaper,
displayed as art, practical and prolific
Galerie Sabine Knust
München
Pace Prints work with some of the most "now" artists,
choosing select pieces for multitudinous proliferation


Artist Banerjee's pieces, with fabric protruding thru a well-placed,
well-meaning hole, makes for an interesting process where the artist
adds foreground AND background to the print series.
Artist Cotton's use of pink and white cake and prints
brings layers of artisty in two and three dimensions
Pace Prints
NY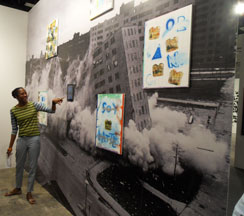 artist Meisenberg's pieces tend to take up whole walls or whole galleries,
incorporating photos, art and video, making statements about the world
and world of art within it's abstract context. I was particularly captivated
by the magnificent tour guide, who eloquently explained the art and artist,
making the experiential all the greater. i liked her shirt too. video below.
Wentrup Gallery
Berlin

video of the most excellent tour guide

much has been written about janitor-cum-unknown artist Darger and
his large scale panoramas. Andrew Edlin gallery has unearthed these
earthen studies of his now-famous Vivian girls. beautiful.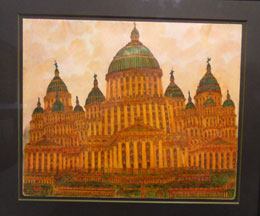 colors and structure come together intricately
and delicately in artist Storr's stories of storied
buildings and institutions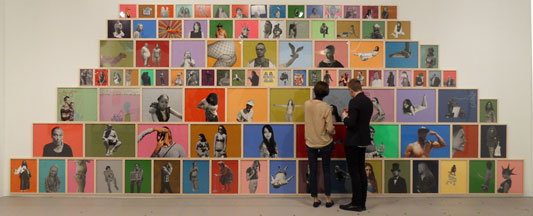 photographs enhanced by colorful backgrounds,
mounted unto mountains, sized, prized and surmized
Nil Staerk
Copenhagen
another great expansive explosive piece by the prolific
Tomaselli, layered in resin,resonating in layers.
please to click the artist's name to see James Cohan Gallery's
fine display of FredTom's proliferance and significance.

Johnny Chiba's personal faves below: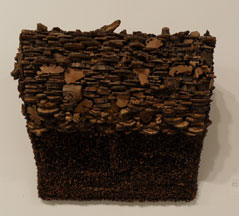 Leonardo Drew a picture of wood, and
manifested a sculpture quite good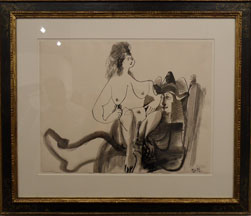 I found myself admiring this Picasso next to an english gent,
who was being informed by the gallery of shipping fee to UK.
I asked the prospective buyer if he was going for it ("thinking about it").
I told him how much I loved this work; would he mind if I took a picture?
after all, it was about to be his (nudge wink).
in other Picasso Art Basel news, an unknown thief (or thieves) stole
Visage aux Mains (Face with Hands) from Leslie Smith Gallery
at Art Miami. the nerve, the preparation, the thrill of the heist!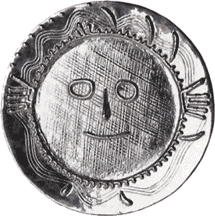 animated version
from Argentinian masters to the masterful, Gallery Jorge Mara - La Ruche
represents, and in 2015, will exhibit jointly the photographs of Horacio Coppola
and Grete Stern: From the Bauhaus to Buenos Aires at MoMA
Jorge Mara - La Ruche
Buenos Aires
CHRIS OFILI
Study For Ovid-Desire
in my humble opinion, the b/w study (left) shown at Basel
is more interesting than the well-known color artwork (right)
from artist Ofili, also known for his feces-laden work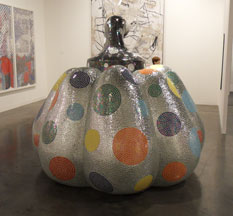 another art fair, another gargantuan pumpkin
by artist Kusama, who is now incorporating her
polka dots into every medium she can dote upon

Victoria Miro
London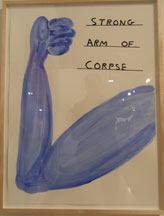 artist Shrigley had a large body of work shown by BQ,
none more powerful than this strong arm (of corpse)
humoresque in it's simplicity, those who know the artist
are well aware of his fantastic ability to render in realism
as well as cartoonish surrealism and wit
BQ
Berlin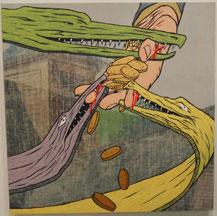 art biting the hand that feeds, begs the question,
do artists bite the hands of the galleries that feed
them as well? this piece speaks volumes.
Blum & Poe
LA/NY/Tokyo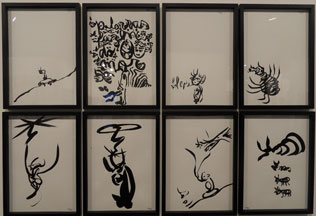 sweetness in strokes, lithe and lithographic
in style. well-placed by the Rio Gallery
PAOLO NENFLIDIO
Thunder Machine
man-made thunder machine, with built-in
lightning window, an intricate contraption
cum artwork by artist Nenflidio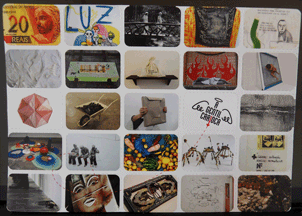 props to A Gentil Carioca Gallery from Rio,
always interesting artists and presentations,
including their gallery card of perforated
artists/artwork, animated above

A Gentil Carioca
Rio de Janeiro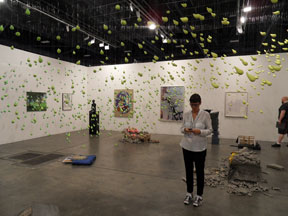 perhaps one of the best on-site gallery presentations,
Sadie Coles' HQ received a load of press and eye peeps.
wouldn't you love these raindrops in your living room?
Sadie Coles HQ
London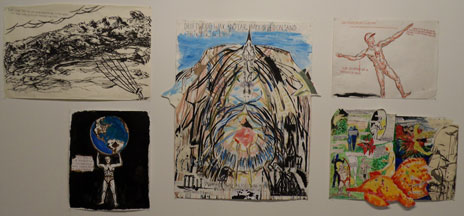 another great wall of Pettibon, courtesy of
the great Zwirner Gallery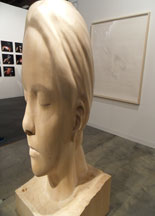 sculpture and line art lined up from artist Plensa,
known for her sculptural output in a modicum
of mediums: wood, steel, fiberglass, etc
the estate of the late great artist Spero continues to
show artistic greatness that's never too late in its
sexual and political messages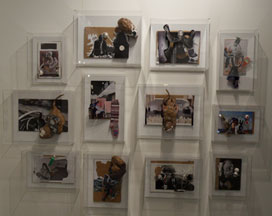 three-dimensional collages encased in glass,
pop out yet contained by artist Bock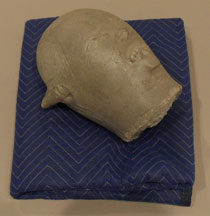 when I first saw sculptures of monsieur Mouléne, I was reminded
of a character by artist Neckface, of whom the gallery was unaware.
below is a Neckface/Chiba animation with similar character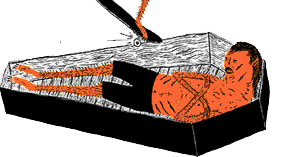 click for full animated version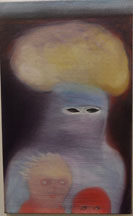 artist Cahn creates singular storyboard
using atmospheric swaths of paint

Guy with Tie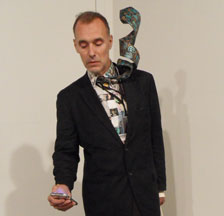 did not get his card, but this gent was
posing for pictures all over the convention
hall with his never say die tie. photo op!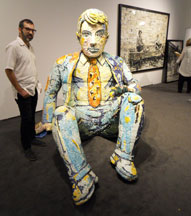 great ceramic man surveyed
by ceramically correct fan
earthy drawings and collages were fantastic,
especially the vertical pieces on folded canvas

the Robot Portrait series of prints appeals to the new generation
of artist and audience of Star Wars and Devils... Chiba animation below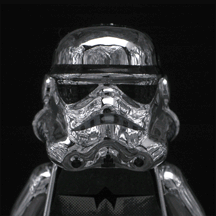 Black & White Project Gallery
Brooklyn NY
is Picasso-esque a legitimate term?
because artist Peterson's work is of said
classical ouevre in a modern violent landscape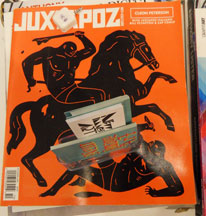 the cover of Juxtapoz magazine
is nothing to sneeze at, congrats!
New Image Art
Hollywood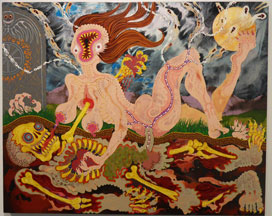 from the gallery website: There's Beauty in Destruction
"In (artist) Johnson's pictorial universe, vitality and death, beauty and destruction, rapture
and grief are not opposites but intertwined, mutually dependent conditions of existence.
>>Creation and destruction are closely linked. Man must realize his mortality.
Death also has beauty<< says Aaron Johnson. "
Gallery Poulson
Copenhagen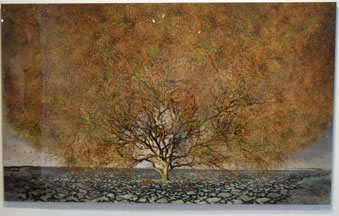 Artiste Rauzier creates photo-collages from multitudes of photos,
combining buildings and landscapes into fantastical cities,
branches into phenomenal trees, and images into imaginary imagery

Waterhouse & Dodd
NY/London




TEST PRESS DOT NET is a Propulsion Production
PO Box 1582, Cooper Station, NY NY 10276
jefe at testpress dot net