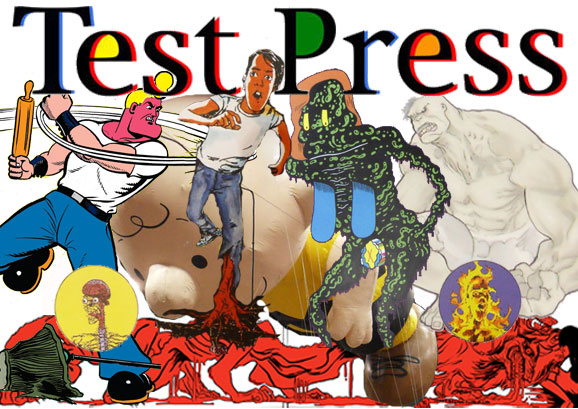 Jefe aka Johnny Chiba gets ornery at the Armory for MoCCA Fest 2014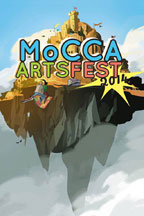 presented by Museum of Comic and Cartoon Art
and the Society of Illustrators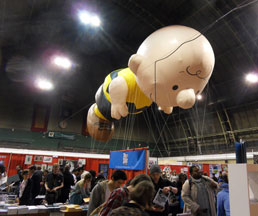 THE Charlie Brown balloon from the Macy's Parade was floating high
above the Armory's convention booths, making it relatively easy to find friends
("I'm right under Charlies Brown's nose" or "look for me under Chuck's gonads")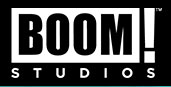 The Kaboom Press booth featured an amazing slew of comics from a couple
of my favorite cartoon series, Adventure Time and Regular Show.
I appreciated the different artist's takes on Finn and Jake's timely adventures,
and who knew there was even a Skips comic on a regular basis?


Hello artist Tim Smith! I have an affinity for the Hulk, no matter how angry or gay
he may look, even when artist Tim is drawing him for the sake of it. nice outlines,
just an interesting take on the other side of Bruce Banner and gamma ray design.



artist Steph Bailey and her "Wolfipede" caught my eye and heart... well done!




The Empress tarot card
from artist In Kyung Chah


Jesse Jacobs: represented by 2 publishers for 2 recent books, respectively.
Even The Giants from Adhouse books made great use of 3 colors, including
a light blue that looks fantastic when inverted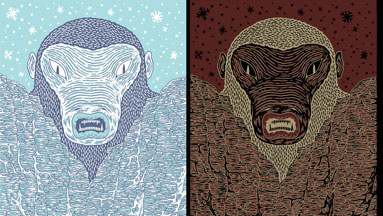 excellent interview with the artist, and many illustrations to boot
http://www.squidfaceandthemeddler.com/books/even-the-giants/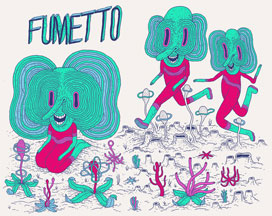 cool fumetto creatures!




great animation!

art for sale (wish i bought this one!)

Jesse Jacobs' blogspot website: onemillionmouths.blogspot.ca/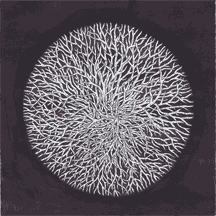 chiba animation
Koyama Press put out Jesse's By This You Shall Know Him
with new book due out soon


At the Koyama table, I also came across the way-interesting
art of Michael DeForge, including the screen printed Wet Cough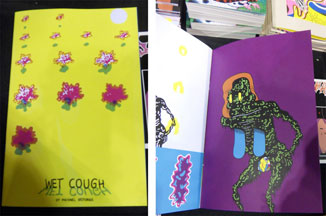 Official Michael DeForge site:
http://www.kingtrash.com/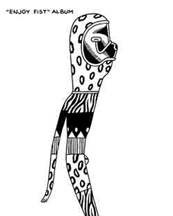 DeForge animated by Chiba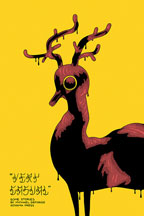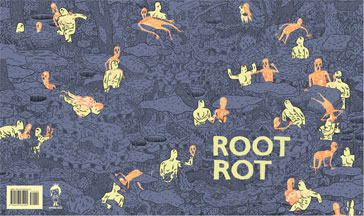 a couple publications from DeForge, Very Casual, a compilation, and Root Rot
with spectacular wrap-around cover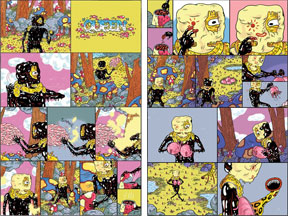 a couple panels from Very Casual
is Michael DeForge the greatest cartoonist
of his generation? click here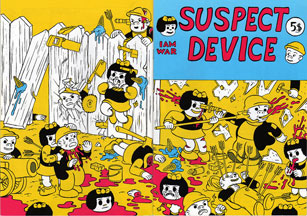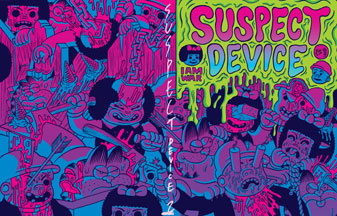 Met Josh Bayer and his Suspect Device comics, fine wraparound covers with
fine artists covering the likes of Nancy, Sluggo, Popeye, Li'l Orphan Annie etc...
coolness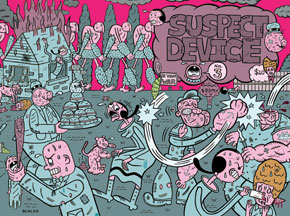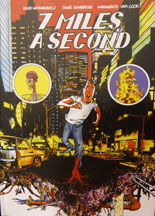 Fantagraphics Press reprinted this comic in
hardcover format, a story with a spine worth retelling

THE LADIES OF MoCCA FEST
a plenitude of women artists and illustrators
lined the booths and alleys with pizzazz, zest and color


Dominique Martin aka Dom the Deer - comics and illustration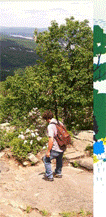 D the D postcard / Chiba animation


Kendra Allenby - Drawn Out Days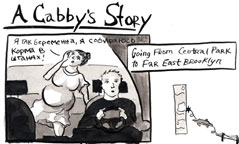 a good NYC strip by Ms. Allenby


C'est Bon Kultur from Sweden put together interesting compilations
of comics and comic art, we even spotted a Mike Diana strip!
Speaking of Mike Diana, the infamous artist himself
was spotted walking around MoCCA Fest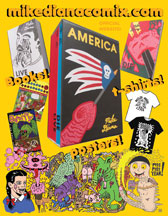 interesting faces from Mike Turzanski
The Hulk and The Batman by
Ricardo Lopez Ortiz
one of the best self-portrait cartoons
from cute Kat Fajardo of Papercut Tavern
did you know Fajardo Coquis is a frog from Puerto Rico?
Kat Fajardo knows now!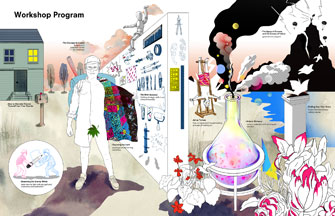 Boyeon Choi and the SoFA Annual Report... interesting!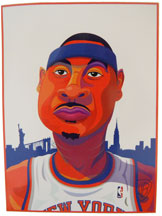 Syracuse Illustration Program represented artists, grad students
and illustrators. Postcard of Knicks' Carmelo Anthony
(ex-'cuse basketball) by Andrew Greif caught my Knick eye
Mark Pate's Rick Flash & The Adventurenauts
i appreciated the giant robot
the free comic from Atomic Robo (Red 5 Comics)
featured a cool giant muddy rock monster... Howaaargh!
Michael Vincent Bramley (Most Valued Bastard)'s Hulk vs Thing
postcard brought up memories of the real Hulk vs the real Thing...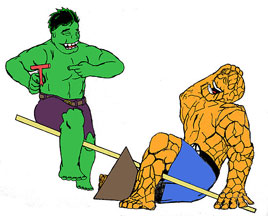 this led me to a hulk page from redbubble.com where a slew of
Hulk illustrations were available, including this hilarious Hulk vs Thing.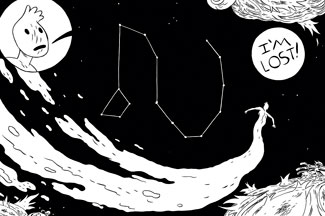 Daygloayhole (Dayglow Asshole?)'s free little xerox
led me to artist's tumblr site and this cool, unused page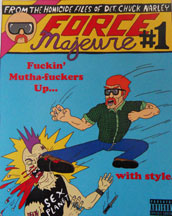 The guys from Drippy Bones books were representing,
including postcard for upcoming comic Force Majeure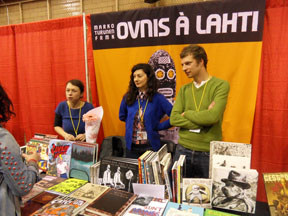 One of my favorite tables came from FRMK (Fremok.org),
with a wealth of artist's books from Euro-Belgium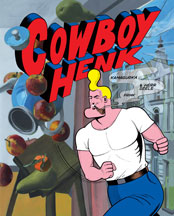 However, my favorite book was Cowboy Henk, a collection of comics from a strip that's been missing
from my life for the past 40 years or so. With the Cowboy's hilarious adventures with poop, penis and testicles
well-documented, I was unhappy to find all sealed copies were sold out by the time I returned to purchase at day's end;
I was offered the last open copy pored thru by hundreds of greasy, geeky hands for full price of $36. No thenk you.

I compiled some of my favorite CH comics found on the internet below. Enjoy.

contact Jefe aka Johnny Chiba
jefe - at - testpress - dot - net