Karl Wirsum
stick figure-esque bubble gum colored cartoon characters lend an interesting
look to winsome Karl Wirsum's decades-old art, which feels at home to today's
generation of artists as it did to Mr. Wirsum's contemporaries from the 60's/70's.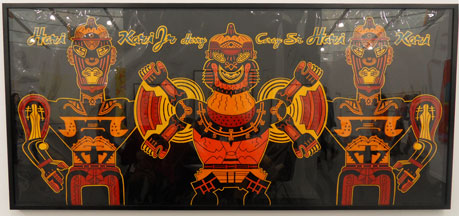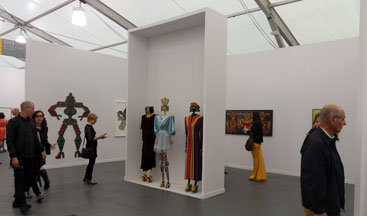 the entire Derek Eller Gallery was devoted to Mr. Wirsum's art,
from paintings to wood panels to full figured mannequins.

More delicious art from the DE gallery website above
Nel Aerts
bridging the line between cartoon and fine art via
color and figurative design

John Latham
Painting not out of a Book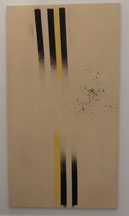 old school greatness

Geoffrey Farmer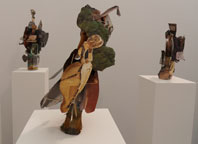 amazing little collage sculptures, frenetic yet pleasing, viewable from 360 degrees.
Artist Farmer, who once did a piece about a Frank Zappa song, reflects his kinetic
sensibility in these daring, curving, delicate constructs

Yayoi Kusama
the oomph and oompa-pa of the Kusama pumpkins, blissed out in brass
and fiberglass, sold for hundreds of thousands of pumpkin seeds. The Zwirner folks
proudly displayed the artist's work outside and in fabricated enclosures


Shana Lutker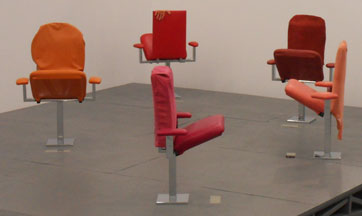 not just chairs, but representations of various fights
within the surrealist community; oddly arousing.




Kara Walker
Burning African Village Play Set with
Big House and Lynching

playful animated steel sculptures and wall decals display the
not-so hidden intensity and horror of afro-american history


also showing
Erin Shirreff
Monograph (no.3)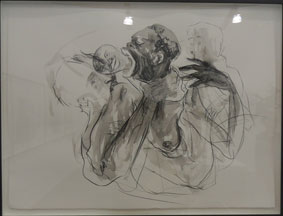 (not) lost among the grandoise of the Kara Walker
exhibition was this beautiful piece
Haegue Yang
Jewel Glow – Trustworthy #205

artwork that is not only joyful in the angular presentation
of the framed pieces, but in the envelopes so craftily crafted




more joy and craftiness in presentation and angles



Flashy Prismatic Composition – Trustworthy #232

Franz Graf
Purga "Wall" + NURSE
pseudo sado-masachismo done up wall style,
the vunder of der graf



Penny Slinger

photo collages, superimposed figures in settings
unlikely to be set upon




Florian Meisenberg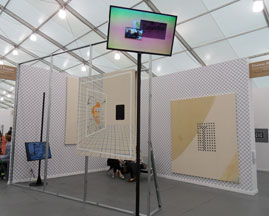 this gallery won the TEST PRESS DOT NET award for most
interesting presentation of art within the context of the gallery itself.

Liu Wei
Library II-III

cut out books, wood and other building materials make up
these fantastical cities of bulk and density

The James Cohan gallery is not complete without a new FredTom piece,
replete with colors, body parts and flowers resin-ating together in imperfect harmony

my favorite piece here was an exquisite wooden table (I dubbed
"pizza table") which ironically had a pizza atop. kudos to the gallery's
taste in furniture, including nice chairs completing the set.


Maria Nepomuceno

beads caught my beady eyes, as I spied the loose plastic pieces adorning the
above collages, and the massive beaded structures filling the brazilian gallery.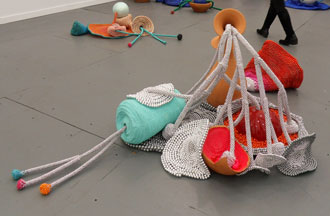 Lari Pittman
Twelve Reliquaries of Souls Trapped in Amber
(From a Late Western Impaerium)


i loved the green and black, and the amorphous sublime objects,
as well as the title of Lara Pittman's dozen deities




Carroll Dunham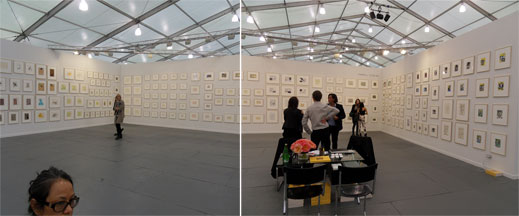 a virtuous virtual enclave of Carroll Dunham's marvelous constitution of
works adorned the walls of Gladstone gallery's omnipresent one-man show

closeups and favorites of Dunham's cartoon-y yammering creatures,
his fully female renderings, and the blobular greens below
made up some of the treasure trove of the wonderland.


Lin Tianmiao
More or Less the Same
e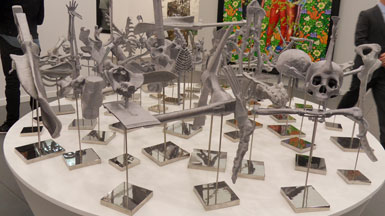 skulls and boney objects pierced and plundered, set atop
mirrored stands made for a circular array of mystery and mirth



also repping
Nancy Spero
The Underworld

this late artist left us with
a dearth of blessings and
messages to be realized
at a later date, subject matters of importance and continuity, to both past presence and future relevance

Kehinde Wiley
Naomi and her Daughters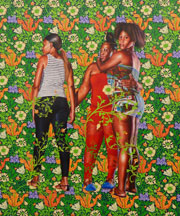 surprised was I to find the great Kehinde Wiley focusing his talents
not on modelesque males, but the beauty of the female persuasion
in a flowery family-iar presentation



Louise Bourgeois
The Family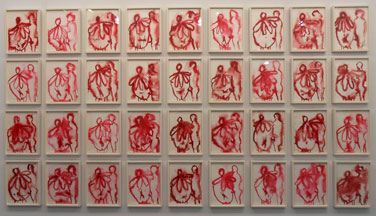 more late greatness occupied an entire wall of housing
and worthiness, blood red consumption of a feminist regale


also representing
Paul McCarthy

bloody interesting, whether it be sculptures, pictures of sculptures, paintings
and beyond, artist McCarthy is prolific in statement and material
Beom Kim
Horse Riding Horse
(After Eadweard Muybridge)
after seeing artist Kim's ode to everyday items (such as apples)
used as weapons in a previous humourous video, I was enchanted by
the horse upon horse video, on a never-ending loop of elation



yet another fair, in the confines of the 69th regiment Armory,
deep in the art heart of the Flatiron district...

Tyler Hildebrand
compared to the elite distinguished high-end artistic community
represented in the halls of the armory, this wall of freshness
by young Tyler Hildebrand was a welcome sight


Carol Feuerman/Craig Norton
from the realistic embodiment of Carol Feuerman's bathing suit beauty
to the large-handed grandma piano salute from artist Craig Norton,
the Jim Kempner gallery shows us how funny, serious and
maddening this fine art world can be
Keith Haring
Aids Attack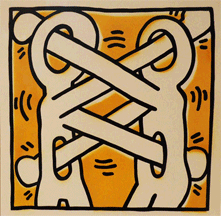 Keith Haring may be dead, but he is forever
celebrated and animated by Johnny Chiba

Doug and Mike Starn

the colorful windows unto the world and massive framed panels of
the Starns made up the large, fine feng shui of this fine London gallery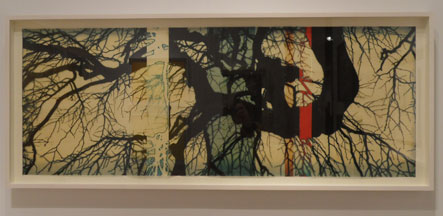 Sol LeWitt
Tondo Stars
The Tondo Star constellation of the renowned Sol LeWitt makes a fruitful
half-dozen stained-glass type circulars, adapted for animation by Chiba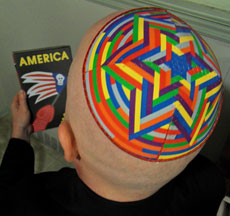 one of these nifty stars were the basis for Jewish Museum yarmulke purchase,
forever cherished for in-house temple readings of contemporary religious artifacts

the last satellite fair attended was the pulsating...

Jakkai Siributr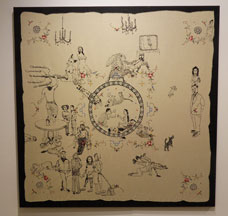 Thai artist Siributr weaves his sophomoric humor and
supreme religiousity into hand-crafted wall-hangings

a map of buddhist relics, afar and close up, teasing and pleasing
Peter Sarkisian
Robot 2, v.1
Robotic 3D print of powder-coated steel and aluminum,
with video projection of definitive colors and patterns,
including the artist trapped inside the robo-art
official video