Johnny Chiba's A-Z preview of South By Southwest (SXSW) 2011 Music Fest,
March 15-20 in Austin, Texas, with a sharp-edge focus on international bands,
great musicality, key links for your listening pressure; animations and
transmogrifications of cd covers and artwork for samurai eyeballs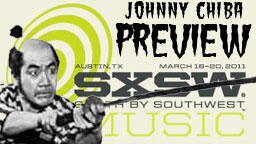 Adebisi Shank
Wexford IRELAND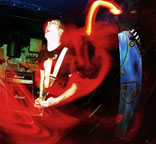 instrumental punk rock from Ireland - powerful drums and raging guitars,
psychotic rhythms and counter melodies. "sounds like Prince entered a
Chemical Brothers jam session with the Dust Brothers giving them tainted
weed from the Doobie Brothers soaked in the panties of the Pointer Sisters."

Thu, March 17 @ Plush
Fri, March 18 @BD Riley's Pub
Sat, March 19 @ Emo's Annex


Braids
Montreal CANADA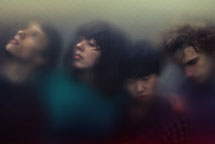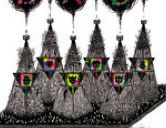 avant, experimental avant-pop. guitar and sequencer-based melodies
combine and branch into harmonic richness

Wed, March 16 @ Palm Door
Sat, March 19 @ Club de Ville


Calibro 35
Milano ITALY





Funky Italian jam band turns cinematic inspirations into psychedelic grooves
"Italian soundtrack funk that sounds like Goblin recording at Stax!" -Wax Poetics Mag

Wed, March 16 @ Scoot Inn



Capo
Distrito Federal MEXICO



psychedelic folk from the head, classic rock,
lo-fi aesthetics reveal textured soundscapes

Fri, March 18 @ Habana Bar Backyard


Carusella
Tel-Aviv ISRAEL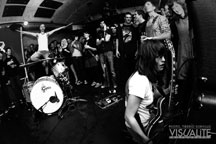 experimental rock, hardcore pop, Israel's Carusella is a 2-person
wrecking crew on a primitive and innovative play ground. the fusion
of guitar/drums produce a roaring and bursting sound all their own.
Wed, March 16 @ Easy Tiger


Daughters of the Sun
Minneapolis MN






Twin Cities horsepower trio chug out faded-tattoo spirit-in-the-sky
psychedelic rock exhaust and avant-experimental, live electronics.
new cd "Ghost With Chains" is moon-burnt and highway-swept; lends
itself to animation and transmogrification, not unlike their musicality
Fri, March 18 @ The Hideout


Dawn Golden
Chicago IL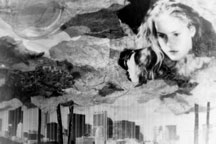 avant experimental to the max, Chicago's Dawn Golden and Rosy Cross is a cryptic
project; remaining anonymous becomes a popular means of encouraging listeners
to focus more on music than persona. airy vocals, pulsating drums, and lush,
natural samples, alternates effortlessly between light and dark.


David Thomas Broughton
Leeds UK-ENGLAND



Folk singer/guitarist born in Otley (near Leeds), creates the sound of a large ensemble by sampling himself
singing, playing acoustic guitar, and making an assortment of other sounds through a Boss loop pedal;
uses various non-traditional musical instruments to augment his songs, including radios and televisions, and
occasionally incorporates a use of natural field recordings into his avant-experimental, melodramatic ambient blues
Fri, March 18 @18th Floor at Hilton Garden Inn



Descartes a Kant
Guadalajara MEXICO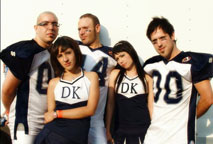 theatrically bizarre band from Guadalajara uses disguises to infuse a punky comedy,
energetic cabaret. influences Mike Patton, The Locust, Regina Spektor & Danny Elfman,
manage to be sinister and amusing at the same time.
Fri, March 18 @ Habana Bar Backyard


Endtables
Louisville KY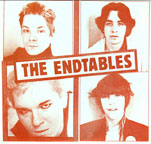 Punk pioneers formed in 1978, lasted no more than two years.
the only punk band from Louisville that matters.
Fri, March 18 @ Barbarella


Free Keys
Tehran IRAN - Brooklyn - India(?)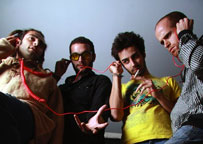 progressive metal originally from Tehran, Iran.
Fri, March 18 @ Habana Bar

Furland
Mexico City MEXICO





Beyond the distant thing and with an environment that revolves among the mystical thing, magical and realistic;
Furland extends as a space in which, who there exists, is left to carry for the irresistible temptation to beautify the reality,
its reality, always through two main elements: its music and the inspiration that transmits the Ball of Pasture.
Just in that magical place is acceptable the rise of "History Of The Light", so universal that is opened so that itself a who be,
without importing age, sex, spirit neither ideology, is something that exists for to be enjoyed by any. Each one of the
songs that are committed in this great history, has the purpose to transport you to another placethat can be a meadow,
a swamp ó any place explorable or inexplorableof this world or of any another that bases its existence in the wait of to be found.
The result, ten as many as short that relate one to one the "History Of The Light" through the purest style Cosmic Folk Pop,
adopted pursuit the inhabitants of this space and that intends to be a door for any another universe in which the instruments interpreted
are found by Sergio, Carlos, Hyacinth and Ricardo, after all the creators and inhabitants of this great universe that led to This history of the light.
thanks to freetranslation.com
Wed, March 16 @ Elysium


Gallops
Wrexham UK-WALES





where live electronics and jagged guitars meet on the floor and thrash the shit out of each other until
neither one is left standing. Seamlessly blending organic and synthetic in a cohesive manner, while
showcasing progressive song-writing without alienating the listener. This is as much for headphone listening
in a dark room as it is for festival dance-offs. influences: Aphex Twin, Fugazi, Vangelis, Sun-Ra, Steve Reich
Fri, March 18 @ Latitude 30


Gifts From Enola
Harrisonburg VA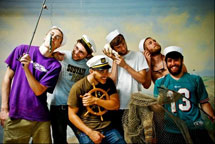 juxtapose elements of post-rock with a burgeoning hard-rock approach and a touch
of the "experimental" style, to soften that harshness. songs explode with blistering
intensity and sink slowly back into sonic landscapes developing an ambient texture
salted with field recordings. use of hypnotic riffs can be singularly effective.
Fri, March 18 @ Valhalla


Goes Cube
Brooklyn, NY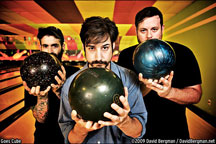 metallic abundance of riffs & aggression pummeling through thick atmosphere,
dynamic shifts, and nostalgic nods to punk, noise-rock, and hardcore
Thurs, March 17 @ The Ale House


Guadalupe Plata
Ubeda SPAIN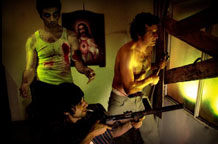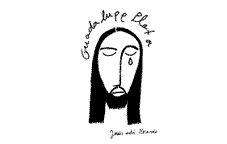 Blues
Guadalupe=hipnotic drums, Plata=satanic guitars, Paco luis=barreño bass
Wed, March 16 @ Nuvola


His Clancyness
Bologna ITALY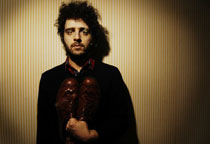 from Bologna to Ottowa Canada, Jonathan Clancy makes shoe-gazing
dream pop on a hazy beach; lo-fi to mid-fi, creating sparse texture, weird
pop outbursts and dreamy melodies. simple repetitive beats give power
to the backbone of reverb drenched songs and fuzzy guitars.
Sat, March 19 @ The Parish Underground


Holger
Sao Paulo BRAZIL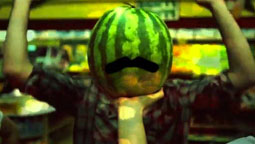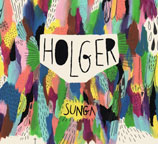 energetic, unpredictable, electronic indie pop influenced by "classical" indie rock;
A guitar band with influences Fela Kuti and Jay Z, compared to Passion Pit and sweet
pop rock of Vampire Weekend; afropop percussion synthesizers, percussion and plenty of
african-brazilian rhythms, and a tint of their home country's axé and calypso.
Thur, March 17 @ Mi Casa Cantina


Holy Sons
Portland OR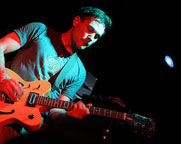 Emil Amos, drummer for Grails and Om is solo son, avant-garde experimental postmodern
philosopher looking to change his head and yours using science fiction as a scalpel;
a starting point for inner-space exploration. combines guitar, samples, and moogs into
a series of spiraling, chilled anthems. futuristic music makes a suitable sonic complement
for fans of The Twilight Zone, Fantastic Voyage and Pink Floyd's operatic alienation.

Sat, March 19 @ Lustre Pearl


Hong Kong Blood Opera
Hermosillo MEXICO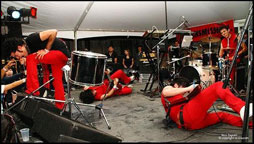 5-piece punk band pays homage to digitalhardcore, hip-hop, noise,
and electro combine punk energy, rocknroll aesthetics, industrial
beats, metal riffs and dancy-shit to blow your fucking mind away

Fri, March 18 @ Habana Bar Backyard


Indigo Tree
Wroclaw POLAND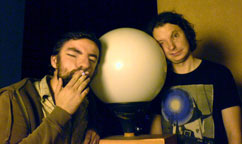 avant experimental, polish primitive pop creates lullabies of
love and death via alternative, chillout, indie psychedelic rock

Sat, March 19 @ The Parish Underground


Janka Nabay
SIERRA LEONE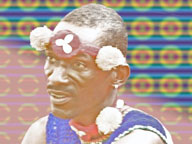 the world's undisputed king of modern Bubu Music.
frantically paced,rhythmic dance music played with
native and electronic instruments.
Thurs, March 17 @ Red 7 Patio


KEN Mode
Winnipeg MB CANADA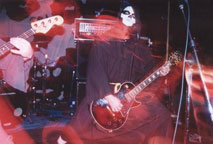 elitist-asshole metallic noise rock with touches of post metal, hardcore, sludge and doom.
a sound that whips, pummels and lacerates its end users like a wicked Manitoba wind.
jagged, warped musical muscle, chest-tightening riffs, in an explosive encounter between
post hardcore and noise rock, an artistic anti-rock/metal hybrid
Sat, March 19 @ Valhalla


Kvelertak
Stavanger NORWAY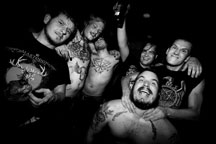 Brutally catchy punkrock/metal with a taste of groovy darkness!
hard-hitting, catchy rock'n'roll performed with tongue-in-cheek attitude;
Kvelertak sing in Norwegian, adding character to an already unique sound.
well known in Norway for furious live energy and metal-inspired punk rock.
Thurs, March 17 @ Prague


LaFaro
Belfast UK-N. IRELAND





rhythmic post-hardcore designed to pulverize dance floors.
a wrecking ball of a band, recalling Jesus Lizard, Shellac, Helmet and Therapy?
LaFaro have character, chops and emotion oozing through every seedy riff
Sat, March 19 @ 512 Rooftop


Lucy and the Popsonics
Brasalia BRAZIL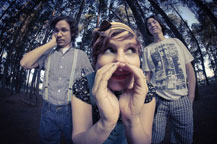 Electro-punk, nervous indie rock is fun, fresh
and exciting with a linear but powerful bass on an Electro-pop base
incredible energy exploring the roots of Kraftwerk and Devo
Tues, March 15 @ Speakeasy
Thurs, March 17 @ Mi Casa Cantina


Lüger
Madrid SPAIN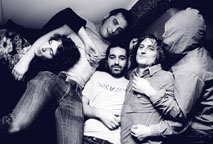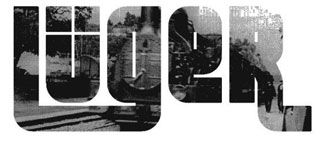 organ,synth, guitar and throbbing bass lines, heavily influenced by classic acts
such as Hawkwind, Faust or Neu! surpassing krautrock elements
Wed, March 16 @ Nuvola


Movus
Guadalajara MEXICO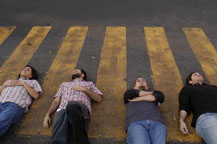 post-rock, experimental; dreamy guitars, nostalgic noisy delay layers,
pulsating bass lines and jazz influenced drumbeats
Thurs, March 17 @ 512


Mutiny On The Bounty
Differdange LUXEMBOURG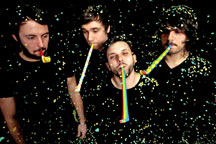 urgent, time-signature-laden indierock with post hardcore appeal,
combining organic angularity with a taste for captivating melodies
Thurs, March 17 @ Prague


Native
Northwest Indiana IN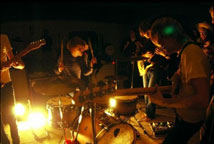 post-punk, intelligent guitar work, recalls geometric riffs
of Jawbox and Faraquet
Thurs, March 17 @ Plush (Giant Step Prods)
Sat, March 19 @ Red 7 (No Sleep/Atticus Party)
Sat, March 19 @ Emo's Annex (Sargent House/RLP Showcase)



No Gold
Vancouver BC CANADA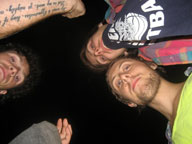 kraut grooves, ritualistic incantations, minimalist repetitions, pop
a collision of samples and synth pads with bass, guitar, and drums
Sat, March 19 @ Soho Lounge


Polyphase
Panama City PANAMA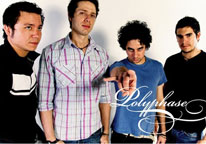 Indie/Alternative Rock fusion of Panamanian culture
with an American/British influence
Wed, March 16 @ The Marq

Rolo Tomassi
Sheffield UK-England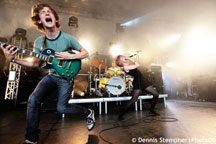 progressive hardcore that defies categorisation, changing from second to second, spiralling
off into unknown territory. frontwoman Eva's growl and violent howl leads a ferocious driving,
terrifying chunky guitar riffs, fearless, adept and imaginative experimental metal punk blasts
of alternately thick noise and shrill fast-fingered guitar blips; Diplo produces MIA on speed

Thurs, March 17 @ Prague


Ruido Rosa
Mexico City MEXICO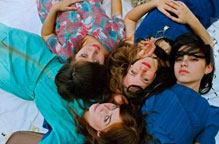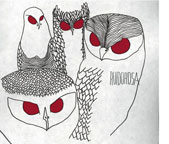 rock clasico! all-girl indie rock harkens back
to the best of '90's grunge
Sat, March 19 @ Mi Casa Cantina

Run Walk!
Winchester UK - England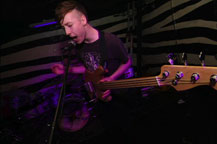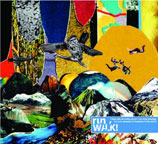 dumblecore, intense death drone; bass-led artrock couples distortion, feedback
and a megaton of low-end crunch with sharp hooks and stop-start rhythms
Equally informed by noise-rock and fuck off bastard bass noise as they are by The Maccabees
and Bloc Party in terms of songwriting chops and gruff melody, run,WALK! stand a unique position
Thurs, March 17 @ Skinny's Ballroom


She's A Tease
Monterrey MEXICO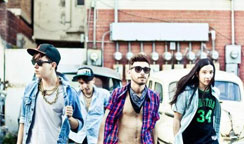 post-punk to electronica from Monterrey, Mexico,
crotchy cd cover and cute video on band's website is endearing
Thurs, March 17 @ Flamingo Cantina

Simon Says No!
Oslo Norway





classic indie/shoegaze blends punk/hardcore
atmospheric rock/pop ala Ride, Slowdive, and
My Bloody Valentine
Thurs, March 17 @ 512

Slices
Pittsburgh PA





raw, noisy weird-punkers twist perfectly normal
rock ideas into a hulking torturous sound.
Wed, March 16 @ Headhunters
Street Chant
Mount Roskill NEW ZEALAND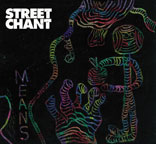 caffeinated post-punk soundtrack to New Zealand slam dance revolution
collisions of mania and melody, guitar distortion recall post-punky amalgam
of SonicYouth-esque primordial plunking, Dino Jr and The Pixies with
free noise enthusiasms marshalled by a strong pop sensibility

Thurs, March 17 @ Easy Tiger Patio


Suck Piggy
Kyoto City JAPAN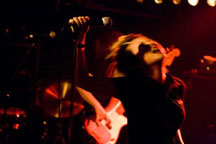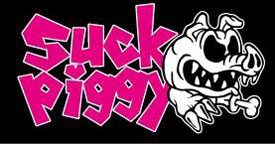 oh no kyoto! all-female death rock hardcore
Sat, March 19 @ Headhunters


Swords of Chaos
Reykjavik ICELAND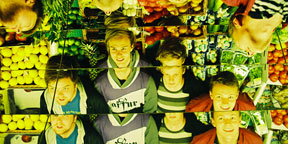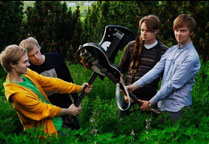 bludgeoning riffage, neck-breaking performances of extreme sound, masterful noisecore packed with filth and
tormented guitar riffs, hardcore rock and roll, frantic vocals, dash of eerie soundscapes and thrilling interludes.
Thurs, March 17 @ Prague




Tiger! Shit! Tiger! Tiger!
Foligno ITALY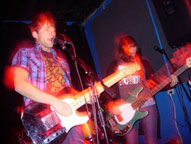 splintered punk, bitter and dissonant tracks from
Italian power-trio
Fri, March 18 @ BD Riley's


Topping Bottoms
Tokyo JAPAN
experimental post-drone post-noise psychedelic, ambient bdsm
improv jam band from evil-creating artist
Fri, March 18 @ The Hideout
Torpedo Boyz
Berlin GERMANY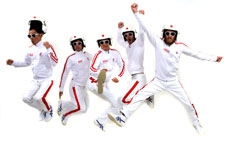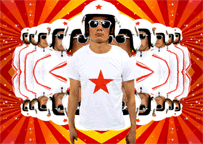 hi-energy, rowdy, rambunctious, danceable electronica break beats and
zany outfits spread the funk Torpedo style, led by indie pop-meister Kentastic!
Extremely Funky Break Beat Alarm!

Fri, March 18 @ Barbarella Patio



Toy Selectah
Monterrey MEXICO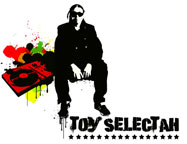 DJ, mix-master wizard for Control Machete, mixes mexican soundscapes
with contemp urban riddims. worked w/M.I.A., Morrisey, Manu Chao, Diplo,
Thievery Corp, Cypress Hill, Nortec Collective, Café Tacvba
Thurs, March 17 @ Flamingo Cantina
Sat, March 19 @ Prague


Tune-yards
Oakland CA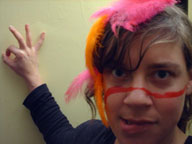 tUnE-yArDs: an expansive sound marries a coarse folk ingenuity
with bold pop sensibility "...jumping between blues, African tunes,
shiny reggae-esque sprawls, and lo-fi folk" Stereogum
Turbo Fruits
Nashville TN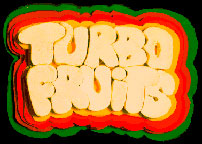 tenacious, canines-clamped-to-the-calves-style garage-punk
clatter; lead by ex-guitarist of Be Your Own Pet.
worth seeing for song "Mama's Mad Cos I Fried My Brain"
Sat, March 19 @ Mohawk


Twilight Sad
Glasgow UK-SCOTLAND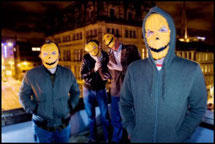 post-rock, post-punk with heavily delayed shoegaze guitars and folk elements with
theremin, tape loops from films, old folk/country songs, effects pedals, toy keyboards,
thumb pianos, saws, computer games, and a lot of noise. on tour with Mogwai
Wed, March 16 @ Maggie Mae's


Vampillia
Tokyo JAPAN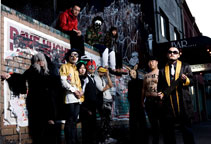 The Brutal Orchestra, like the BOREDOMS holding weapons of melody or ARCADE FIRE hardcore version.
Members are consist of 3 vocals; the ugliest rock star Psychic Yamanashi whose voice is nothing but annoying.
Another vocal is Death voice from wood cutter Mongoloid who is very manly with secret naive heart.
Mysterious Opera voice from beastly monster Velladon. ... backed by 3 strings; Punk and Classic, Progressive,
also by piano, twin guitars, base, broadcasting. Main drum is skillful Chikada famous of World's end girlfriend,
and support drum is Tatsuya Yoshida from Ruins. There are Toyohito Yoshida from BOREDOMS as a guardian god.
Nobody can take eyes from Vampillia's absolute nonsense and spectacular quixotic activities!!
"YES FUTURE! NO TROUBLE!"
Sat, March 19 @ The Hideout


We Are Animal
Snowdon UK-ENGLAND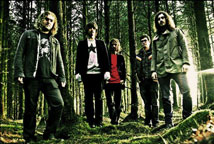 buzzing guitars, pummeled drums, rousing hooks, weird sounds,
ear-grabbing riffs and a nice bit of cowbell
Wed, March 16 - WMF Showcase @ Latitude 30
Fri, March 18 @ 512 Rooftop
Sat, March 19 - Leisure Tourniquet Equinox Mish Mash 2011




White Eyes
Taipei TAIWAN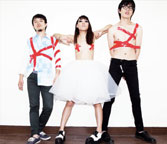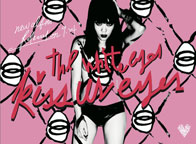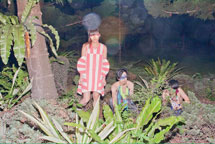 Garage, Punk, psychedelic wildness. Female singer Gao Xiao Gao always be misunderstood
that naked on stage. They are famous on energetic, sexy and violent live perform in Taiwan.
"We don't want your true hearts, but come and let me kiss your eyes"
and sing out load for the confusion and truth of youth.
Wed, March 16 @ Habana Bar
White White Sisters
Fukasawa JAPAN




Electronic/Rock play with VJ art director in live performance.
VJ represents extreme emotion using only line,dot and plane with "MAX/MSP"software.
Fri, March 18 @ Elysium


Woodsman
Denver CO





experimental ambient post-psychedelic; two totemic percussionists
and two sonic animators employ electric guitars, feedback loops,
and recorded samples to build dreamy astral soundscapes
Wednesday March 16 tbd + other shows tbd


Ydestroyde
Osaka JAPAN






Synth rock madness led by Synzo (vox & synth)
this band destroy! de! why?!
Wed, 3/16 @ Headhunters
Thurs, 3/17 @ The Grackle (Japan Preview Day Show)


Young Adults
Allston MA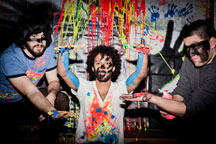 ambient post-punk blitzkrieg of art-damaged noise, decibel-heavy drama
with blistering guitar, wind-tunnel vocals in a textured sonic universe.
B-52's reimagined by Shellac or Jesus Lizard
Fri, March 18 @ Easy Tiger Patio


Young Prisms
San Francisco CA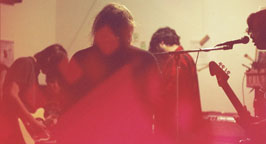 shoegazing psychedelic, my bloody valentine-esque slackers make
dark, driving rhythms overlaid with melodies that pulse, build and break;
part MBV, part Sonic Youth, part Charles Bukowski

Wed, Mar 16 3/16 @ Beauty Bar


Yourself and the Air
Chicago IL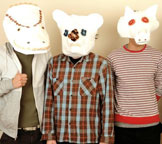 filling in and filling out lucid rhythms and melodies
from the furious agit-pop drum beats and mathy-guitar
dueling their previous songs were built on
Wed, March 16 @ Maggie Mae's Gibson Room


Za!
Barcelona SPAIN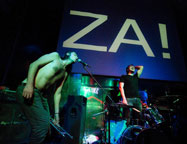 post world music from 2 Spaniards: Spazzfrica Ehd & Papa duPau
combine african beats, noise, thick distortions, vocal loops, free jazz, sounds
from the shepherds of Tuva, balinese polyryhtms, math rock, dadaism & drones
Thur, March 17 @ Nuvola


Zoobombs
Tokyo JAPAN





Psychedelic Donuts Rock meets Punk Floyd!
energetic, charismatic lead singer morphs Stonesy punk-rock
to freaky spacey psyche jazz-rock, endless jams dissolve into
a glorious noise and blues garage experiment
Thurs, March 17 @ Habana Bar
Fri, March 18 @ Cheapo's Discs
Sat, March 19 @ Emo's Annex
more trans-animated art/sxsw shows from Chiba-san


Test Press is a division of Propulsion Productions
PO Box 1582 Cooper Station NY NY 10276
contact