Jefe aka Johnny Chiba's non-stop emotional experiential art review

click thumbnails for larger pics

The New Museum Presents:
Nathalie Djurberg with Music by Hans Berg
For her new work, The Parade (2011), artist Nathalie Djurberg created five stop-motion animations
and a menagerie of over 80 freestanding bird sculptures. Drawing on avian physiology, she has assembled
a fantastical procession of species all fashioned from materials such as clay, wire, and painted canvas.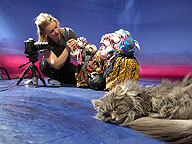 the artist at work
Photos: Cameron Wittig
Courtesy the artists, Zach Feuer Gallery, New York and Giò Marconi, Milan

Originally presented at The Walker Art Center (Minneapolis)
The New Museum show is up until August 26, 2012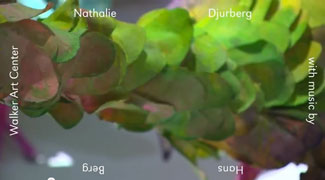 click for youtube video trailer of Walker Art Center
show, with birds, video snippets and Hans Berg music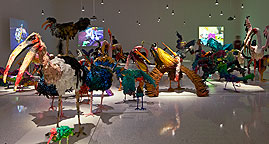 Installation view of The Parade: Nathalie Djurberg with Music by Hans Berg
at the Walker Art Center, Minneapolis, September 8–December 31, 2011
Photo: Gene Pittman. Courtesy Walker Art Center, Minneapolis
THE MENAGERIE

photos: Jeff Gottesfeld


review of The Parade from Bullett Media


The Parade: Nathalie Djurberg with music by Hans Berg
Don't let the claymation and bright colors and the awesome eighty freestanding bird sculptures fool you: this exhibit is not playful and is not. for. kids.
Take, for example, the video I wasn't made to play the son, probably one of the most gruesome rape and dismemberment scenes I've ever come across
(and that includes obsessing over the Pickton trials as a kid): two jestery men with impeccable posture and birdlike masks trample over a naked woman,
slowly snipping off her clay fingers and toes and nipples and teeth while patronizing her with lines like "relax" and "it won't hurt none" and "breathe easy"
while she spurts and gushes brightly coloured blood-clay. Or, another grotesque but poignant installation, "The Parade of Rituals and Stereotypes" which
features the Pope beating up the KKK with a cross, and a judge raping a prostitute who looks a lot like Belatrix Lestrange. Djurberg's work is the kind
from which you can't look away. Claymation itself is such an impressive, painstaking process, each movement or expression deliberate, and to be honest,
one kind of gets curious as to how far she's going to take the perverse or uncomfortable scenes. Like watching three witch-like, zaftig yentes take their clothes off.
Aside from the six claymation videos, the freestanding, colorful bird sculptures that inhabit the room are mesmerizing, and Hans Berg's music accompaniments
sets an eerie, nightmarish, Tim-burton whimsy to the show. But be warned; The Parade is not for the squeamish.
THE ANIMATIONS
stills from animations courtesy the artists, Zach Feuer Gallery, New York and Giò Marconi, Milan
Deceiving Looks (2011)

snakes weave in and out of holes, picking up daunting emotion-changing masks,
terrorizing, terrifying and eventually saving the dark-skinned heroine



Open Window (2011)
lost soul searcher is joined by Pelican who chases mystery windows,
protecting and confounding the newborn


I'm Saving This Egg For Later (2011)
egg-hunting owner and pet alligator communicate via mask-changing devices


I Wasn't Made to Play the Son (2011)
dismemberment planned and executed; free-flowing colorful blood
minimizes the horror of snipped body parts and extracted teeth


Bad Eggs (2011)
svelte trio of cooks catch bird, get nekkid and squeeze eggs out
for a witches brew of slop-motion color


"In the hands of Nathalie Djurberg, the conventionally innocent technique of "claymation" becomes a medium for
nightmarish yet wry allegories of human behavior and social taboo. Since 2001, the Swedish-born artist has honed
a distinctive style of video animation, using the pliability of clay to investigate the dark recesses of the human mind.
Set to music and sound effects by her partner and collaborator Hans Berg, Djurberg's handcrafted cinematic tales
explore the vicissitudes of revenge, lust, submission, gluttony, and other primal emotions with an unblinking eye."


The Parade of Rituals and Stereotypes (2012)

Clay animation, digital video 10:56 Edition of 4
Courtesy of Zach Feuer Gallery, New York and Gio Marconi, Milan

this brand-new video was the highlight of the show, priests and judges survey a parade of sexy prostitutes
and not-so-sexy genre-benders amidst much squashing, squeezing, sucking and raping



THE TALK
The New Museum also had a screening and discussion with Nathalie Djurberg and Hans Berg
where they talked about the process of making the birds and videos, and showed older
animations. New Museum Curator Gary Carrion-Murayari asked open questions,
and Nathalie and Hans were kind, compliant and interesting
one of my favorite videos Nathalie and Hans showed was Untitled (Acid), starring a sexy
frog-licking naked gal going on a trip with her little green friend. he's no kermit...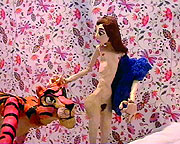 Nathalie and Hans also showed 2 clips of Tiger Licking A Girl's Butt,
an early test, and a newer video, where you could see the progression of her animation skills.
The only sound in the animation was the tiger lick of the girl's ass; as Hans pointed out,
the absence of sound was embarrassingly awkward... ha!

click for a youtube video of a talk with Walker Art Center curators
upon the opening of The Parade exhibition.

Nathalie Djurberg is represented by Zach Feuer Gallery NY
and Gio Marconi Gallery Italy




Test Press is a division of Propulsion Productions
PO Box 1582 Cooper Station NY NY 10276
contact Jefe aka Johnny Chiba