Jefe aka Johnny Chiba irreverent review & circumstantial experiential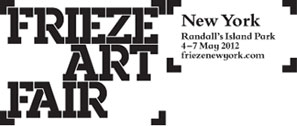 DAY TWO

note: thumbnails, when clicked upon, open unto larger pictures
a very small interesting video of graffiti and chaos,
amidst an entire wall of monitors, construction
and general artistic chaos constructed by monsieur Beloufa
Francois Ghebaly Gallery
(Los Angeles)


KARA WALKER
one of the few drawings, sans silhouettes, we've seen by the ultra-talented
Ms. Walker; a gorgeous, gigantic piece, it's immensity worthy of
center stage from the excellent Sikkema Jenkins & Co. collection
VIK MUNIZ
Washington Crossing the...

a colorful epic made up of hundreds of images, quite unrelated
to the subject matter, unlike the recycled garbage turned into photorealistic
wasteland epics we've come to know and love from Senor Muniz

Sikkema Jenkins & Co
(NY)

PHILIP TAAFFE
Tsunami II
don't know why i liked this artwork, i kept coming back
to it and liking what i saw. that's art for ya.
Mixed Media on canvas
Spruth Magers
(Berlin London)
HENRIK OLESEN
The Body Is A Machine
comical, detailed. technological drawings, writings and techno-items
combined with euro-germanical photographs of the late great Alan Turing,
mentions of penis, castration, graphs and computations. eureka!
only €18,000 for the entire wall, and that's just the half of it!
Galerie Buccholz
(Berlin)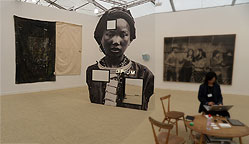 LOTHAR HEMPEL
Opium
Massive, eye-catching, beautiful.
this panorama captures the awesomensity (new word!)
of Mr. Hempel's work, a mix of photographs and sculpture

Modern Art
(London)
EVGENY ANTUFIEV
endearingly bizarre doll-sculptures that
i would gladly hang in my hall (of horrors)
Regina Gallery
(Moscow)
also representing...

EGOR KOSHELEV
a study in the Soviet monumental style, on the
crossroads of high and marginal art, with a street
sensibility and rainbowlike humoresque quality




DANIEL FIRMAN
Lea
can you guess the artwork here?
one of them banged into the female sculpture,
creating a mini-fracas amidst the booth... oops.
Galerie Perrotin
(Paris, Hong Kong)


ALISON ELIZABETH TAYLOR
Multiple Shots with Knife Slashes

more artwork incorporating wood to beauteous effect.
another excellent find by James Cohan, check out Alison's
link on the gallery site for many more wood-infused artifacts
Wood veneer, oil paint, shellac
James Cohan Gallery
(NY)


left:
TIM ROLLINS AND K.O.S.
A Midsummer Night's Dream

right:
VALENTIN CARRON
Ovale
After 20-30 odd years, Tim re-engaged his high school student collaborators from
the South Bronx, NY (K.O.S. stands for "Kids of Survival") to create new art.

"What we're doing changes people's conception about who can make art,
how art is made, who can learn and what's possible, because a lot of
these kids had been written off by the school system. This is our revenge."
Watercolor, ink on music score pages on canvas
Frieze c/o Galerie Presenhuber gave out a small deck of art cards of the
above image, enabling a user-friendly, house-of-card-building experiential.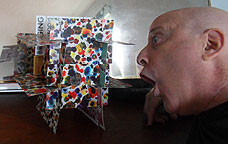 KOS house of Jefe

Swiss artist Valentin Carron removes symbolic objects from their setting, realizing them as
faithful replicas in synthetic materials, hung on the wall, deprived of their original function.
The Ovale series, based on the bottoms and tops of wooden barrels, are replicated in
the spirit of Appropriation Art. yet more art as wood as art.

polystyrene, fiberglass, acrylic resin, paint,
Galerie Eva Presenhuber
(Zurich)
Valentin repped at 303 Gallery
ALLISON KATZ
what came first, the chicken or the chair?
i loved the chicken chair, part of the overall
wooden concept of the Berggren Gallery table
Johan Berggren Gallery
(Malmö Sweden)
OLIVER LARIC
Sun Tzu Janus
eye-catching and interesting, artist Laric reimagines the bust of infamous "Art of War"
Chinese military strategist, General Sun Tzu as the two-faced Roman God Janus
Pigmented polyurethane sculpture on tadelakt pedestal
Tanya Leighton Gallery
(Bogota, Berlin)
ELIOTT HUNDLEY
Alcestis: Exodos
Wood, sound board, inkjet print on Kitakata, pins, paper, plastic, magnifying lenses,
metal, photographs, wire, found paintings... the plethora of objects that make up
Mr. Hundley's sculptural paintings speak for the micro-intensity of the artwork,
two different worlds seen from close up and afar.

Andrea Rosen Gallery
(NY)
PETER STAUSS
vivid, slashing paintings weave social, political and art-historical references with depictions
of apocalyptic archetypes: saints, soldiers, revolutionaries, heroes, villains, burnouts.
Carlier/Gebauer
(Berlin)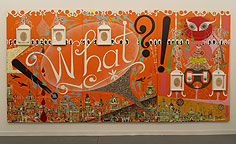 LARI PITTMAN
How Sweet the Day After This and That,
Deep Sleep is Truly Welcomed
what the what? meticulously layered painting transforming pattern and signage;
victorian silhouettes, furniture, weapons, animals, all loaded with symbolism,
convey themes of romantic love, violence, and mortality.
Regen Projects
(Los Angeles)
also representing
RAYMOND PETTIBON
impressive wall of Pettibon, transcending his early b/w punk rock
album covers, the so-cal artist transverses the socio-political landscape
with brilliant colors and satirical commentary...
or is that satirical colors and brilliant commentary?

multi-talented, multi-media Japanese artist,
constantly creating compelling collage content.
i especially like his books displayed, including an 11-year
retrospective tome and a cool book within a pictorial box
Take Ninagawa Gallery
(Tokyo)
ELLEN LESPERANCE
art imitates sweater imitates art.
in memory of slain activist/artist Pippa Bacca
Gouache and graphite on tea stained paper, hand knit sweater
Ambach & Rice
(Los Angeles)
gay, flamboyant, colorful,
art and artist alike
Richard Telles Fine Art
(Los Angeles)


DANNY McDONALD
politically and humor-charged sculptures on pedestals,
i especially liked artist McDonald's take on his cousin Ronald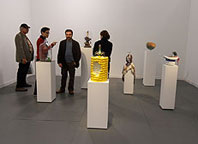 Galerie Isabella Bortolozzi
(Berlin)
LORNA SIMPSON
Just Before
photographic/film/video artist Simpson captures the African-American female niche,
painted-on, replaced hairstyles forge a unique identity, both humorous and striking


collage and ink on paper
Salon 94
(NY)
also representing...
LIZ COHEN
Trabantimino
a souped-up, f*cked up, powerful mega-lowrider built
out of a 1987 Trabant and a 1973 Chevrolet El Camino.
The Trabantimino is a sculptural installation & functional custom-build.
a massive and intensifed ride!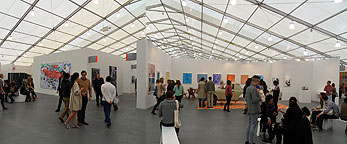 final panoramic frieze frame
pics/pithy commentary c/o Jefe aka Johnny Chiba

Test Press is a division of Propulsion Productions
PO Box 1582 Cooper Station NY NY 10276
contact