Jefe aka Johnny Chiba irreverent review & circumstantial experiential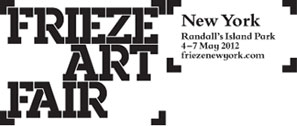 thumbnails, when clicked upon, open unto larger pictures
highlights from the big tent on Randall's Island, one of the best art fairs we've been to in years,
could it be the absence of NY's bully union? the positive ions of the east river? the euro-influence
of the Frieze folks? the airy flow of the guiness-record tent? here's our fave Frieze frames:
JOHN AHEARN's cast plaster and plaster busts, a recreation of his 1979 show,
fully realized with RIGOBERTO TORRES from the South Bronx Hall Of Fame.
Mr. Ahearn pictured left, flanked by his admirable busts and busty admirers...


L-R:
BANKS VIOLETTE
-
untitled "88"
massive steel numbers were impressive expressive digits
big colorful
untitled
piece by brothers
TOBIAS,
Gert & Uwe
, sweet woodcut on canvas...
RYAN McGINLEY

Whirling Swirls
of sexy boys and girls, c-prints collage
TEAM GALLERY
(NY)


JIM LAMBIE
-
Vortex - Love Song
lovely hand-blown glass figurine stared into the vortex,
whilst another hole-ridden vortex staring figure stared on
MARK GROTJAHN
&
JONAS WOOD
untitled humoresque basketball-related collaborations
were playoff-bound artifacts
oil and sock on linen
ANTON KERN Gallery
(NY)


kudos to the wall of KIM JONES, very well laid out
mix of sculptures, varied with acrylic and ink on photographs
ZENO X Gallery
(Antwerp Belgium)

JAMES LEE BYARS
untitled

religious and delicious
ink on papyrus
Michael Werner Gallery
(NY/Germany)
ARIS MOORE
whimsical fantastical artwork
interesting web/blogsite

JACK HANLEY Gallery
(NY)
MARCUS SCHINWALD
sexy table legs on gorgeous brown slab
wood on wood gives me wood

the start of a Frieze fair wood motif....?
GIO MARCONI Gallery
(Milano Italy)
LOUISE BOURGEOIS

untitled
yarnface for the bourgeoisie
little did I know the late great Louise knitted great art
oh look! a book! at the Frieze book stand

Hauser & Wirth
(Zurich/London/NY)

Madame Bourgeois was also represented by
CHEIM & READ Gallery
(NY)



Look Up!! (#1)
etching, watercolor, color pencil
and gouache on paper


RYOTA AOKI
Platinum Queen's Skull - Forever Beautiful

and

Lava Silver Tiara
I placed the bone china crown on the
Queen's bone china head in third panel
Tomio Koyama Gallery
(Japan)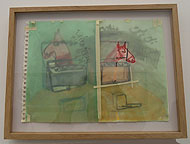 BASSAM RAMLAWI
aka Mounira Al Solh
female artist draws under male pseudonym
nice article from Contemporary Art
Sfeir-Semler Gallery
(Beirut)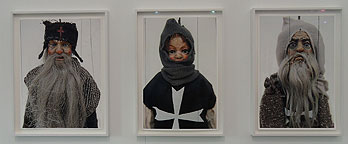 WAEL SHAWKY
photos of 200-year old Italian Marionettes
from the Cabaret Crusades: The Horror Show File film project
very intense-looking puppets!
c-prints on cotton paper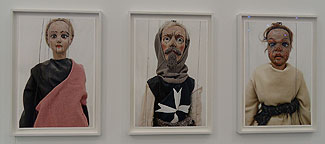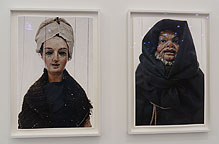 Mario Garcia Torres
Louisiana Museum of Modern...
10 years of LMOM flyers
strategically and artistically peeled
collage on canvas
Taka Ishii Gallery
(Japan)


ABRAHAM CRUZVILLEGAS
taking advantage of the airy space and giant wall
Señor Cruzvillegas' large monkey drawings
were fronted by his constructed objects...
que bueno!

Kurimanzutto
(Mexico)




EILEEN QUINLAN
All's Well
so silvery... so gelatinous... so aluminous
Gelatin silver print mounted on aluminum
Miguel Abreu Gallery
(NY)


Banks Violette
Raiders Logo/Skull

go Raiders!... go skull!... go aluminum!
graphite on paper in handmade aluminium frame
Galerie Thaddaeus Ropac
(Paris-Salzburg)
CILDO MEIRELES
Cantos #1B
a remake of a 1967-68 sculpture that burned down
in a fire many years back... woodness!

Atlas
the artist's homage to a work by Piero Manzoni
that's the artist doing a headstand on signore Manzoni's piece
que homenaje!
transparency in light box

Galerie Lelong
(NY)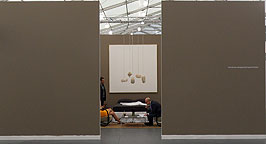 beyond the beautiful brown gallery walls and beautiful legs
beheld the Stephen Friedman Gallery, one of the coziest
settings on site, featuring 2 rooms designed by Vance Trimble

the highlights of the Trimble-designed rooms were the
unnamed chairs and tables... would wood be wooed?
DAVID SHRIGLEY
"Headless Monkey"

scary monkey in a glass cage... no head
YINKA SHONIBARE, MBE
"Water"
faceted faucet feeding running water
on a lifelike headless sculpture...flawless!


TRACEY EMIN

And I Said I Love You
beautiful vibrant presentation of
the feminine feminist's femininity
Lehmann Maupin Gallery
(NY)


MATTHEW DAY JACKSON

Anatomical Drawing (Seas / Oceans - Nervous System)

collage (silkscreen, road maps)
Seated not defeated (Chief Bigfoot)
Bronze, patina
MDJ transcends excellence in various mediums, with
skulls, skeletons, astronauts and death being a primary focus.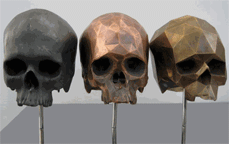 chiba animates skullular transcendence

Hauser & Wirth
(NY)


painting and sculpture come to life,
what came first?
Victoria Miro Gallery
(London)


SANDRA VASQUEZ de la HORRA
wax and pencil on paper
we are great fans of the wall de la Horra,
her greatness expands beyond the pencil on paper,
the way her pieces are placed on the wall...
the sex, the death, the words, the illusion
we are enthralled
David Nolan Gallery
(NY/Berlin)
also representing...
RICHARD ARTSCHWAGER
Chair in the middle
more artist-designed furniture:
the wood, the beauty; our asses in the art
multi-media messages engage the viewer
to encompass and absorb the medium
fantastic!
Colored vellum, ingres paper, pencil and ink
JEPPE HEIN
high polished steel ball, powder, coated aluminum
Jeppe's latest works engage mirrors which in course
entail the viewer to engage themselves. here i am.
303 Gallery
(NY)
also representing
SUE WILLIAMS
War Theater
oil and acrylic on canvas
I see organs, i see flesh, i see organic fleshiness
Ms. Williams sings the body electric with her brush strokes


also representing Sue Williams...

Regen Projects
(LA)
more organic organisms
in an orgasmic frenzy
PAWEL ALTHAMER
the Polish sculptor's creations are at the center
of the Warsaw gallery, beings in the center of
a spiritual universe, heroes or plebians be they may

Foksal Gallery Foundation
(Warsaw Poland)
END OF DAY ONE

pics/pithy commentary c/o Jefe aka Johnny Chiba

Test Press is a division of Propulsion Productions
PO Box 1582 Cooper Station NY NY 10276
contact