BUSH TETRAS live @ WBAR-B-Q - Barnard College Lehman Campus
April 28, 2012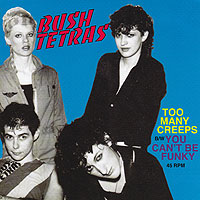 Seminal NYC punk band BUSH TETRAS (ROIR) performed at
the WBAR-B-Q on Barnard College NYC campus. A fan since the early 80's,
Chiba trucked on down to see if amazing guitarist Pat Place, of Contortions fame,
was still cranking out axe-shards of magic

first band I caught were NIGHTBIRDS, a cool as punk band
with excellent 7-inch cover art by Mike Diana


after a very long set by 3 guys who played computers, sax and cello(?)
I was happy to see FORMA performa under the very old campus tree.

2 white guys sandwiched an asian girl, all playing keyboards and
synths to a tree-limbed beat. velly nice forma-tion
Next up were dream-pop swoon-lords
WIDOWSPEAK
dreamy, poppy, female vokes drifting over jangly guitars...
nice version of Chris Isaak's "Wicked Game".
After some delicious Quinoa/Arugula with garlic treats c/o the WBAR-B-Q folks (thanks!)
BUSH TETRAS took to the green, and pummeled out some hits that got the
college kids and punk fogey's like me moving and grooving in the cold air...
Too Many Creeps, Cowboys in Africa, Things That Go Boom In The Night,
all the classics were played, with Pat Place still looking great and sounding
fantastic, her crackling guitar playing the center of it all. Vocalist Cynthia Sley
looked better than ever, and the band were tight and alright. Thanks Lucas!
Pat Place, one of the greatest punk rock guitarists ever