The Modern & Contemporary Latin American Art Show
Nov 10-13 NYC at Pier 92 on the Hudson River

Fifty select art galleries from the US, Latin America and Europe present
abstract, concrete, neo-concrete, kinetic and conceptual art, and more.
A precursor to Art Basel Miami? Si Señor! ...here's our favoritos:


RICARDO LANZARINI
Uruguay
MANUEL MENDIVE
Cuba




Manuel Mendive's painting and sculpture were well represented by
the excellent Galeria Habana from Cuba, who also gave out an impressive
2011 calendar of cuban female artists. Que Viva Cuba!
KARLOS CARCAMO
El Salvador
Street art gone glitter? Lowbrow turned highbrow? Gangsta gone pro?
Karlos Carcamo's got the bling bang goin on, well-versed in several art forms,
the latest and greatest of which are repped by mean
Dean Project
ANA SACERDOTE
Italy, Argentina


Sammer Gallery from Miami representing many late great artists.
showing an excellent animation from Ana Sacerdote,
celebrating colors, boxes, hues, and transanimatory brilliance.
Click the box for the video, straight from Ana's website


RÓMULO AGUERRE
Uruguay




Sammer had a couple interesting paintings by
Rómulo Aguerre in the back, many more found
on Artnet. click for animated version
RODRIGO ECHEVERRI
Colombia
Ideobox Artspace showed the muy interesante Colombian artist Rodrigo Echeverri Calero
He paints and sculpts, sometimes simultaneously, as his paintings contain sculptures within,
or woodenesque sculptures that hang as paintings. I enjoyed the fantastic, easily navigable website
from Señor Echeverri, as well as the description of his art below from Witzenhausent Gallery

"The main concern of Rodrigo Echeverri comes from the possibility of creating from the destruction generated by chaos.
His interest in exploring the boundary between paint and sculpture, has a strong presence in his work,
where the paintings are beyond the conventional format, fragment illusionistic window given by the rectangle,
conceiving his painting as an object that contains itself, making his paintings take ownership of space by their irregular boundaries."
JUDITH LAUAND
Brazil
50 years of painting, and Judith Lauand's work from 1959
is perhaps more relevant today than ever before
Galeria Sylvio Nery from Sao Paolo showed this geometrical piece
I could not soon forget, as it soon became a rauand-Lauand animatory

Judith Lauand at Espacoarte.com
BOSCO SODI
Mexico
Galerie Kai Hilgemann from Berlin repped a number of Latin artists,
including the remarkable Bosco Sodi
Sodi's organic art is made with natural material, sans brushes. Layers of wood pulp, sawdust, jute,
pigments and traditional Mexican dye cochineal, an insect dye originating from Aztec and Mayan culture

"Bosco Sodi creates art that circulates in the spheres where nature and man merge,
creating beauty beneath demise"

Bosco Sodi "Pangaea" Exhibition is currently at Bronx Museum thru Jan 2, 2011
TORSTEN RUEHLE
E Germany
Kai Hilgemann also repped East German Torsten Ruehle,
whose minimalist architectural drawings were rather intriguing, as his newer work
gets more minimal, seemingly erasing elements of previous, fuller versions
MARIADOLORES CASTELLANOS
Guatemala

Mariadolores casts translucent body parts (hers?), filled
with all things beautiful, bodily and bodacious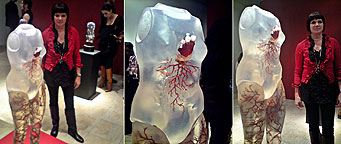 the artist and her body from Klavaza blogspot
c/o The Americas Collection Miami
(MariaDolores is not currently listed)
MARÍA NOËL
Argentina
Marîa Noël makes wonderful creative collages and dyptics using sophisticated elements, ala muy famoso poems,
letters, and musical arrangements that help color her palate. Her eloquent use of said materials is remarkable,
old escuela meets new escuela, c/o
Aina Nowack / ACC
LILIANA PORTER
Argentina
truly whimsical and highly entertaining, Liliana Porter's latest works use small figurines from everyday life to veritably exist outside
the boundaries of normal art, thinking inside, outside and all around the artbox...minimal spacials from Galería Espacio Minimo
CARLOS ESTEVEZ
Cuba


The Multiverso Universo of Carlos Esteves, old tech meets hi tech, gothic art della DaVinci meets highly complex mechanicalisms?
Carlos asks: "What is the man? What is life? What do we represent in the universe? What is happiness? There is my obsession"
I too, am obsessed with the art of Señor Esteves c/o
Lyle Oreitzel Gallery



multiversal animersal
the mechanics of Carlos Esteves' art lend themselves to animachinations


CARLOS MOTTA
Colombia
| | | | | | | |
| --- | --- | --- | --- | --- | --- | --- |
| | | | | | | |
| Sudan | South America | Palestine | Myanmar | Korea | Cuba | China/Tibet |
Incredibly interesting maps of several countries reimagined as unified and uniform, by color and circumstance.
Y Gallery at Pinta had just about sold out the limited collection, but you can see these at Winkleman Gallery
MARCO MAGGI
Uruguay
small-scale drawings, or etchings on glass with shadows forming the artwork itself?
either way, architectural beauty carved into my heart... c/o
Josee Bienvenu Gallery
MILTON MACHADO
Brazil
what came first, the artist or the architect? who's to say,
Señor Machado's architecture is art personified and his art is an architectural wonder.
"Milton Machado plays with the dialectics of time as suspension and time as consumption"
Excellent website c/o Galeria Nara Roesler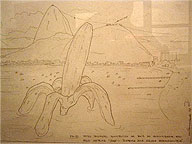 Milt's 'Hotel Tropical in Guanabara Bay'
SONIA FALCONE
Bolivia
TEST PRESS award for best installation in an enclosed room, "Ventanas del alma" by Sonia Falcone.
This amazing video Installation c/o
Salar Galeria De Arte
showcased mirrors below and on either side of long thin screens
creating a magical visual and aural experience from Santa Cruz' Falcone. Although the piece is meant to be seen in a darkened room
(see pic below) to capture the essence of the infinitescence, you can see the full-on video at Señora Falcone's
website
(c/o youtube)
MAGDALENA FERNANDEZ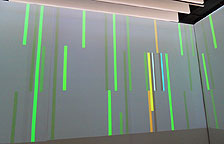 a wonderful video (based on late painter Alejandro Otero's "Coloritmo")
functioned as an oscilliscopic effect, moving to the sounds of the Turpial bird,
native to Ms. Fernandez' Venezuela, c/o Henrique Faria Fine Art

SANTIAGO MONTOYA
Colombia
Bernie Madoff as George Washington is just the start of Santiago Montoya's playful yet serious use of money and monetary notes as the
base/basis for his art. Chinese food coupons from 50's/60's provide background and foreground for migratorial "Go West" & "Fly Away" pieces.
I thought the use of Che and Geor-che in "Play/Pause" was a plane flying into the World Trade Center.
I'm always seeing too much into art... damn nieve/once! c/o Arte Consultores
PEDRO RUIZ
Colombia
Another fine artist consulted and presented by Arte Consultores,the gold paintings and the wonderful small reproductions
from the "Oro" book, unavailable for purchase :( - gave a feeling of joy and release, from the oversized flowers,
animals, houses and plants being floated by the native boatmen. awesome, but we liked the cool book better
Pedro Animato de Oro


Test Press is a division of Propulsion Productions
PO Box 1582 Cooper Station NY NY 10276