Jefe aka Johnny Chiba uncovers costumed capers, hulking hulks,
comic pros and cons at: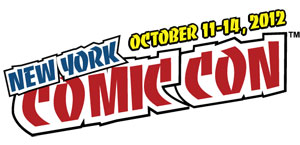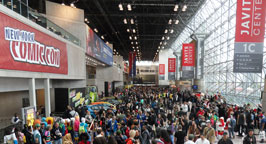 hordes of zombie whores, pseudo-super heroes, and fanatical
fantastical fans crammed the Jacob Javitts center for days!
Damn walkers!





The Walking Dead TV series was the ultimate sponsor, with photos adorning all passes,
and humongous banner hanging at the end of the convention hall, not to mention
a press panel I missed, only because I couldn't deal with waiting on line for 2 hours.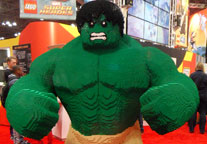 I wanted to smash Hulk Lego,
but that wouldn't have been cool




although I didn't take many pictures of costumed characters at this convention,
the sexy batgirl c/o WeLoveFine.com stood out, and the cyborg robot
whom I couldn't place had one of the best costumes by far...
other vampirical hotties abounded
Here's a plethora of NYCC costumes from the
zombie vegans at BROOKLYN VEGAN:
NYCC Costume Pics

and FLAVORPILL:
The Most Incredible Costumes from New York Comic Con


one of the funniest Mad Magazine covers-turned-comicon banner ever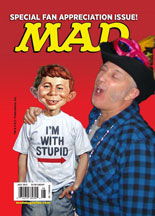 MAD had a photo booth/green screen to get
your pic taken with MAD icon Alfred E. Newman
(i couldn't wait on line, so I photoshopped myself in)

ARTIST ALLEY
by far one of my favorite parts of ComicCon is the Artist Alley, this year located in an
entirely different section of the convention center, it took me 2 days to navigate the tremendous
talent and chat with various individuals who create the superheros and versions thereof.



I particularly liked the animals drawn
by artist Keron Grant...check his blog
Eddy Barrows
(Brazil)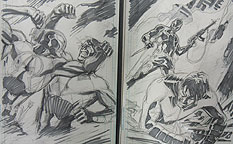 shadowy superheros from a comic
artist you've seen before
Breno Tamura
(Brazil)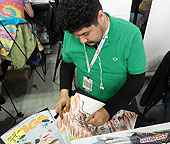 Breno's art and the artist at work on a commission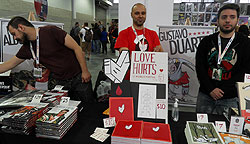 I enjoyed meeting the 3 gents at the end of the Brazil section,
and almost purchased a book by Gustavo Duarte, whose
Monstros artwork was adorably monstrous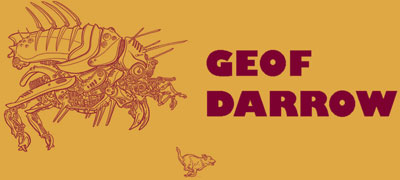 Geof Darrow. one of the most talented artists I came across, and
probably the most ornery: no website, no card, no cares. a true artiste.


one of Darrow's most popular comics are the Hard Boiled graphic
novels written by Frank Miller, cover animated by Johnny Chiba

I found a blogspot dedicated to Geof Darrow's art,
a sampling of his creationism here:

Geof Darrow's prehistoric dinosaurs and animals
as well as his detailed artwork are reminiscent of his
late colleague and friend Moebius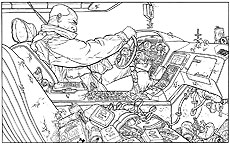 Chris Worfold
(Australia)

artist Worfold's esoteric stylings combine
a lot of reality with fantasy in a fantastic way.
i liked his pencil work best, especially when he
throws in lines of text, or music notes in a corner


illustrator extraordinaire Kelly was one of the most
pragmatic artists I encountered, as his styles change from concept
to commission, from doodle-esque to heavy duty realistic.

here's a couple of my fave incredi-real
Kelly pieces I found on his
deviant
art site
I discovered Glen Orbik's art on the cover of
an Oz/Wonderland chronicle c/o buymetoys.com
his website reveals a love for superheroes drawn incredi-real,
such as a dashing Flash and handsome hulk (vs Superman?)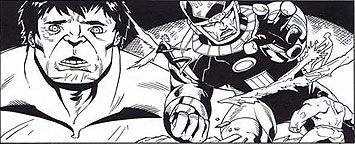 more Hulk and fighting superheroes, drawn and quartered
by Sanford Greene (codegreene)
James Kochalka
Superf*ckers


a brand new book AND animated youtube show from
super funny comix artist James Kochalka! it's... Superf*ckers!
subscribe: hangover.mx
a hulking batman and a badman hulk, courtesy of
Senor Ortiz, whose colorful creepy paintings
are well worthy of introspection
Rafa Garres
(Spain)
one of the more affable artists I talked to was spaniard
Rafa Garres, who illustrates the Road Rage/Duel comic,
based on the classic Steve Spielberg movie, starring Dennis Weaver
(the cover reminded me of the classic REO Speedealer record...heavy!)


interesting b/w artwork becomes so much more when inked;
dig the BROOONNNN-KK!

other kewl artwork by Senor Garres includes the
fantastical Pandemonium piece below




Although busy drawing commissions, Elliot took the time
to talk illustration and his excellent Hulk "Banner" (inside joke)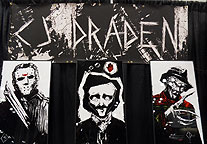 one of the most expansive booths belonged to artist
CJ Draden, with a full-on gothic pinocchio puppet on display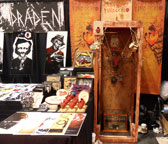 a variety of superhero and villainous artwork
abounded, included a most interesting Hulk and I-man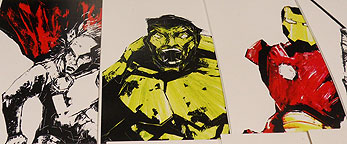 Jacques Khouri
ijotalot.com


more Pinocchio! a classic story postcard,
part of the edition including
20,000 Leagues Under the Sea, Othello, Hamlet,
Little Red Riding Hood and Journey to the Center of the Earth
Another artist hard at work doing commissions, worldly Mike
had the time to speak to me of his "Invincible" Iron Man artwork,
and how he uses photoshop to enhance the art and backgrounds
beautifully. I also appreciated his techno space Hulk
Aside from compiling the 1950's comic art of Singapore
artist Charlie Chan Hock Chye and Ah Huat's Giant Robot,
Sonny Liew is a fine artist in his own right
Alex Cormack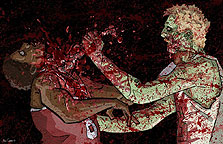 taking the Walking Dead to the next level,
artist Alex Cormack's sports zombies, this one featuring
Larry Bird and Dr. J has to be seen fullsize to appreciate.. the gore!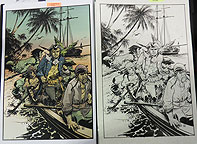 I appreciated Dean's Treasure Island artwork
where the original b/w and color renditions
each stood out on their own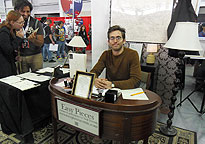 an office space setup in his micro booth, complete
with wooden desk, lamp and bundled stories at hand.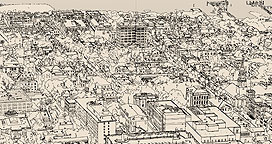 Neil's work, like his workspace, is neat and simple,
with careful attention to details
Easy Pieces Comics
YET MORE HULK!!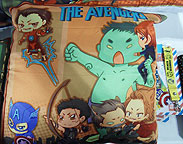 The Hulk made smashing appearances in strange
places, including this Avengers pillow...


...and batonnet bonbon candy
(more like bayonette bones)
given away by a friendly artist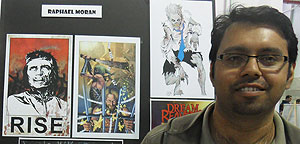 I dug the Che zombie, part of a fall 2013 zombie revolution
comic by Mr. Moran. Fall 2013? c'mon I can't wait!
what comes first, the apocalypse or the revolution?
MAHMUD ASRAR
(Turkey)
appreciative I was of the supersexy ladies drawn
by comics artist and apocalypse survivor Asrar,
most notably the formidable Supergirl artwork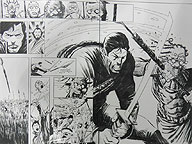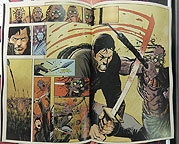 more fascination with original b/w artwork and the finished
color comic, displayed by Five Ghosts. purchase of said comic
occurred after pleasant conversation with the artist



aside from the details that go into his intricate artwork,
Tim Vigil draws to the very edges of the paper... edgy!
another Hulk sighting! drawn in by the superhero element, I admired
a number of heroes and villians drawn and painted by Mike Maydak
more Hulk, a bevy of superheroes and Chuck Bronson (?)!
artist Brett Weldele makes great use of Distress Ink, and has made a
number of
youtube
video tutorials to boot... nice!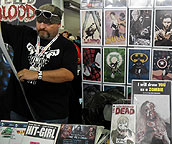 Enjoyed mightily at NYCC was the excellent art and conversation
with Michael Champion, who has only been in the pro-comic
artworld for the past few years.

His incredi-successful "I will draw YOU as a ZOMBIE" project
enabled him to quit a 9-5 job, and concentrate on attending conventions
and commissions only. A true success story!


very interesting close ups of the Hulk,
Wolverine, Capt America highlighted
artist Jon Rea's work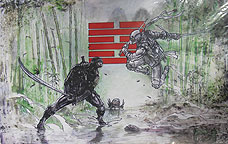 I chatted with artist Shawn Alleyne about his
"Combustible Skilla-Strations" and the excellent
Snake Eyes vs Stormshadow collaboration piece on display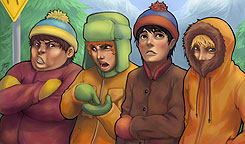 probably the most realistic envisioning of the
South Park crew yet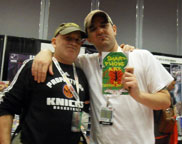 cartoonist Zuniga posing with Johnny Chiba,
celebrating the release of Serge's brilliant Smart-Phone Art book
simple and humorous comic art created on a phone!
and lookie here... HULK! hah!
last but not least, a sighting of convicted comix artist
Mike Diana at the Angry Drunk Comix booth, along
with Sergio, Angry Steve, and Justin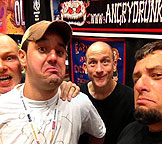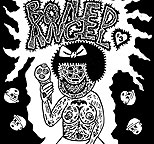 crazy, angry, cool... some comix, unlike Trix
are just not for kids


a division of Propulsion Productions
PO Box 1582 Cooper Station NY NY 10276
contact