salute to
MARNIE STERN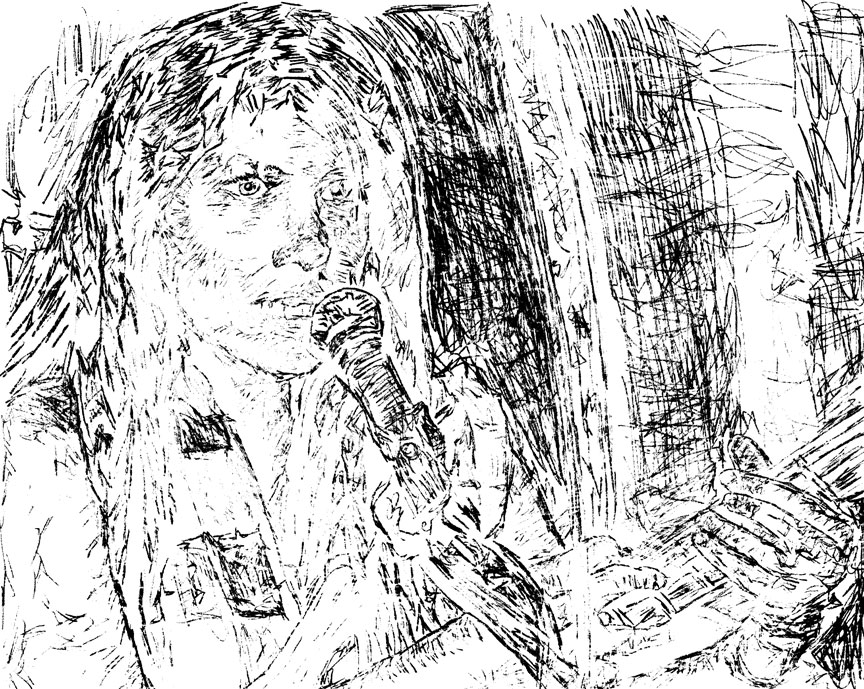 art, animations and words by Jefe aka Johnny Chiba

When an artist names their third album by their name (ie: Metallica), it usually infers
THE defining record by THIS artist.

MARNIE STERN (out Oct 5 on Kill Rock Stars) by Marnie Stern is THIS record, a self-reflective defining statement of the
tapping guitarist as a songwriter, arranger and creator. MARNIE STERN is a tome of maturity, positivity,
acceptance and moving on.
Marnie Stern has single-handedly caused me to rethink my notion that women cannot rock
(as the song title off her new record affirms "Female Guitar Players Are The New Black");
it's not as if i'm NOT in awe of the great Joan Jett or "Barracuda"-era Heart, but getting turned on
to Marnie Stern's first 2 recordings recently caught me by surprise and made me mad I had missed her numerous
performances at SXSW and CMJ festivals and her hometown Brooklyn in recent years.

On her first 2 records, the wordily-titled
This Is It and I Am It and You Are It and So Is That and He Is It and She Is It and It Is It and That Is That
(2008- Kill Rock Stars) and the great sophomore release In Advance of the Broken Arm (2009 - Kill Rock Stars),
Marnie Stern's skills are evident, her lyrics are often sly and unpredictable, her verbalizing skittish and thoroughly enjoyable;
she has put out 3 progressively progressive and fantastic records, utillizing to great extent the specialized skillset of Zach Hill
from HELLA for all drumming duties on all discs.
| | | | | | |
| --- | --- | --- | --- | --- | --- |
| | | | | | |
| this is it and i am it...- 1st cd | this is it raging animation | in advance of the broken arm- 2nd cd | broken marnimation | Marnie Stern - new cd | animarnie |
On MARNIE STERN, the guitarist shows she is an amazing songwriter AND musician.
Starting with the song "FOR ASH" (whereas Ash turns out to be Marnie's long-time boyfriend who left her without
word or reason many years ago, and recently committed suicide in May of 2010) setting the theme for the entire CD,
filled with lyrics of missing someone, wishing they were here, being in the light, outshining...
The emotive chorus of "FOR ASH" is heartfelt: "I cannot bare, No one compares, I miss your smile, Sadness all the while"
moved me similarly to Sinead O'Connor's "Nothing Compares To You". But the song is a pummeling start to a brilliant CD,
Zach Hella's drums rolling the song along, Marnie's vocals and indian-like background vocals (I-Ya-Hey-Ya)
leading to her questioning "How can it be and I'll never, I'll never know why, I want to be in your imminent elegant light"

Ash's leaving Marnie left her wondering why, and caused her to plunge headlong into her music,
presumably starting her recording career. Ash's 2010 suicide was the impetus she needed to let him go.
A song like "Cinco De Mayo" (the day Ash killed himself?) is a homage to Ash and how she felt when/since he left,
missing him, feeling hurt, affirming that he will always be with her, near her, here and hear. The song ends with
a blessing "I hope you see god. You're everything", ultimately releasing him and the hold he had on her.
Read Marnie Stern's Confessional Interview from Impose Magazine
MARNIE STERN is full of her personalized shortcomings ("it's not enough, i'm not enough") as well as positive affirmations
("in order to see it, you've got to believe it, I do... I want this") from "Transparency Is The New Mystery"
Marnie Stern believes in herself...in building her mind, her body, her confidence, like her personal field of dreams,
knowing that her loved one will come back, or a new love will come to her anew.
Like a fairy-tale ending, the record culminates on a completely positive note "The Things You Notice",
led by the bass/voice of Matthew Flegel, who is currently that special someone in her life who she's not gonna let go.
More power to you Ms.Stern-Flegel!
Powerchords and sweetness punctuate MARNIE STERN, her tapping guitar adds life and embellishes the songs.
Gone are the rapid-phrasing/yelping of previous records (save for the rapid Ash-lashing of "Cinco de Mayo"),
instead Marnie has chosen songwriting, feeling and soul-expression.
Special mention must be accorded beatmaster Zach Hill, whose stylized drumming stand out on this disc,
His playing is like another voice, more often speaking and responding to vocal lines rather than simply laying a beat,
When he DOES lay into a beat, it takes the music to another level (ie: the end of "Build Her Confidence" breaks
into an intense guitar/drum barrage similar to a great Battles song.




MARNIE STERN is the story of release, rejoice, remembrance, relief and reflection,
a positive, spiritually uplifting, story of loss and life.
and she does, indeed, Rock! She Rules!! Marnie Stern IS ruler of the...
Download 2 songs from MARNIE STERN (c/o Kill Rock Stars) hear:
"FOR ASH"
"TRANSPARENCY IS THE NEW MYSTERY"

Marnie Stern on Myspace
Marnie Stern Albums (c/o Wikipedia)

This Is It and I Am It and You Are It and So Is That and He Is It and She Is It and It Is It and That Is That (October 7, 2008) Kill Rock Stars

In Advance of the Broken Arm (February 20, 2007) Kill Rock Stars

Marnie Stern (October 5, 2010) Kill Rock Stars


Marnie Stern at Kill Rock Stars

MARNIE STERN OFFICIAL PRESS BIO
Marnie Stern the album mirrors Marnie Stern, the woman.
Birthed during a challenging period in her life, the self-titled Marnie Stern is a compendium of life stories both bitter and sweet.
From ballads to her signature pop guitar-tapping style, Stern and long-time co-conspirator Zach Hill have churned out (for lack of a better word) an enormous album that will further cement Stern as a rising star in today's progressive music landscape.
Stern also enlists the bass talents of psych-rock Canadian musician Matthew Flegel (of the band Women & boyfriend of Stern) and up-and-coming mixer Lars Stalfors (Mars Volta, Funeral Party) resulting in Stern stepping up her sonic game and revealing a mature and more focused side of herself. "I wanted to pay more attention to the delicate and subtly layered spaces in between sound and just make things louder and fuller where I didn't on my last 2 records." When asked to sum her album up she maintains, "It's direct and honest and real. I'm no longer taking cover under guitar lines or yelping vocals."

Marnie's third and latest LP, while clearly containing her strongest songs ever, had its fumbles on the way to the finish line. She laughs when describing how the initial recording files were lost and ultimately retrieved through a series of trials-by-fire (upon which many a cigarette was lit) and in one complete statement, she quips: "Holy Doodle!" You will find both the artist and the album to be brighter, louder, and bustling with confidence as the end result.

Clearly, Marnie Stern's life and music are not easily separated; which is why Marnie Stern the record and Marnie Stern the person have REAL personality. Upon hearing her last two albums, In Advance of the Broken Arm (2007) and This Is It And I Am It And You Are It And So Is That And He Is It And She Is It And It Is It And That Is That (2008), it's quite evident that Stern lives in between the lines of chaos and harmony. While Stern's previous efforts garnered much critical acclaim, highlighting Stern's dexterity with both guitar playing and songwriting, she still remains the underdog of contemporary celebrated female musicians.

Three albums into her career, this certainly leaves her exposed. Yet, within that exposure, we find something more relatable and familiar to us all; vulnerability and resilience. And with this collection of songs, all you hear is…'Marnie Stern'…which is destined for greatness


is a division of Propulsion Productions
PO Box 1582, Cooper Station, NY, NY 10276