review rewind rehash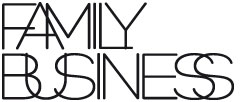 ITSA SMALL, SMALL WORLD
@ FAMILY BUSINESS
520 W. 21ST ST. NY, NY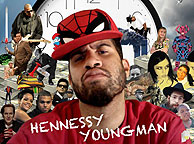 curated by Hennessy Youngman
the inimitably talented and handsome internet persona Hennessy Youngman shouted out
to the internet for a show at Family Business Gallery on 21st St in Chelsea.
Over 300 artists contributed to a 10 x 12 square foot space, where their disrespective
art was jammed in from ceiling to floor. many beautiful people attended,
many smiles and necks craned to see the art, the breasts and the beer.
Jefe aka Johnny Chiba contributed a piece, but would we be able to find it?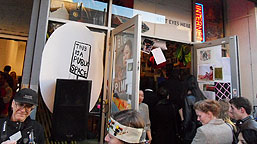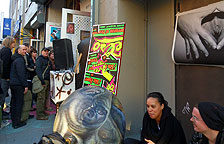 folks flocked to the clusterfuck, vagina displayed, no one dismayed


entering the clutter was a hint of the butter, art was aflutter... bust a nutter!
| | | | | | |
| --- | --- | --- | --- | --- | --- |
| | | | | | |
| magnetic thing! | stymie? | obama? | | urinal fun! | interest-thing! |
some of our favorite thingees...
thar's gold in them hills! found our bent artwork
above the naked performance art... follow the
left tit straight up and you can see it, or can you?
wherever you looked you found something cool
sweet nook and crazy cranny...
thank you hennessy young man!
pics and text by Jefe aka Johnny Chiba

technochiba: