Jefe aka Johnny Chiba explores, exploits, and exposes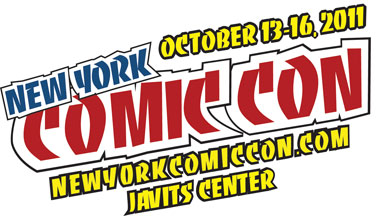 Photo-Journal with Mini Hulk, Transformers, Adventure Time, Regular Show,
Artist Alley, Comics, Cons and Morons

click ye tiny thumbnails for links and large pictures

Venom seemed harmless until he launched into venomous crouch

ever-present media
interview every thing...


see you in my dreams...
er...nightmares

green, blue, pink
hip hop AND gay?

gory, sexy nurses,
where's Doc Kill-dare?

obnoxious cosplayers
promote comic i won't read
cos-play is encouraged at comic-con, costume-play comes in many forms,
from the meek dressed as superheros and villains, to the strong dressed
as superstrong steroid battle-centric warriors and video game characters

I hooked these 2 up
...for a picture

troll twins definitely getting their troll on

macho humanoid poses
as mecha-nerd

battle of buxumous blondes er...pseudo heroines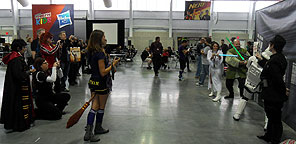 wherever you go, folks take pictures of the costumed
and the costumed take pictures of each other... snap!


TRANSFORMERS IN THE HOUSE
yo, take my pic with
dude-imus maximus

dude, take my pic with
gigantor transformer


yo dude, take my
pic with dude!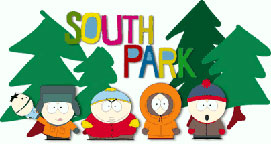 in da house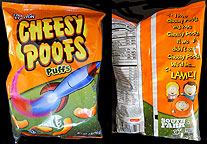 checked out Comedy Central's South Park panel, featuring Q&A with director
and screening of "Six Days To Air", a fantastic South Park documentary
with amazing behind-the-scenes look at the making of South Park and
"the Human Centipad" episode (click above for trailer). They also gave out free
Cheesy Poofs (essentially Cheese Doodles), Eric Cartman's favorite snacK!




Comic Con presents trailers for new movies in small & large screening rooms.
I caught video premiere of "Shut Up Little Man!" based on audio misadventures
of 2 post-college kids who taped drunken arguing neighbors and created a
viral sensation. Click above for youtube trailer




the car from Back to the Future or just another Delorean? they even had a
fake Marty McFly posing with you... for $20 a shot... yeah right, McFly,
like that is my density!
COOL COMIC CON CRAPOLA

$99 plastic microscope
captures images to computer...

brain soap... need I say more?
for your dirty dirty mind...and pits

create your own zombie character.. okeedokee dude!

Level Up

funny, hip t-shirts with video game meanings
dance karaoke stage is mainstay
of con... you go girls and boys!

video game uses only
hand motion. you go xbox!

worlds largest arcade
game... you go 'roids!
ADVENTURE TIME, c'mon grab your friends, we'll go to very distant lands,
Jake the dog and Finn the human, the fun that never ends, Adventure Time!

Cartoon Network set up humongous Adventure Time
balloon display of Jake the dog, Finn the human up
top and Rainbow Unicorn entwined... I'd like to see
this in the Macy's Thanksgiving Day Parade!

sweet Finn figure
comic con giveaway!

even Chiba can't resist
a pic with Jake & Finn!

by far the most interesting and hilarious booth was for video game Asura's Wrath,
where conventioneers go into semi-soundproof booth and scream at top of their lungs...







if the screams register above certain level, you win a prize hair-hat, poster or be
entered to win $150 is you reach the 100 decibel pinnacle! so much fun to watch costumed
kids, creeps and princesses give it their all. Lots of pics at Asura's Facebook Wrath!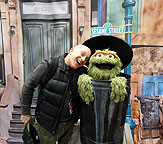 there's no stopping Chiba from geeking out at various booths, from the
Rubin Museum's Yeti display, meeting Oscar the Grouch at Sesame Street,
to posing as Hellboy at the Dark Horse booth, where Chiba scored a great
"Hellboy in Mexico" comic with artwork by the phenomenal Richard Corben! Olé!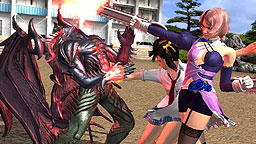 went to screening of Tekken: Blood Vengeance in 3D, a full length CGI movie,
featuring the sexy robotic girls and masculine fighers of the Tekken video game.
the movie's preamble had a panel of folks who worked on video/movie, which seemed
to be more of a plug for the prime package of video game/movie release than anything.
I had a hard time seeing 3D effect, but movie's climactic never-ending fight was fun.
I could almost see video game players in audience subconsciously playing with their dipsticks...

NYCC ARTIST ALLEY
my favorite part of Comic Con is the Artist Alley, where hundreds of comic artists meet and greet
their fans, friends and foes. Most of them are drawingcommissions for fans,and
depending on their fame and fortune, charge different rates.

Wacom's impressive pro pen tablet

Bob Camp

from Ren and

Stimpy show represented;

guess what 100% of fans

asked him to draw?

Jim Calafioire

I particularly liked his dinosaurs

and creatures, from Rex Rider

and Secret Six comics

Nathan Fox

"Haunt" mini-comic...

...Flourescent Black?

I'm always curious as to what artists are drawing, whether they draw one of their
characters/creations, or are asked by their fans to do another famous character/superhero


the longest line of the con was for

(The)

Greg Capullo

of SPAWN fame

Dustin Weaver

of S.H.I.E.L.D. comics' portfolio had quite a few interested pieces;

the ones with an architectural palate were especially pleasing... animation by Chiba

I'm interested in whether they can draw a character off the top of their head,
or need a reference drawing to get it right. I also ask whether they are able to concentrate on
drawing when hundreds of fans and annoying press people talk to them in the middle of a stroke


Matteo Scalera

from Italy poring over a hopeful

artists's portfolio, giving art/ink advice on lighting,

it was La Escuala de Scalera! Bravo!

Tony Moore

of "The Walking Dead"

series had a huge booth, and was a con favorite. He is the king of zombies

Craig Yeung

's deviant art is found on deviantart.com, and he's pretty damn deviant himself
Rawrs.com

artist Dai Trans

makes trans-formative art, from

Bitsumo figure to fun t-shirts

Matt Fletcher

's hard-jaw characters

were interesting, esp Frankenstein

and (look below!) The Hulk

LA's

Eric Canete

used Japanese

inks to draw Goon commission,

final product found on his site

Chris Dibari

's banner used sweet

font for his name, and his "Thing"

art from

The Thing

was radical
Ken Knudtsen

's simple ink work stood out

for it's simplicity and effectiveness
Jorge Molina

(and his brother) were extremely kind, I enjoyed his Capt America ("Man Out of Time") comic art,

and his website (

Zurdom.com

) is very cool. Good Avengers (Thing!) and b/w - color Doc Doom art animates well

more HULKS of note

Brent McCarthy

is N0M4n! cool hulk shirt

(and skinny iron man). nice Mike Tyson!
Chris Giarrusso

, creator of Mini-Marvels, had long line of fans...

no wonder, he only charged $1 a sketch! As a Hulk fanatic,

I asked for mini-hulk sketch, and spent the rest of con looking for Mini-Hulks

comic for him to sign (I didn't find it). See full-on panels below for

excellent humor & art. The mini-marvels are funny & highly recommended!


ADVENTURE TIME meets THE REGULAR SHOW (c/o Cartoon Network)
NYCC presented a Cartoon Network panel discussion, featuring creators and cast of
the hit cartoons ADVENTURE TIME and REGULAR SHOW, two of my favorite tele-toons.
I think this may have been the biggest line of the event, perhaps a thousand folks snaking
around the convention hall waiting to get in, and half of them could not... you know who
else couldn't get in? my mom!


stock shot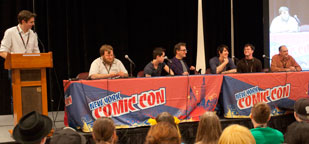 "Adventure Time" creator & cast: Pendleton Ward, Jeremy Shada, Tom Kenny
and "Regular Show" creator & cast: JG Quintel, Sam Marin, Bill Salyers
panel discussion at New York Comic Con, 10/16/11
Photo by John Nowak/Cartoon Network Photographer: TBS Inc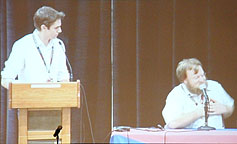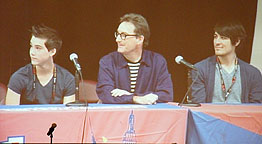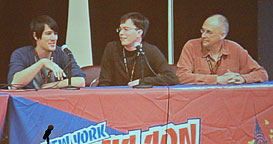 "Adventure Time" creator Pendleton Ward was asked where his inspiration came from, and he pointed to his heart,
where he proceeded to pull pencils out of his shirt pocket. An audience member asked him to describe himself in the voice
of his character Lumpy Space Princess, to which he responded, "I think I'm interesting... nice... hairy... blonde...
dirty, I'm a dirty dirty blonde" much to the delight of the teen-majority


IT'S ADVENTURE TIME (chiba cast collage)
Pendleton Ward (aka Lumpy
Space Princess "LSP")


Jeremy Shada (aka Finn the Human)

Tom Kenny (aka Ice King)
REGULAR SHOW
chiba enhanced stock shot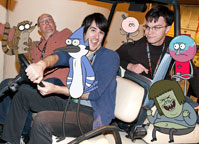 JG Quintel (aka Mordechai), Sam Marin (Rigby) ,
and Bill Salyers (Pops, Benson and Muscle Man)
PRESS PANELS
Cartoon Network was kind enough to set up round-robin press panels where 1/2 dozen or so journalists
and press folks could interview Adventure Time and Regular Show cast separately and intimately
I learned JG Quintel and Pendleton Ward worked together
on The Marvelous Midadventures of Flapjack, and both
attended Cal Arts, where JG and Bill Salyers were roommates
and invented much of their Regular Show humorous banter

Round Robin Regular Show

I asked Tom Kenny (who also voices Spongebob Squarepants),
how he tried out for part of Ice King. Jeremy Shada was 12
when he got the part of Finn, and is now 14 (going on 15)
Interesting note, Pendleton Ward said that Finn the Human's character would age in the cartoon
just as Jeremy Shada aged, keeping the Adventure 'toon in touch with his human counterpart
Round Robin Adventure Time
I noticed Pendleton Ward doodled on the
back of the info sheets at every table...

I asked to see what he
doodled at our table, and
he tossed it to me! Thanks
Pen Ward, I shall treasure it!

son of a journalist,
with "Adventure Wars"
t-shirt... cool!
technocontact:
Jefe aka Johnny Chiba
jefe <at> testpress (dot) net