Johnny Chiba plots potshots & whatnots. pseudo-rhyme photo-journal of CMJ Marathon '12

click thumbnails for big pics and space trails

A week of fine music, ruby Tuesday thru Sat-day
hand-picked marvels by the marvelous staff of CMJ
getting around this big city in a hurry,
goddamn! why is that picture so blurry?
can a week go by any faster? does everyone play a telecaster?


Tues - Oct 16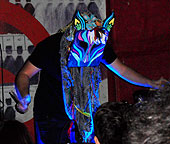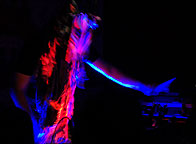 Slow Magic @ Pianos

drumming to pre-recorded tapes of Grimes-like electro dance
wearing afrocentric mask of a Burning Man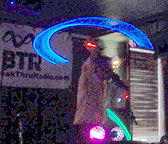 A Severe Joy @ Pianos

A Severe Joy, anagram for José Ayerve
waving toys and lights is not un-nerving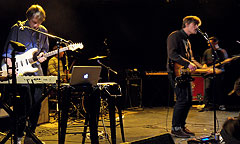 Tom Lark @ Le Poisson Rouge

New Zealand showcase, Tom Lark can sing
he's not really Tom Lark, he's Lord of the Ring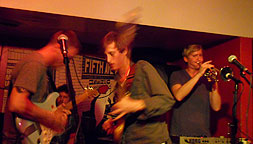 The D.A. @ Alphabet Lounge

quirky band from El Paso Texas,
played jerky songs of rockin excess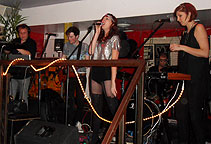 Clementine and The Galaxy
@ Alphabet Lounge
my darling Galaxy, my fine Clementine
covering songs of Nirvana, box of heart-shaped pine

Wed - Oct 17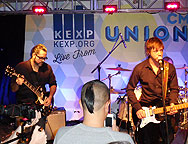 Paul Banks @ CMJ Union

Interpol front man banking on solo mission
the voice carries weight, the songs carry precision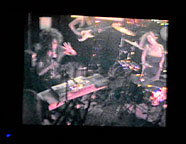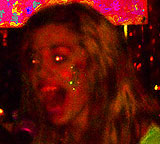 Prince Rama @ Cakeshop

Princess loves I could not see
watched half the show on closed-circuit tv
dark pictures taken from back of crowd afar
cake shop brownies taste a little like tar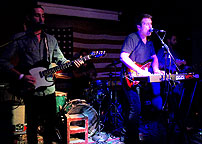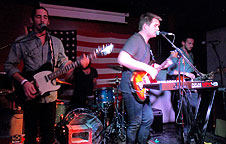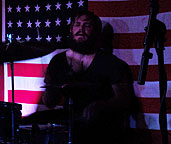 Kiven @ Grand Victory

rock pop drum-driven hum-buckin guile
anthemic songs sung in victorious grand style


Vagina Panther @ Trash Bar

saw some rock vagina, caught some punky panther
didn't take pictures, forgot my f*cking camera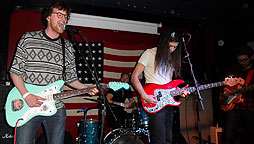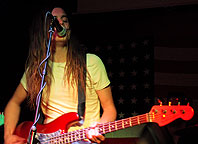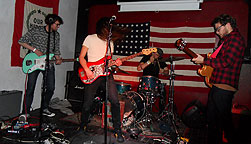 Sudden Weather Change @ Grand Victory

Icy cool band from Iceland north, took solace in subliminal chords
eskimo songs of isolation, transitioning thru mogwai-esque calibration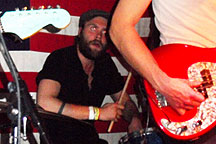 yon eskimo drummer excelled at being boss
did he blow a seal, or was his mustache full of frost?




a fine 7 inch
i was able to pinch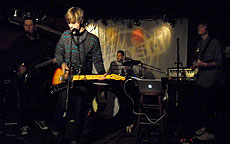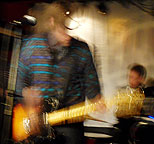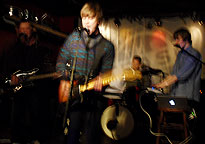 Tom Lark @ Trash Bar
Again Tom Lark crafting crafty new zealand tunes
this hyper cool band are talented loony loons
serious pop contenders to break out from down under
malarky aside, tomfoolery asunder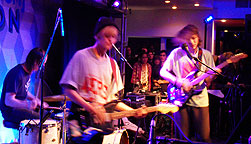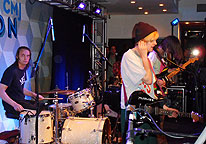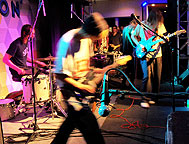 Diiv @ CMJ Union
took a dive into jangly guitar-ringing heaven
power pop pajamas top news at eleven
Thursday - Oct 18

CMJ COLLEGE DAY
presented by Sounds Australia


I missed two songs by Big Scary
and that's how many songs they played - unfairly!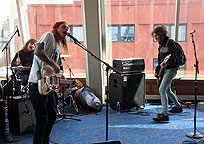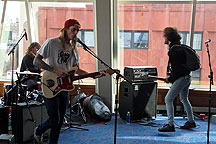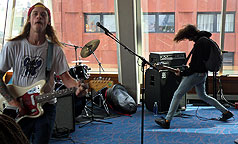 Dune Rats @ NYU Kimmel Center
Rats of Dune sang frivolous pop
bassman played with powerpack atop
2 songs only, a cool nugget
that I swear was called "F*ck It"
Friday - Oct 19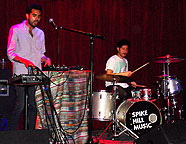 I Can Chase Dragons @ Spike Hill
dos personas de mexico city
sounds of el Guincho lite were quite pretty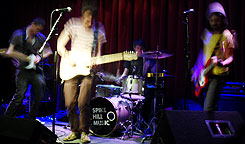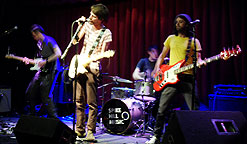 Bouts @ Spike Hill
Bouts are a-bout an emo-fugazi
dueling telecasters and a flying guitar-v
fist-fighting Bouts from an Ireland moat
a great song called "float" not a-bout a boat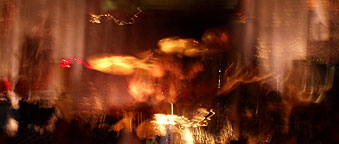 METZ @ Public Assembly

So crowded was this assembly
even with my camera I could barely see
sonic punk, a howling rock op
another great band to hear on Sub Pop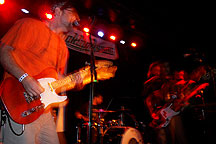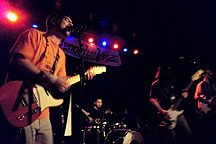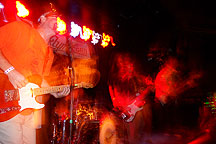 Toys That Kill @ Public Assembly
To the back of the club i ventured
for anthemic punk rock uncensored
one of the best bands I heard all week
another great drummer, another telly, all reet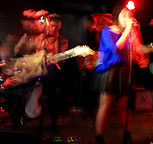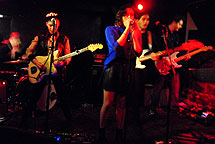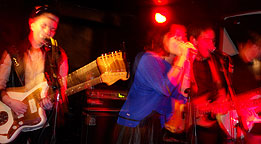 Nowherenauts @ Fat Baby's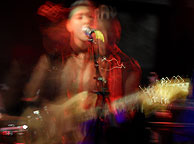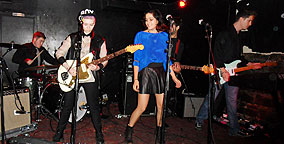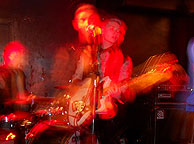 rocking pop or popping rock?
is the guitarist cuter than the girl down the block?
she's a boy she's a boy but her mom won't admit it
this band is polished, fuhgeddaboudit!




the forms were another band I missed
such is a night at CMJ, can't be pissed


Sat - Oct 20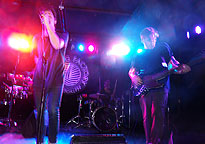 Gold Fields @ Public Assembly
from the gold fields of Australia
where the kangaroos are failures
where the music rocks, and shrimps toast on barbies
this band has chops, these aussie have yarbies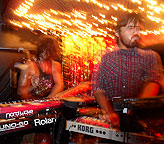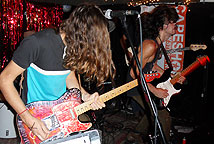 Delicate Steve @ Cakeshop


slide guitars, pedals aplenty and luaka bop
the delicacy of steve flowed thru the shop
inner visions of wonder my ears would retrieve
such is the splendor of Delicate Steve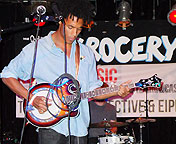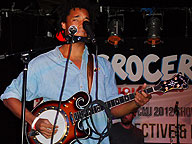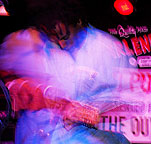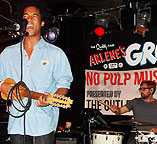 Conner Youngblood @ Arlene's Grocery

breathy soundtrack music from the handsome young blood
Conner played guitar, banjo and uke and sang quite good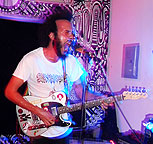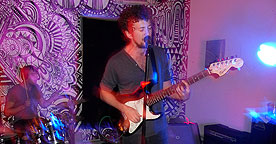 Viva Mayday and Happy Lives @ Muchmores
my timing was off, a clusterf*ck ensued
a homemade telecaster, two trios in a tiny room
hairy rock and happy lives performed in front of art
the drawings on the wall were my favorite part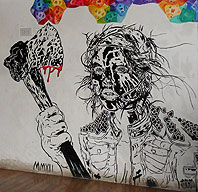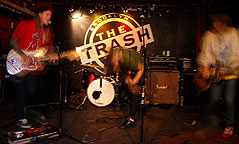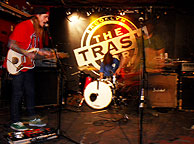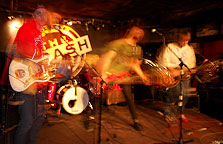 Dune Rats @ Trash Bar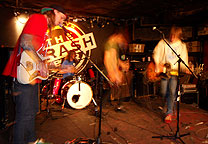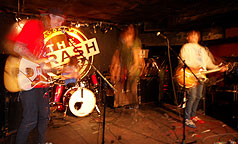 Again to see the Rats of Dunes
thank you CMJ to hear more tunes
sloppy yet funny, full of life and jokes
a mini-Australia lovefest from downunder folks




in brooklyn i was trapped
the white rhino i did not see rap

Johnny Chiba helps indie bands, labels and DIY musicians coordinate promo campaigns to College Radio and indie music
consumers via CMJ Network: Banner ads, Downloads, Ads and more in CMJ.com, CMJ Weekly, CMJ New Music Report
Online, Tracks on the monthly CMJ Monthly Digital Mixtape and opportunities at the annual CMJ Music Marathon


Test Press is a division of Propulsion Productions
PO Box 1582 Cooper Station NY NY 10276
contact: Jefe aka Johnny Chiba