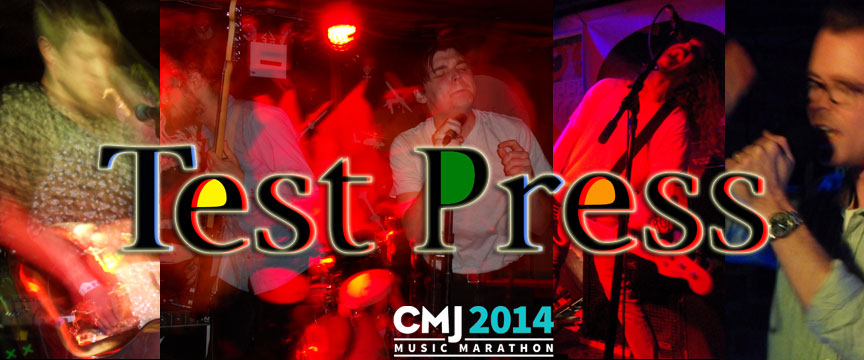 Jefe aka Johnny Chiba braves the elements and strains of Ebola to (un)cover CMJ Music Marathon 2014

CMJ Music Marathon brings a multitude of fans, bands, college radio persona and music industry
types to NYC every year for a plethora of showcases, music panels, parties and happenings
throughout the New York metropolitan area and Metropolitan avenue in Williamsburg Brookyn.
Johnny Chiba, freelance indie sales samurai for CMJ, splits his time during CMJ week
catching bands he works with, bands he likes, meeting clients and colleagues and eating at Katz' Deli.
This year he eschewed the CMJ panels to concentrate on the music and bands, and study the
various showcases put on by labels, booking agents, promo co's, publicity firms, blogs and websites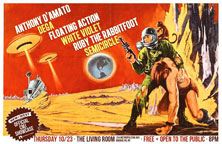 Johnny Chiba listens to just about every single performing band listed on the
CMJ marathon website; amazingly, some bands performed over half a dozen times
throughout the week, whereas many bands who were granted an "official" showcase
played just one show, and hundreds of bands who submitted for CMJ did not play at all...
Johnny Chiba says: "where there's a will, there's a way to play"...just book it
some of Johnny Chiba's favorite evites are found here,
kudos to the reps who took the time to make effective ornate invitations





Herewith are the bands Johnny Chiba had the chance to see, hear,
and perchance to photograph... enjoy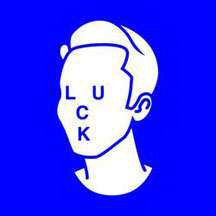 TOM VEK @ Mercury Lounge
Lead man Tom Vek is singer, guitarist, bassist and producer, all happening on stage
in one excellent performance. A keyboard player (Sam Vek?) who tripled on guitar,
bass, and samples, and a righteous drummer (Tom Tom Vek?) formed a splendiferous trio.
It was amazing to see and hear Tom Vek and Sam actually produce onstage, as the pre-recorded
samples laid the sound/groundwork for the bouncy feel of the various songs. I swear I could hear
the drums in the back of the room at one point, and the overall level of the drumming decreasing
on cue, even when the drummer was still playing full force. One song in particular ended with
the drummer totally in a groove, and Tom Vek pointing to him, as if to say "wtf do you think of that?"
Vek-cellent!
| | | |
| --- | --- | --- |
| | | |
| | some Tom Vek videos worth watching | |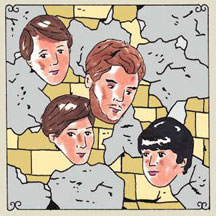 YAWN @ Fontana's
(Pirate! Promotion Parrrrrrty)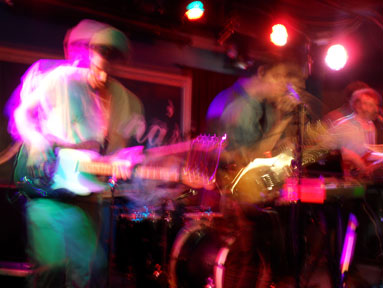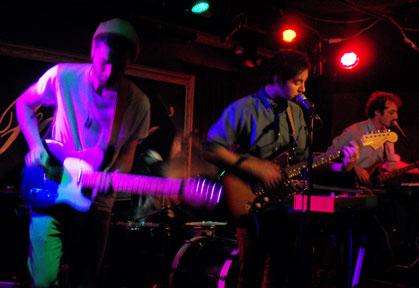 Just when i thought I was in for a yawn-fest, the sound of Yawn
woke me up with a rawking Pirate-y party punch. Bass player stage right
picking up the lead guitar was a welcome sight and sound experiential, whilst
center stage guitarist and keyboardist sang tuneful harmonies. The drummer
worked it hard the entire show, kudos dudos!
https://www.facebook.com/yawntheband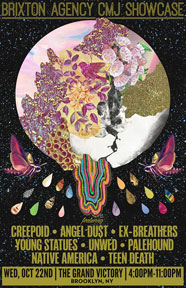 Ex-Breathers @ Grand Victory
(Brixton PR showcase)



Holy molten breath! this shot from the Ex-Breathers facebook page is sheer punk rock.
this is the type of band you'd see during CBGB's heyday: ferocious, unrelenting,
in your face. massive. Hail Brixton, the guns of public relations and punk rock.


@ Arlene's Grocery
(Never Better PR party)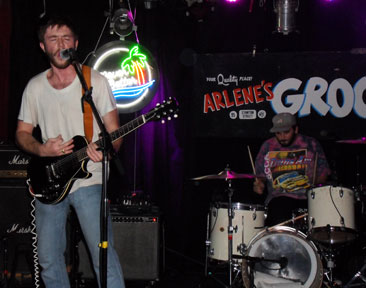 Ben (not Elvis) Presley, guitarist/singer for Concord America reminded me of a
pitcher for the San Franciso Giants (probably because CMJ takes place during the World Series).
With hairy brothers Vinny and John Restivo keeping the beat respectively on bass/drums,
Concord America blasted out tunes from their garage-rocking release "Suns Out Guns Out".
I particularly like the song Vanilla Bastard. cool cover art!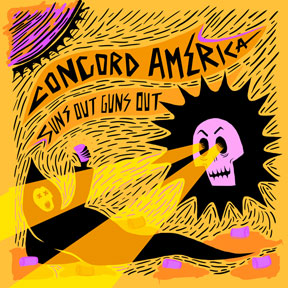 https://www.facebook.com/concordamerica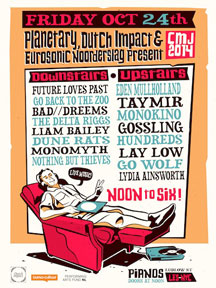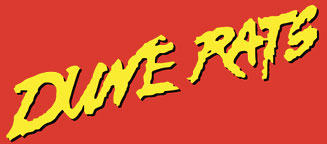 @ Piano's
(Planetary Group showcase)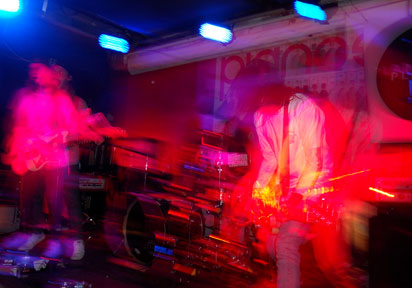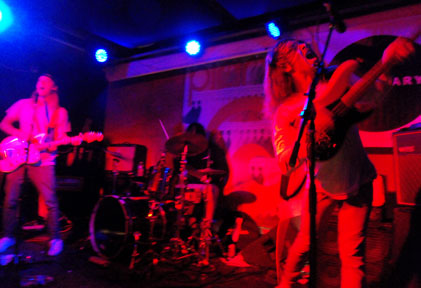 this band personifies fun, partying, smoking weed, having sex,
basically rock and roll. a joke about the bass player wearing a condom
while performing turned into a scary reality when a female heckler dared him
and voila! a condom came out of his pants, and thrown at the drummer! fun!
https://www.facebook.com/dunerats

even better pics taken by a pro photog c/o Impose Mag



@ Cake Shop
(Breakthru Radio showcase)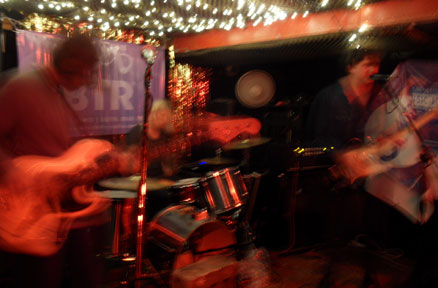 Popstrangers from London are one of those bands with a sound
all their own, guitarist makes waves of sound and his voice
rides the waves, with bass and drum providing bottom feeding,
all the while forming interesting strange pop songs... recommended!





@ Leftfield
Gripping, ripping, twin guitars dueling, lead singer twitching,
ginger drummer bashing... real punk rock n' roll from Athens GA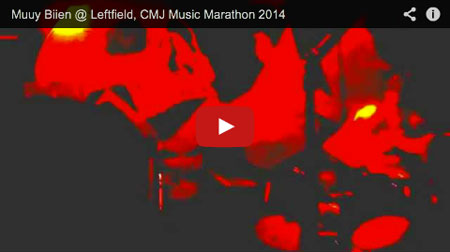 MUUY BIIEN - DYI

do yourself in at

bandcamp

the sound of muuy biien:

like getting punched in the

face with fist-clenching

tunes


@ Leftfield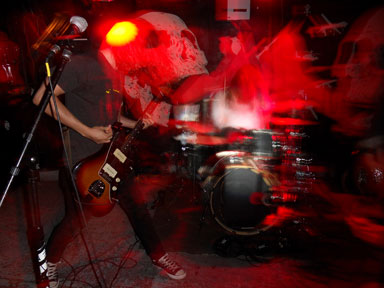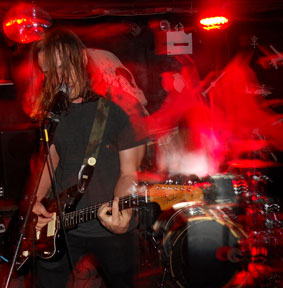 singer/guitarist (and artist) Michael P. Sincavage lets it all hang out
for LFGH performance. Proud to be loud, self-deprecating humor, and a
raunchy drummer drive the sound of getting high in a small bar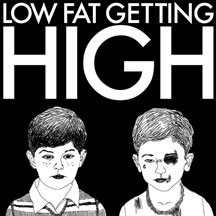 go to bandcamp, and get poked
in the eye by low fat getting high


Exploding In Sound
Showcase
w/Kal Marks/Flagland/Two Inch Astronaut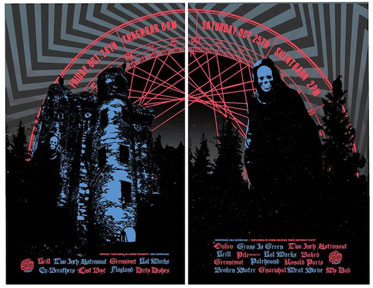 @ Trash Bar, Brooklyn
it's hard to explain the music of Kal Marks (or the philosophy of Karl Marx for that matter),
think of a thin geeky handsome-esque guy who sings in a country-esque alto voice,
whose music borders on indie shoegaze melodramatic rock, with occasional forays into
noise and histrionics with headbanging, guitar notes held on repeat by delay pedals... i like 'em.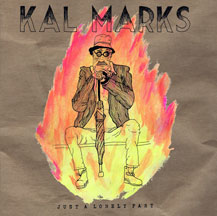 new EP "Just A Lonely Fart"
http://kalmarks.bandcamp.com/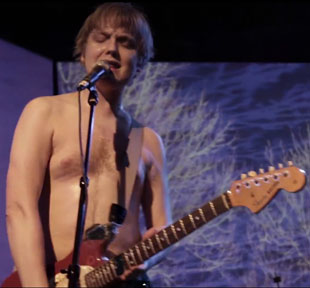 I caught the tail-end of FLAGLAND's set, and was impressed
by the epic set-ending song "The River," from their upcoming album.
pic above was culled from recent show at Brooklyn Night Bazaar
(i was too late and lazy to snap a pic)
https://www.facebook.com/flagland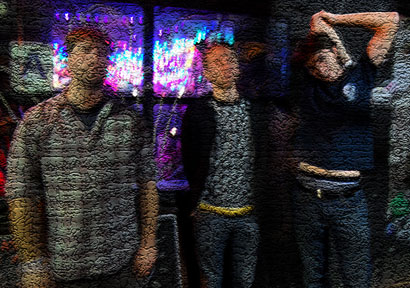 Very high have I been on the last Two Inch Astronaut record, Bad Brother, for months at a time...
great lyrics, strong angular riffs, excellent vocals... just the full-on package. Live at Trash Bar,
the band only played 1 song from the record, along with a slew of new songs from the forthcoming
Exploding In Sound release (see below). The Two Inch audience is friendly, fun and knowledgeable,
just like the band, who are appreciative of the band's gifts as songwriters and slayers.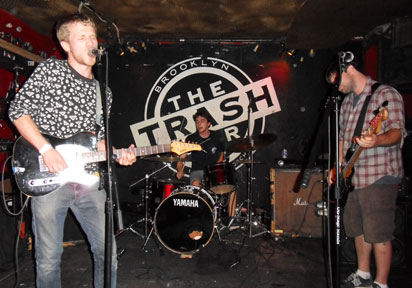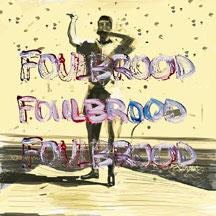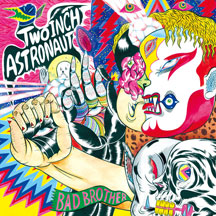 with a new cd, Foulbrood, coming out imminently, don't forget to
check out Two Inch Astro's previous release, Bad Brother,
one of those complete records the band will be playing in full
on a reunion tour in the not-too-distinct future ;)
http://twoinchastronaut.bandcamp.com/

Two Inches on Breakthru Radio

The Jimi (Hendrix) Chiba puppet tests
the 2" song Blood From A Loyal Hound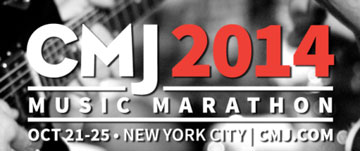 Some other pics/anecdotes donated by CMJ showcase bands


HECTORINA
(@The Paperbox)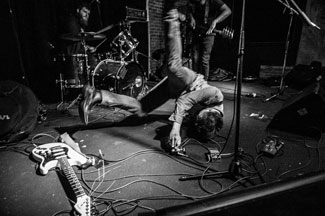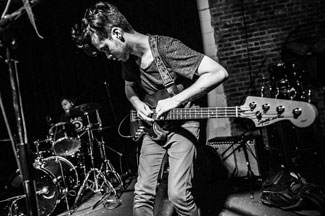 photos: David Burlacu

CMJ was very good to us this year.
Here are a few pictures of us from our CMJ show at The Paperbox in Brooklyn.
These pictures were taken by the amazing David Burlacu www.davidburlacu.com
Here's a link to our official website www.hectorina.com
and a live performance video of us http://vimeo.com/98152235

-Dylan /// HECTORINA
THE IVORYS
(@ Carroll Place)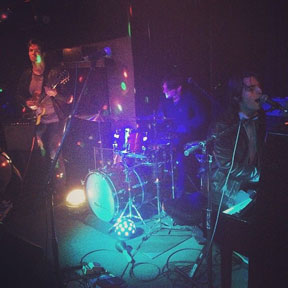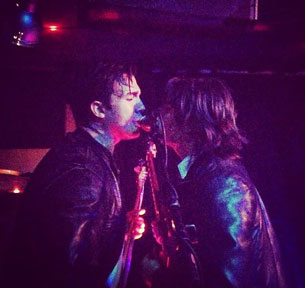 "This was the second time the Ivorys played in NYC this year- we also played and sold out the
bowery electric downstairs room back in June, we also played Knitting Factory with Vensaire.
Carroll Place show was great but our set was unfortunately cut short due to technical difficulties.
The Bowery Electric map room show has an incredibly small and challenging stage but
chaos ensued and the ivorys took over..." Brendan Lazar of the ivorys
https://www.facebook.com/TheIvorys


LONG FACES
(@Bowery Electric)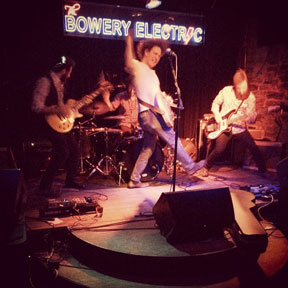 CMJ was a great time, and we had the opportunity to make some pretty cool connections as well.
We played a full band set at the Bowery Electric, as well as a stripped down set at the Starbucks on Astor Place,
both were official CMJ showcases. We ran into lots of friends from PR companies, media outlets, and other bands.
We were able to use our artist badges to catch some great gigs, and we took full advantage of the Artist and Press lounge at
the Rivington Hotel Penthouse. The vibes were great all week, despite the wind and rain. We're already looking forward to next year.
Mike & Lf
https://www.facebook.com/longfacesmusic
Sylvana Joyce & The Moment
(@Pete's Candy Store)
Tinderbox Music showcase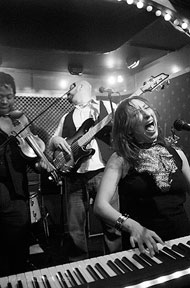 Photo: Donald Lee

We call ourselves Drama Rock, and hopefully the pictures will explain why...
Fun to watch a cramped, train-car like room feel the entropy rise, with people getting out of
their seats to dance. Unlikely space, but a likely outcome when listening to SJATM's
dynamic gypsy-inspired flavor of rock (a la Gogol Bordello, as many have said).
https://www.facebook.com/sjandthemoment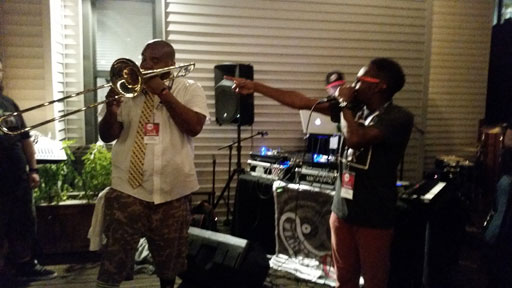 photo: Sue Corsey


there are so many things to love about The Green Seed:
their logo, band picture, and "Jude Law" video below.


https://www.facebook.com/thegreenseed

EVOLFO
(@Wicked Willy's)
LRock Ent Showcase

https://www.facebook.com/evolfodoofeht
BE FOREST
(@Cake Shop)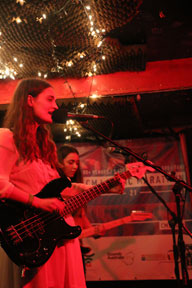 Be Forest CMJ Marathon was great! ...we were having lunch in Brooklyn and while walking
we noticed various police cars going up and down the street where we were, as if they were there
for us... What we didn't notice is that we were walking in front of the Gutter and later that day
the ebola news came out, and Be Forest's show, supposed to be the next day, cancelled.
Samuele - Be Forest
https://www.facebook.com/beforest3
Kiwis are small, strange, tart yet delicious fruit, not unlike
the Kiwis from New Zealand who go by the very cool name DOPRAH
a couple quirky videos that well reflect the dope quirky sound of Doprah
https://www.facebook.com/doprahwinfrey69
Braeves
(@The Living Room)
Big Picture Media Showcase

photo: Molly Hudelson (Johnny Chiba took the liberty of combining 2 pics into a panorama)
c/o


https://www.facebook.com/braevesband


THE TEEN AGE
(@The Shop - Bushwick)
Papercup Music Showcase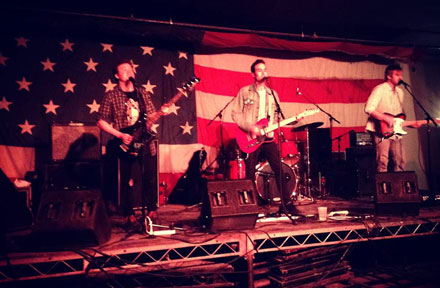 New music from The Teen Age coming soon!
https://www.facebook.com/theteenagemusic
OKENYO
(@Pianos)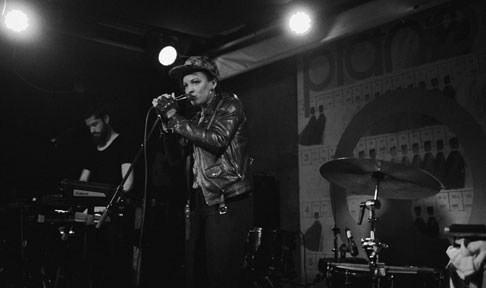 https://www.facebook.com/okenyomusic
Dave Farah / Erin & The Wildfire
(@Parkside Lounge)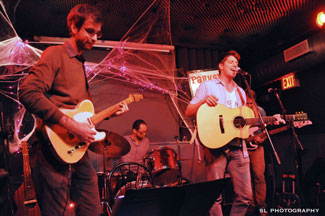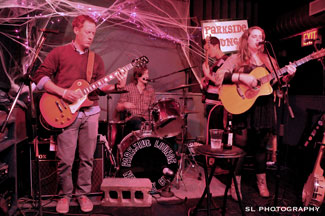 ... for a happy, if slightly soggy crowd who braved the storm to come hang with us.
Heather Ellis - Red Dust Music
LA LA LUSH @ DROM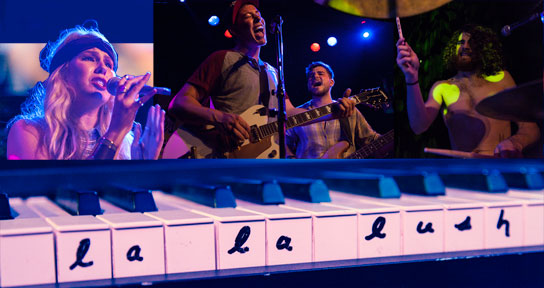 credit: HK Multimedia Productions
photomontage by Chiba
https://www.facebook.com/lalalushmusic
ECHO BLOOM
(@ Starbucks)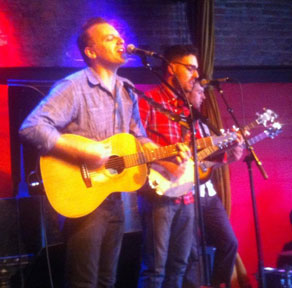 ...CMJ was a fun, completely ridiculous experience. There's a degree of randomness
that makes the whole experience infinitely more compelling than the average gig. Our showcase
was at a Starbucks and the most memorable moment was playing to a wonderfully attentive
audience led by two manically dancing homeless dudes right upfront. It was completely wonderful.
Kyle Evans - Echo Bloom
http://www.facebook.com/echobloomrocks
| | | |
| --- | --- | --- |
| | | |
| OLYA | Satorii | Letters To Nepal |
Light-Minutes Away had a fantastic showcase at Matchless!! All the bands,
the audience, the venue and the sound collaborated on an absolutely new level
- it was an all-embracing experience!!!!

| | |
| --- | --- |
| | |
| Swampa ZZ | Carbon Mirage |
Soundcloud comp of bands from
Light-Minutes Away showcase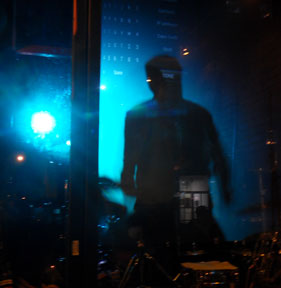 this is CMJ, this is NYC
a drummer's silhouette
on lafayette
suffragette
city



Music. Art. Film. Comix. Sexz. Sportz. Politix
all pics/commentary by Jefe aka Johnny Chiba
unless otherwise noted
chiba -at- testpress -dot- net

TEST PRESS DOT NET is a Propulsion Production
PO Box 1582, Cooper Station, NY NY 10276