Jefe aka Johnny Chiba gets sick and old real quick at CMJ Music Marathon 2013,
but manages to find radically rad musicality, exploding sounds and puts
the "graphic" in photographic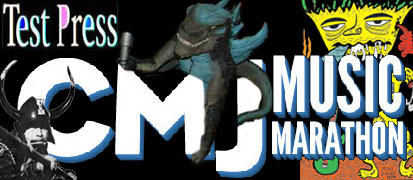 click thumbnails for bigger pics
click band names for links to websites and song pages


in the dank tiny downstairs venue of Fontana's, c/o Pirate Radio Promo's party, the dark operatic goth grunge
of Yamantaka // Sonic Titan (best name ever?) seemed right at home. Kiss-inspired makeup, mac-keyboard light show,
heavenly asian vocals mixed with gargantuan (titanic?) background vocals wielded an awe and shock experiential.
One of the many bands to perform many times at CMJ Marathon, chances were great to see this gracious ensemble again.


Holland's BOJ rocks like a 3-piece Deep Purple, with guitar, keyboards and drums
doing their best 70's inspired posturing sans shirt, singalong and solos.
I like them better on record, but they were fun and full of joy nonetheless.


tags: dirty organ rock Holland



hail (the guns of) Brixton Agency PR's phenomenal band roster...
along with MezzoForte Prods, they presented a great day/night of music
that made Johnny Chiba stay put at the victorious Grand Victory, featuring: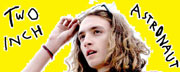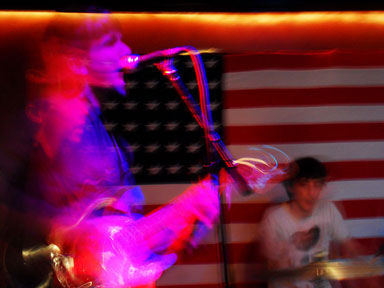 one of the few bands on the list of Chiba-preferred music to see live,
DC's Two Inch Astronaut did not disappoint, especially with a fill-in bass player.
Intricate post-punk fervor dominated by Sam Rosenberg's vocals and guitarisms,
shades and shards of Fugazi, Tanner and other groups of angry, explosive, emotive musicality


tags: dischord rock music deep exploding in sound maryland grooves post-punk



colorful Bad Brother album graphics by 2"
Japanese artist/friend Hideyuki Katsumata
animated by Chiba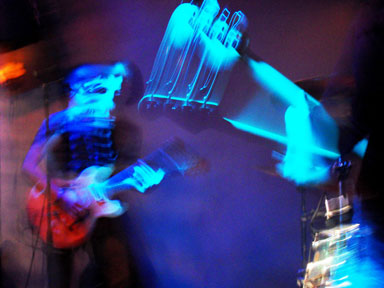 I don't know why, but every picture I took of Boston's Kal Marks came out weird,
mostly due to the singer's halloween vibe of death stare eyeballs and alien head stretch.

there seems to be an obsession with death in both lyrics and skullage abounding on the band's
records, but I appreciated the Kal Marksian sound, led by singer Carl Shane's depressingly
maniacal yet strangely uplifting vocals; combined with his compelling guitar playing
and his band's tightknit flow, the songs were a storytelling lesson in quirkiness and cool

tags: rock heavy indie mamba ole fart Boston


what's not to lov about Ovlov? indie rock intensity, guitar maestro maelstrom,
a ferocious drummer and bass player who lock in on groovy grooves of power rock
I was mesmorized by one groove in particular that I wished had gone on forever

tags: rock alternative rock pop indie pop rock Newtown


Greys are a loud rock band from Toronto.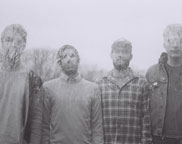 Greys: easily one of the best bands I've seen in awhile, how is it these canooks of punk have gone
mostly unnoticed? with 2 guitarists set up IN the audience, and bassist drummer combo manning
the stage and laying down the bombastic bottom. Energetic, entertaining Fugazi-influences abound
in sensurround, led by lead singer Shehzaad's Ian MacKaye-esque, punkcore mannerisms and fury

tags: punk grunge indie math noise rock Toronto

"Jacco Gardner is a baroque pop multi instrumentalist. He creates a unique sound by combining
the sounds of harpsichord, strings, flutes and other classical instruments with raw psychedelic effects."
More like a sixties time warp out, riding the pop ether of The Netherlands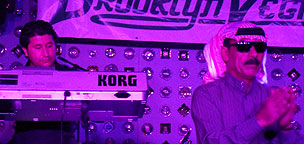 why did I think Omar Souleyman played guitar? because he's a soul-man?
because his backing music sounds like a noodling guitar from his native Syria?
the man claps and sings over a massive Korg keyboard and he dominates
a crowd eager to dance, knock down borders and forget wars

new cd produced by produced by Kieran Hebden (Four Tet)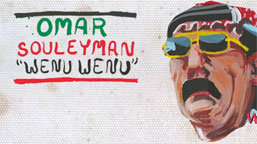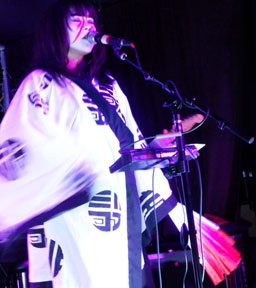 i did not expect to see Yamantaka and her Sonic Titans again, but after some
time switching at Baby's All Right in downtown Brooklyn, there they were,
resplendent in makeup and operatic kabuki-isms. the crowd liked them aplenty
and the band delivered on all fronts... visually, musically and spiritually


yet another cool band of wily noodlings and post-punk craftsmanship,
led by the sly sexy guitar/vox of Ms. Sadie Dupuis, who knows how to
keep a calm head and voice above the instrumental cacaphony of her cohorts
Did I hear a King Crimson lead-in to one song?
the latest Speedy Ortiz CD on Carpark Records is gaining traction and attraction from
college radio and fans the world over. listen to Tiger Tank for a taste

tags: alternative indie rock right on rock thai food wizardry Northampton




what is CMJ Marathon without the requisite metal show? nuthin!
This year Chicago band Pelican played headliner two nights at the
satanic Saint Vitus bar, a cool place in deepest west of Brooklyn that
served vegan foodage, good beers and had a helluva' sound system!
prototypical heaviness from Pyrrhon, with guitar-laden effects,
and macho gruff lead singer and a bass player who intended
on getting laid for his birthday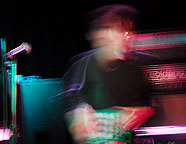 leave it to metal fans to appreciate a 2-piece band composed of drummer/singer
and computer keyboard-wearing geekdude. shades of NIN (Nine Inch Snails?),
wielded a dark, booming and metallic sound factory of textures. cool stuff!

Gibson SG's on both sides of the stage made for a double Sabbathy grunge attack,
led by tall and bald crooner, great drummer and a light show that kicked in towards
the end of the set. Final song found the band hitting their stride with massive chords
and posturing that was very rock and roll

tags: black metal experimental ambient metal crust experimental
metal noise post-metal post-rock shoegaze Brooklyn



Sannhet must mean "intense" in another language.
when the drummer sets up in the middle in front of the stage, you know
you're in for a full frontal assault of the senses.



Sannhet's post-metallic instrumentalisms were enhanced by a "shades of light" show
and visual static that bordered on epileptic fit inducing intensity. oh wait, i already said intense...



Sannhet is killer instrumentalismo, a build up of extremity, post-modernmetal modality,
a layer cake of volume and projectile amplification from all three musicians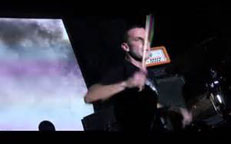 Sannhet live @ St. Vitus - Feb 2013
Sannhet bandcamp

Chiba-animated
Sannhet cover art




when i heard original guitarist and founder Laurent had left the band, I didn't know
where that left Pelican. I saw the band live many years ago when Mono opened for them,
and could not believe they were even more full-on dynamic this time around.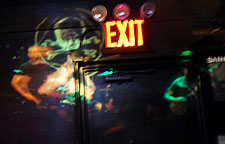 after the intensatorium of being up front for Sannhet, we laid back in the bar, and before we knew it,
the music hall was filled by the sold out crowd, so we watched the show projected onto the black back
of the bar under the "exit" sign. how cool is that?

after a couple songs, the metal masses thinned out, and we were able to finagle our way
into the middle of the crowd where i took more shitty shots of Pelican and head banged
and bobbed with the rest of the appreciative Pelicula crowd.

The guitarist from Pelican asked who had seen the band the night before, and it seemed
half the crowd roared. He then asked which night sounded better, and called some guy a
fucking liar who hadn't been there the previous night; although they were playing the same set,
they had their own gear this night, so that should make up for it.

I was glad to hear the real amplified sound Pelican, because they definitely have their own
tried and true instrumentality going on; Pelican's honed sound is a head-banging rhythmic
crunch both melodic and unrelenting. The show ended with the 2nd guitarist crowd-surfing
all the way to the back of the venue holding onto his feedback guitar... classic!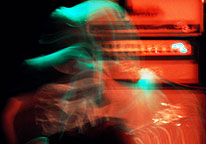 on Saturday we stopped at Brooklyn's Main Drag Music guitar store, where
Johnny Chiba took a telecaster to pedal board heaven, settling on Wampler's
Velvet Fuzz as the best sounding, albeit a tad expensive for his freelancing budget





many thanks to Dan and Dave from Exploding in Sound Records, whose unofficial CMJ show at
Brooklyn's Silent Barn was filled with quality bands the label has put out:
Two Inch Astronaut, Kal Marks, Speedy Ortiz, Krill, Ovlov, Palehound, Pile, and many others.
Unfortunately we got stuck in traffic and missed half of Two Inch Astronaut's show
(with bass player), and then couldn't really see the band from the back of the small, hot room.

Consequence of Sound: Oral history of Exploding in Sound

here's a review of the whole barn show from Stereogum
We appreciated being on the guest list for a sold out show, and felt bad we had to leave early,
as our ears were still ringing from the Pelican metal show the night before, and being old farts,
we left the young uns to their own devices, to enjoy their social and musical relationships
(as per 2" Astro)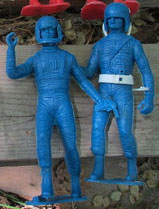 Music. Art. Film. Sex. Comix. Politix.
c/o Jefe aka Johnny Chiba
chiba (at) testpress (dot) net