Jefe aka Johnny Chiba's CMJ 2010 PhotoJournal Experiential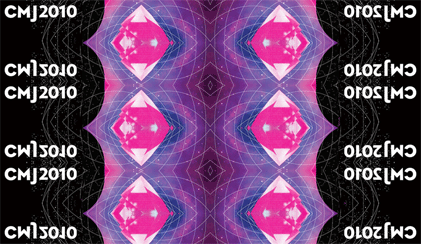 The 30th year of the annual CMJ Music & Film Marathon. Thousands of folks from bands,
fans, record labels and media from around the globe converge on NYC for a week-long
festival of music showcases, sponsored parties, films, biz panels and more.
Having worked as CMJ Indie Sales Samurai for 6 years, this was my first Marathon
NOT working for the company in years; yet I felt compelled to write about what I saw,
for the love of new music, new bands, and new experientials.
Denied a press pass(!), I went through personal channels to garner a badge.
Thank you Ms. Bruna, Baskin Robin, Prez Bobby and his hairy Reverence Moose!

Read the following observations by Jon Pareles of the New York Times,
Chart Attack, Brooklyn Vegan, for a fuller-fledged comprehension of
the massive fest that IS CMJ Music & Film Marathon 2010.
Italicized descriptions c/o CMJ2010 Festival Guide

Click thumbnails for big pics
CMJ TUESDAY - 10.19.10
| | |
| --- | --- |
| | |

STREET CHANT @ Le Poisson Rouge
Caffeinated post-punk soundtrack to New Zealand slam dance revolution

A three-piece from New Zealand, 2 girls (guitar/bass) and 1 guy on drums
(thought he was a girl) make a sweet noise, tight and right like a Conchord Flight,
these kiwis knew how to rock. The lead singer mentioned one song being a number one
in Zealand, which I thought to be a tongue-in-cheek lie, but the song turned out to be
fantastic, filled with harmonies and dirty feedback. I loved it. The chap next to me
told me the band's name was Street Cunts, which I found amusing.

post-chant: gave a listen to the Street Chant cd, and was thoroughly impressed by the tuneage.
An excellent post-punky amalgam of SonicYouth-esque primordial plunking, the gal vocal
at times sounds like a guy, except where the sweet songs belie the womanly indie shoegazer inside.
have I heard these songs before?... mebbe in a dream, a chanting dream from the streets of Zoo Nealand!


on my way to Ludlow street (and Katz's Deli),
I came across a photoshoot in progress. who is this band,
who are these girls, what are their names and numbers? thanks.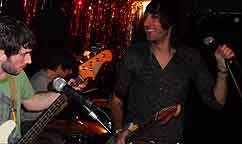 DINOWALRUS @ Cake Shop
Cosmic ecstacy noise from a trio boasting Titus Andronicus' guitarist

Went to see AUDACITY at Panache showcase at the Shop of Cake,
but it turns out they did not show up! Bummer! According to Michelle of Panache
the band figured it wasn't worth the trip. The audacity! Saw the end of Dinowalrus set,
featuring some feedbacky guitar (guitarist Pete plays with Tito Andronico),
and before I knew it, set was over! Damn you Audacity!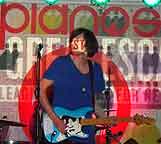 CITY RIOTS @ Piano's
Synth-inflected guitar rock with hummable pop melodies

Watched a few songs from this Australian band of tall men, and
enjoyed what I heard. One tune in particular was very
CLASH-y, with a full-on Mick Jonesy guitar riff that wouldn't quit.
Live, this band sounds a lot fresher and rocking than studio tracks
heard on myspace that sounded kinda tame (not lame!) in comparison.

CMJ WEDNESDAY - 10.20.10
PRINCE RAMA (of AYODHYA)@ Cake Shop
Robuts tribal krishnadelia full of epic drumming and chanting

Although I did not get a picture of this Brooklyn-cum-Universal Love trio,
their publicity pics and album covers say it all about their Krishnadelic psychotropic
chanting grooves and drumming tunes. Quite interesting. I almost bought a CD that
was garnished with jewels, but needed to save cash for a Katz's deli sandwich... damn karma!





Animated Prince Rama cd's c/o Chiba... click 'em!
| | | |
| --- | --- | --- |
| | | |
| Architecture of Utopia | Princely Pawtracks cd | Animated Rama Rama |

MARNIE STERN @ Cakeshop

Rabid and fervent disarray controlled with electronic nausea and grinding guitars
Part of the
Terrorbird
(Promotion) Showcase, if there was one artist
I was going to see at CMJ this year, it was Marnie Stern. I had recently
discovered and reviewed
her latest record, after blissfully ignoring her previous releases,
and I was a huge fan. Marnie and her crew are a happy bunch, making vagina and penis
jokes, and basically having a sophomoric time in between complex rhythmic songs.
Turns out Marnie has a Vagina Monoblog (
VaJamming
) where she talks about
touring, cooking, eating, and having a tight vajeen you can play raquetball against.
Nice! I should have this review up on
testicle.com
! Back to the show, Marnie initially
had some problems with her guitar effects box ("I said box" Marnie cawed), and after some more
jokes about penis, "I Dream of Va-Jeanie" and getting laid, the band put on a decent show,
filled with selections from the recently-released
Marnie Stern
cd. Marn's ability to play / tap guitar
and sing is interesting, and drummer Zack "Hella" Hill is utterly amazing live. What chops!!
I particularly liked the song "For Ash" and the dynamic "Build Her Confidence".
As fragile and tough Marnie Stern seems, her destiny is to be the Queen of Peen (in the Vajeen).
CALIBRO 35 @ Bowery Poetry Club

Funky Italian jam band turns cinematic inspirations into psychedelic grooves
Not knowing what to expect gave me no expectations, and once again CMJ Festival Guide came through
with an apt description of a great instrumental band from Italy, whose music is a soundtrack to an
italian horror film you haven't yet seen. Excellent players all, the guitar, bass and keyboard/flute/sax
performed together as one. At one point, all donned ski masks for a song, and the keyboardist, acting
as group spokesman in broken english, explained they were good/bad guys. I didn't understand most of
what he said, but they were grateful to be at CMJ, and they rocked. They also have song in upcoming
Bruce Willis film "Red." Ciao!


CMJ THURSDAY - 10.21.10
HOT PANDA @ FONTANA'S
High energy indie rock with accordian and spacey hooks

Yet another band I caught by accident, waiting to see Croatian punk rockers Overflow
at Pirate promotion pre-party at Fontana's. Hot Panda were Hottt!, from Canada (or Panada),
very indie, with a keyboard player whose loopy effects colored the band quirky.
He also doubled on guitar, and was one of the best players I heard all CMJ, very
muscley tone and feedback with dissonant lead lines... reminded me of a Fripp-ish,
Manzanara guitar. The singer/guitarist had a good humorous wit, the female bass player played
trumpet, and the drummer rocked as hard as her tom toms were large. All good! Oh Panada!


OVERFLOW @ FONTANA'S
Croatian punk rock
Punk Rockers from the land of Croat and goat. Surprised there wasn't a packed house full of Croats
watching this awesome rocking band, but it WAS a last minute fill-in for Pirate showcase!
Nevertheless, Overflow played a compelling set of punk rawkishness, led by a highly charismatic singer.
I was hoping they'd sing in Croatian (well, they did a slow folkish ditty for a minute in their home language), but
they punkrocked the way of the Epitaph/Fat Wreck roster... very tight, skilled, fun to watch, and bolstered by the
effervescent lead presence of the wide-mouthed singer, are quite entertaining! Croat on the Hudson! Lalalalala!

MON KHMER at Bowery Electric
Solid indie rock that manages to balance its known roots with something otherworldly
Another band I'd never heard until sitting down with the CMJ Guidebook,
slogging thru myspace pages, and thinking how interesting their music sounded.
They did not disappoint live. Although from Brooklyn, the guitar players are
from Germany and India respectively, with a couple 'Mericans rounding
out the Khmer. Thanks for the pizza
Musebox
!




JAILL @ The Studio @ Webster Halll
Psychedelic good times in an introspective world

Here I thought this talked-about band would be playing upstairs in the nice big room,
but NOOOooo, JAILL is downstairs in "the studio" at Webster Halll, which might as welll
be helll, or jaill... a very indie group with lead mustache and bald head front and center,
I just could not get into them... way too gay for my homophobic taste (I kid).
I should have known from the CMJ Guide description.
PS: if the band is really gay, I apologize.

CMJ FRIDAY - 10.22.10

Went to the panel SO YOU WANT TO BE A MUSIC BLOGGER, WHO CARES?
Enjoyed Nasty Little Man publicist Steve Martin, viral artist Mikey of Blackbird Blackbird;
Interesting views from Hype Machine's Dev, Perpetual Matthew of Fluxblog, and Veronica of
Strangers In Stereo/Creamteam.tv talk about blogging, writing, blogging and being a loser, I mean, writer.

PS: I half-snickered aloud reading Blackbird2 CMJ Guide description:
Pixelated fairies serenade a hazy trip through a techno forest with sweetly dusted melodies
then it was time for the annual Pirate party, back at dinky old Fontana's
DEVOTCHKA @ Fontana's
Gypsy punks armed with horns and strings want you to dance
If Ricky Ricardo fronted Beirut with Salmon Rushdie on violin and accordian, this is what you'd get.
Only kidding, I loved Devotchka, and loved their promo airline vodka bottle (DeVodka?) even more.
Gypsy-esque guitar, crooning vocals, string accompaniment (including the excellent
female stand-up bass player, or was that a cello? hello?) Good vibe, good band!

wide angle Devotchka
MARNIE STERN @ The Bowery Electric
see Wednesday description above. more peen and vajeen jokes from
the Marnie Stern Power Joke Trio, the band seemed even tighter (in the vajeen)
than their previous appearance, no doubt from the 18 shows in 4 days at CMJ.
The band played quite well, and I could not help but key on Zack Hill on drums again,
the man is amazing!! Marnie's guitar playing was especially grand, but too short a set!
The laughing band hopped in their stretch limo and headed to Brooklyn Bowl for another afternoon
appearance, but I'd had enough guitar vagina to fill me up for this CMJ...

CMJ SATURDAY - 10.23.10
BATILLUS @ Fontana's

Crawling slowcore metal downtuned towards destruction.


Heaviness abounds the Batillus boat, led by the long blonde dreadlocked
singer, who also played ambient effects to create THAT mood.
Major riffage from a riff heavy brooklyn batillus
"Über-slow, beyond-atmospheric [...] blackened doom." - Revolve
r
TY SEGALL @ Music Hall of Williamsburg
Psychelic garage rock with echoey vocals and ethereal harmonies.
Another
Panache
band, these guys are like garage rock on crack and weed.
I enjoyed listening to their myspace tracks, and live, at
AAM
's annual fest,
the band was having a party onstage. A good sense of humor and rocking
pervaded the Music Hall, these guys are the shit.
PS: I did not like how the "Music Hall" of Williamsburg restructured
the club so half of the club is now a bar with tables, and the other half is
a much smaller live venue... should be the "Music Hole of Williamsburg."
Better to Ty one on, I guess! Heyyo!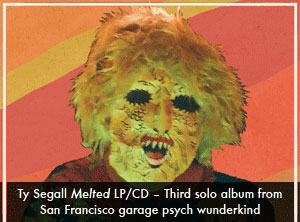 YET ANOTHER CMJ MARATHON CUM AND GONE!



A Propulsion Production
PO Box 1582 . Cooper Station
New York City . NY . 10276