best music. art. sex. comix. all content no ad filler or filter. uncensored sensory experientials



Jefe aka Johnny Chiba 2009 Art Basel Experiential

(click thumbnails for big pics, animations and links


for short vids culled from ipod nano)


Shepard Fairey
mural presented on shipping containers in empty lot of Wynwood Art District.
click for cryptic triptych of photos - youtube making of


c/o Country Club Gallery, Los Angeles
The Public Works: A New Mural Project by Shepard Fairey
in partnership with the Miami Art Museum and The Fountainhead Residency.

Miami Beach Convention Center
Art Basel Miami Beach is organized by Art Basel, a division of the MCH Group Ltd.
Switzerland's leading fair and convention company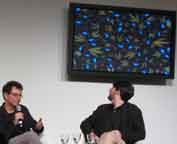 Fred Tomaselli
talks and signs super-duper new book at Art/Salon



Shepard Fairey
homage to Burma's #1 Political Prisoner Aung San Suu Kyi
c/o el fantastico Deitch Projects NYC - guiding the infamous good Shepard to
megabuck-ular Obama-picture-stealing rebel superstar heights! Obey Giant Jeffrey!
Deitch also reps...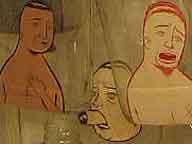 Barry McGee
hangin low
c/o Stuart Shave/Modern Art London


Raqib Shaw
c/o White Cube Gallery London
I was a Raqib fan since his MoMA and Deitch Project shows, the Calcutta, India-born artist
continues to astound with his surreal yet beautific colorful and sometimes horrific creations.
The Art Basel piece above sold for $180K; yep, he's reached that stratosphere.
below are found internet images of Raqib's work
upon close examination of the colorful cacaphony, you find sexual and religious themes flitting about..fun!

White Cube also reps the deviantly delightful
half-skullular...



Damien Hirst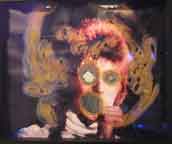 is that David Bowie?



Anish Kapoor's concave mirror-pieces were in
abundance. Very interesting close-up! who's that man?
c/o Lisson Gallery London



Thomas Houseago
interesting Clay Study for Figure (Headless)
c/o Xavier Hufkens Brussels

X/H also re-presenting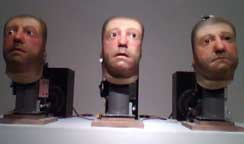 Nathaniel Mellors
"Giantbum" installation of animatronic heads amused
c/o Lombard-Freid Projects NYC




Egill Sæbjornsson
video cubes click!

very cool!
c/o i8 Gallery Reykjavík Iceland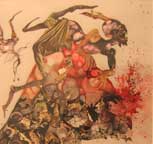 Wangechi Mutu
c/o Suzanne Vielmetter Gallery LA, Berlin




more fantastical beautiful Mutu art
from gallery site...

Eder Santos
colorful building video on 3 tv tubes, animated at right
c/o
Luciana Brito Galeria
São Paulo Brazil
c/o
303 Gallery
NYC
Takashi Murakami
space-age art from the master
c/o
Galerie Emmanuel Perrotin
Paris


Thomas Hirschhorn
c/o Galerie Susanna Kulli Zurich





tortured animated look

| | |
| --- | --- |
| | |
| unknown banner | ...closeup |
| | | | |
| --- | --- | --- | --- |
| | | | |
Evan Penny
ultra-realistic giant heads - click 4 animated view
c/o
Sperone Westwater Gallery
NYC
wall of
Raymond Pettibon
c/o
Regen Projects
Los Angeles
Regan also showed fine collage by
Lari Pittman
...animated


giant asian face bust
click to see exaggerated size referential

Yayoi Kusama
, represented... and animated
c/o
Barbara Mathes Gallery
NYC
and
Galerie Haas & Fuchs
Berlin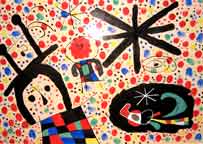 Joan Miró
I had never seen a Miró with actual characters before...
not sure which gallery this was, could have been
c/o Acquavella Galleries NYC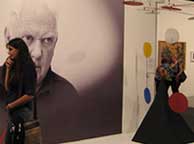 Alexander Calder well represented
c/o Helly Nahmad Gallery NYC
click to see expansive photolateral galleria setup

Richard Woods
designed the best floor at Art Basel (it sold for $30K. I'm floored!)
c/o Perry Rubenstein Gallery NYC

also repping the mighty Faile
Faile... ... and Faile again


Vik Muniz
c/o Sikkema Jenkins & Co. NYC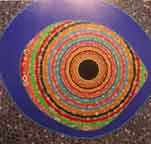 Fred Tomaselli
has his third eye on you!
c/o James Cohan Gallery NYC
...also repping
Yun-Fei Ji
Alice Wagner
latina music album covers redesigned with thread
c/o
Lucia de la Puente
Lima
also found on Lucia de la Puente website, this way cute sculpture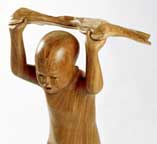 Margarita Checa
Paul P.
- Painter extraordinaire
c/o Daniel Reich Gallery NYC

also repping:
Misaki Kawai

c/o
Take Ninagawa
Tokyo
John Altoon
c/o
The Box
Los Angeles
Nathalie Djurberg
a phenomenal stop-motion animator and storyteller; her new video was on display at Zach Feuer Gallery booth,
along with crystal-esque set used in above animation. As artist does not allow her videos to be shown on youtube
or online, this created an interesting discussion amongst other video artists, who understood not wanting their work
shown online in low resolution. This exclusivity also makes video more valuable from sales point, but then, no one
can see the videos unless they go to gallery, art fair or buy a numbered copy outright for thousands of dollars.
What is art, where does art come from, who is art for, wherefore art thou?
c/o Zach Feuer Gallery NYC
stills from Natalie Djurberg videos c/o Zach Feuer website
Jorge Pardo
designed the palapas (tropical pavilion) for Neuger Riemschneider, who offer
a 1-year bi-monthly subscription of original lamps made by Señor Pardo
c/o
Neuger Riemschneider Gallery
Berlin


Joana Vasconcelos
adorned taxidermy
c/o Galeria Horrach Moya Palma de Mallorca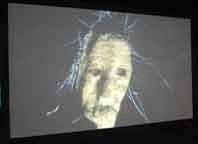 Brent Green
interesting stop-motion animation videos, creepy and cool
c/o Andrew Edlin Gallery NYC

Avinash Veeraraghavan
"eveyone loves Avinash"
c/o
Gallery SKE
Bangalore
Emmanuel Barcilon
something somber, delicate and haunting in Monsieur Barcilon's mind
c/o Mike Weiss Gallery NYC




Taschen Books booth featured titanic tomes of art, films etc
this year's fantastic find was Zaha Hadid - complete works 1979-2009
truly architecture as art, from her techno blueprints on vellore paper, to
the finished photographs, it is all beautifully-conceived art that comes to life.
a limited edition of 200, signed with clamshell cover goes for $1000... wish list!




met at Scope entrance by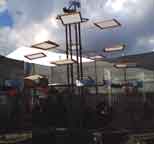 The Riot Temple


"a visceral experience of worship and violence" complete with police shields and gamelotron gong-bangin'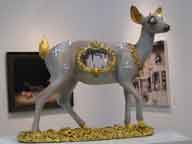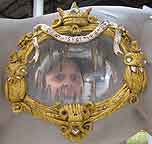 met loverly sculptress/artist/musician Liz McGrath (aka Miss Derringer)
her hole-y deer sculpture was right behind us (oh dear!)
c/o Sloan Fine Art NYC

Sweat Shoppe


two guys wearing cool masks, "painting" on a large white wall using a form of video brush,
musicians cum performance artists from NYC, getting the word/video out for the first time at Scope
Roberto Feleo
- sculptures under glass - click the middle for rear view
of self-immolating bloody nativity scenerio

Roberto Feleo
&
Lirio Salvador,
presented respectfully
c/o
The Drawing Room Gallery
Philippines
who produced best show brochure at Fair... very yellow!
Lirio Salvador - heavy metal instruments
Karim Hamid
girls gone wilding? odd and sexy, but i like it
c/o
Aureus Contemporary
Providence Rhode Island
AJ Fosik
greeted us with tall christmassy sculpture of colorful beheading, quite unlike AJ's animalistic busts
c/o the great
Jonathan Levine Gallery
NYC


360 view
c/o
Wilde Gallery
Berlin
Judith Supine
c/o
New Image Art Gallery
Los Angeles
New Image showed up at Scope this year, repping the fine Judith Supine and humongo wall installation.
...recently at Aqua Art Fest Miami, New Image reps great artists
Swoon
,
Neck Face
y los amazing
Date Farmers
CAO Xiaodong
c/o
Moon Gallery
Hong Kong
Yu Fan
c/o
RCM Gallery
Nanjing China


Sui Jianguo
colorful t-rexes (rexi?)


c/o Ullens Center for Contemporary Art Beijing

Haleh Anvari
c/o
Galerie Kashya Hildebrand
Zurich
Jean Shin
reps NY proud with "Altered Trophies" . pics culled
here
part of the Truly Truthful curated series

NADA Art Fair took place at the posh Deauville Beach Resort, Miami Beach

Kirk Hayes
bloody good stuff...although there is no unpainted wood, it certainly looks that way,
giving an unfinished trompe l'oeil woody ambiance, reminded me a tad of
Mike Diana
's work
c/o
Horton Gallery
(SUNDAY L.E.S.) NYC
Sandra Vásquez de la Horra
her interesting drawings are foreboding and whimsical
c/o
Galerie Rupert pfab
Dusseldorf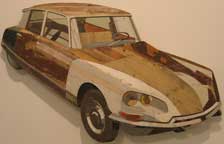 Ron Van Der Ende from Der Netherlands
creates incredibly realistic art using only reclaimed wood
c/o
Ambach & Rice
Seattle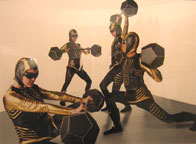 Susan Lee-Chun
reinvents herself at every show... superhero fashion!
c/o
David Castillo Gallery
Miami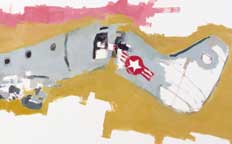 Jennie Ottinger
appearing at her first fair, made an immediate splash, so many red dots!
according to Johansson projects booth madam, everything sold out at 10:30AM when fair opened.
More sales were being made via excellent use of Iphone/Flicker application, so easily brought up here
c/o
Johansson Projects
Oakland
Chris Duncan
c/o
Baer Ridgway Gallery
San Francisco
how do these fine homage to spirals look animated? click!


OTHER FINE FLORIDIAN EXPERIENTIALS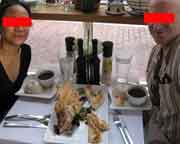 Fifi's Place
(69th St/Collins Ave, Miami)
fresh Hog Snapper, shot by deep-sea divers that morning, immense meal included
complimentary rice/beans, fresh baked bread, and delish dessert of flan & mango moose
divine defining dining, on our way to NADA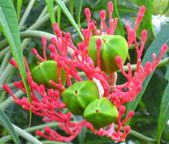 the strangest plant I've ever seen hosted giant seeds... that's nuts!
Sarah Brea in Space
the cutest niece in the universe!
most Art Basel pics/video c/o Jefe aka Johnny Chiba (jefe @ testpress (dot) net)
and Skowmon Hastanan
otherwise culled from artist/gallery websites
pics, animations happily removed upon request of unhappy artist/gallery/owner

Test Press is a division of Propulsion Productions
PO Box 1582 Cooper Station NY NY 10276