Johnny Poolhall
Songs and Guitars
Four Track Sessions



18 tracks from long lost songwriter, singer/guitar player from the late 80s-90s, produced by Jefe aka Johnny Chiba, who doubles on slide/lead guitars.

Johnny Poolhall's prowess compares to Syd Barrett-era Pink Floyd, quirky, thought-provoking, politically-incorrect , lyrical licks and twists on songs like "I'm Nigger", "The Decorate", and "The Big Wheel".
As a self-taught guitarist, Poolhall's sound is unique & discretionary, from warbled leads to distortion-inflected diatribes, forging a dual-guitar sound on many songs with noise slide master, el Jéfe.

Only available on bandcamp, free to listen and download, pay what you want.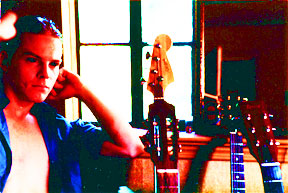 PopTones MUSICALITY
with Rockin' JP
From the Basement



PopTones was a conglomeration of friends from Queens, NY, featuring JP on vocals, Tony Sz on guitar and bass, JeffG on guitar and bass, JM on drums, bass and guitar.
In the early 80's, playing in JM's folks basement every few days, the guys ate, drank, and ingested various substances as they wrote lyrics, traded instruments, and recorded into a boombox with stereo mics.
After 25-odd years of cassette tapes gathering dust, JeffG converted the tapes into mp3s for the world's listening pleasure.
Cover art by infamous underground cartoonist
Mike Diana
Only available on bandcamp free to listen and download, pay what you want.