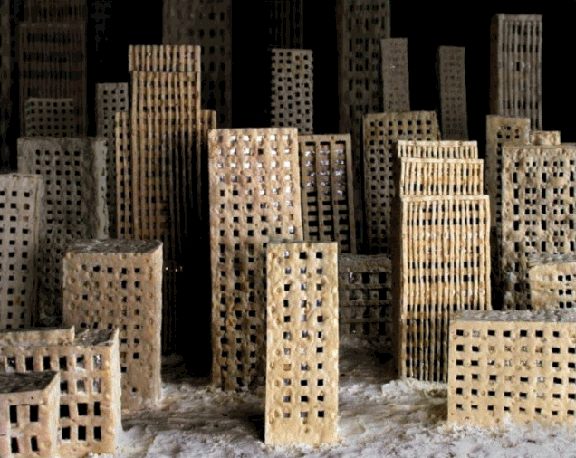 Johanna Martensson: Bread-Buildings


"The Earth will probably continue to turn long after humans are devoured by rat-size snails or flesh-eating zombies,
but A Design award winner Johanna Mårtensson wanted to explore the notion for herself.
After testing how various materials biodegrade, the Swedish artist and theater designer built a model
city entirely out of bread and then photographed its inevitable decay over the next six months.
Writing for A Design, Johanna said she was inspired by an article that claimed the earth would eventually
regenerate itself despite humanity's worst efforts. "Within 500 years all buildings would be half fallen or fallen,
perfect homes for animals and plants. The forrest [sic] would soon grow in cities." Like any self-respecting creative,
she then began to wonder what humanity's decay might look like in reality. And so the bread city was born.
After eight months of preparation, Johanna completed her model in Stockholm in 2009 and then proceeded to photograph
the decaying process every day for the next six months. She then presented her results in a series of six 500mm x 400mm
photographs that you can see for yourself in our gallery. At first the bread looks nice and fresh, like any new construction,
but it gradually turns limp and fuzzy until the whole city collapses in a black and grey mess that looks eerily post-apocalyptic."
animated by Jefe aka Johnny Chiba