Jefe aka Johnny Chiba peers at the piers of NYC and
celebrates not being able to afford any art whatsoever!
please click on thumbnails for larger pictures,
on artist and gallery names for links to respective websites



opposite the Chitra Ganesh wall were three interesting pieces (left) by artist Rina Banerjee.
The Gallery Espace website has many excellent pieces (l-r, 2-4), with equally excellent titles:
"Curare, it was with the mighty river, the jungle and rubber paralyzed her entire body leaving her..."
"When nothing remained the same she split into two with Intent to change her connect"
"Caught with fin and feet a funny foe"|
galleryespace.com

Both Chitra Ganesh and Rina Banerjee were represented by other galleries, respectively: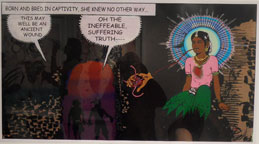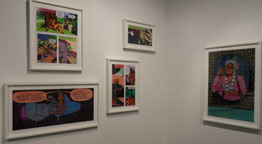 not only did Gallery Wendi Norris have a sweet wall of Ganesh, but they
also had a full-fledged Chitra comic book, that was not for sale! bummer!



Gallery Wendi Norris also reps the
remarkable Dorothea Tanning




a nice selection of Rina's momentous mysterious colorful work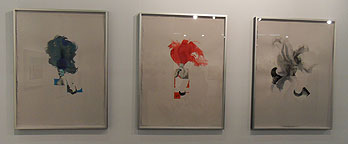 Galerie Nathalie Obadia also reps
TEST PRESS favorite Lorna Simpson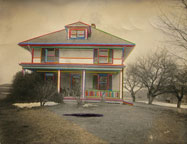 although Julie's work is not represented on the Yossi Milo website,
her work was well-documented and heralded at the Armory Show, including
the fantastic "House" above and facial supplantations below


AMBACH&RICE
Abigail Reynolds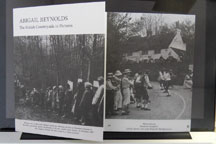 from the remarkable pamphlet designed by artist Abigail
above, to the paintings and delicately sliced works below,
this art stood out for it's sheer diversity and interest level

hail to the artist who excels in various mediums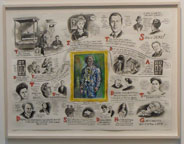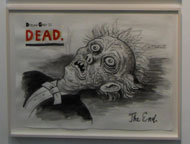 the brilliant Jim Torok, equally adept at drawing serious figures,
as well as comical slice-of-life cartoons, combines his skills
for this Dorian Gray piece, culminating in the death of...
Dead on masterpiece.


by far the coolest installation at the Armory Show, this one-man gallery
featured a number of fun pieces, surrounded by dolphin-fellating wallpaper,
and an archaeic feel to all the works, including the rub-on stone art
that artist Duke Riley supervised personally

Major props to Magnam Metz for building the pop-up gallery
and for having the Duke mingling happily and talking incessantly
to admirers and potential buyers
Duke Riley fan makes an impression

another fine artist working in a diversity of mediums, from the full-on wall of
paintings and poetic mirror, to the performance piece where he mailed a tiny
sculpture to the furthest away place he could find on google earth.
Mathew Sawyer is also a musician! here his songs hear!


Stefan Kuerten (Kürten)

The "Platinum Collection" by Stefan Kuerten shined on the wall
of Mike Karstens Gallery. Prints were displayed in a huge golden
tome, that also came with a CD of music!



I enjoyed the entire Mike Karstens booth, featuring Kiki Smith (right wall),
Emilia @ Ilya Kabakov (mid left), and Sigmar Polke (left wall)

panorama photo by Jefe aka Johnny Chiba

Hew Locke





"Share certificates are a window into the history and movement of money, power and ownership.
Newborn companies garland their shares with confident typography and classical motifs implying
stability and worth. The numerous Egyptian and South African certificates straddling the turn of
the twentieth-century indicate where the big money flowed and pooled.

Hew Locke's re-workings obscure or highlight information. Figures representative of the local
population are seen breaking through. This series is also a wry acknowledgement of the
commodity value of contemporary art. Now you too can invest in a share of Hew Locke."

what was that guy doing in the corner of Cardiblackbox?
texting info on artist Pol's large painting, or sexting his love of art?
either way, Nicolas Pol was a highlight of The Armory Show,
with a pop-up gallery at a millionaire's gallery/home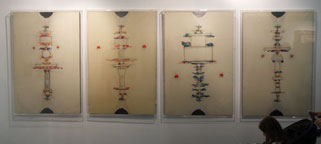 a member of the Arte Povera (poor art) movement, the now-deceased
Alighiero e Boetti's art is anything but poor, selling for millions at
Christie's London, but these fine works were bargains at
hundreds of thousands of dollars...




Korean artist Kang's digitally-lit sculptures, are actually books
cast from resin, turning classic readings into bright artworks
transformed by LED-lighting. Hurray for the luminescent Hendrix!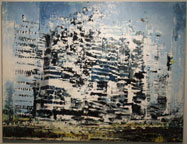 Artiste Cognée works in encaustic, where pigment is mixed
with beeswax and fixed with heat after application to the canvas.
A waxy poetic painting, as unusual in it's creation as
beautiful in it's presentation


intricate and meticulously-detailed artwork, delicately cut out,
raised above the surface of the work and secured with pins,
creating a subtle optical illusion as the drawings oscillate between
two and three dimensions. one must view up close to appreciate
the beauty, the subtleties, and the politically message therein




Artist Sillman's work exists in between
figuration and abstraction
Crown Point Press works with artists by invitation to create
original prints ("multiple originals") hand-printed in limited editions


The great Kehinde Wiley's latest artistic foray, The World Stage: Israel,
resulted from his travels to Tel Aviv and Jerusalem. The use of oil and gold
on canvas, topped by the Hebrew torah and Lions of Judah are some of
the artists best, alway improving works.

"The hand carved frames created for The World Stage: Israel combine orthodox imagery of the
Hands of Kohen (the blessing hands of a Kohen - a person descended from Aaron, the high priest)
and the Lion of Judah (symbolizing power and majesty and often represented in symmetrical, confronting pairs.)"
Veikko Hirvimäki





Finnish artist Hirvimäki, known for his shamanistic sculptures
and installations carved from wood, employs a sense of humor and
whimsy in his intimate portrayals of animal and human figures.

HC Berg





young Fin artist HC Berg employs a variety of media from metals to glass
to acrylics to create works that possess unlimited optical dexterity. interaction
of material and light offering surprises and insights.
a glimpse at Galerie Forsblom website revealed a number of HC Berg's
artsy skulls: fantastically horrific, horrifically fantastic!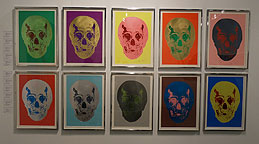 "Till Death Do Us Part"... part 10. when Damien Hirst
dies, will someone make art from his skull?

The latest Hirst-erical works are Andy Warhol-esque, repeating patterns
using fantastically-different colors, (ie: Coral Red Silver Gloss -True Blue Skull,
and Heavenly Peppermint - Green Silver Gloss Racing Green Skull)
ala Campbell soup cans, but with skulls (and butterflies)


here's an animated skull
of parting death-hirst

colorful, hypnotic paintings by Mr. McGinness never fail to astound,
these acrylic on canvas works shone for he gallery Kohn


"Dinner for Two - Wedding Cake"
stars projected mouse, and incommunicative couple,
an amusingly contemplative piece

unknown gallery/unknown artist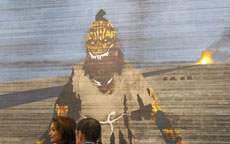 after waiting a few minutes to get a clear picture of this huge,
interesting painting, with gallery workers aborbed by prospective buyers,
I decided to move on, as I had a thousand other artworks to check out,
and was remiss in writing down gallery/artist
after a post-fair search for gallery and artist/artwork, I could not
find either, so I did a google image search and came up with
very interesting photographs from around the world:


Test Press is a division of Propulsion Productions
PO Box 1582 Cooper Station NY NY 10276
contact
jefe - at - testpress.net